Success Story: EDA's Revolving Loan Fund
June 2015 Newsletter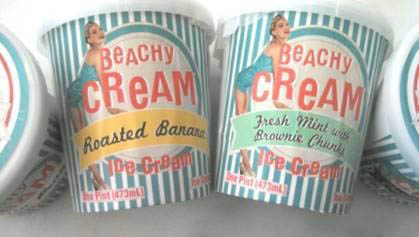 Beachy Cream Organic Ice Cream, a business supported by EDA's RLF Program
Imagine you have a small business or an idea for a small business. You need a relatively modest amount of money to get it off the ground or expand, but you've been turned down by the banks and other traditional lenders in your area. Maybe you don't have the right credit or enough assets. Maybe you're just a victim of bad timing and the fact that banks are being more cautious about business loans. No matter the reasons you're being denied, there may be another option.
EDA has a number of programs designed to help support economic development and growth. Generally, EDA's investments support communities as they attract businesses, but EDA's Revolving Loan Fund (RLF) program is different. EDA capitalizes funds that are managed and loaned out by local organizations that serve as RLF operators. RLF funds are specifically intended to create small loans for high-risk projects – people who cannot get a traditional loan.
The loans provided by the RLF operators have helped businesses start, expand, or even recover from devastating downturns. Those businesses are as varied and diverse as American commerce itself.  Since its inception, RLF program non-profit operators have made more than 27,000 loans to small businesses, leading to the creation of more than 340,000 jobs while leveraging more than $12 billion in private investment. All across the country, RLF loan recipients are thriving and helping to create jobs in their communities – and it might never have happened if not for the assistance supplied by EDA's RLF program.
Beachy Cream Ice Cream is a Santa Monica-based organic ice cream brand with a retro vibe. The founders started off in farmer's markets and a small store front. When the demand exploded, they needed to up their production capacity. In 2014, they received a $95,000 RLF loan to help them secure a new 13,000 square foot manufacturing facility in Long Beach. "The RLF loan we received is providing valuable capital for Beachy Cream's move into our new leased space in Long Beach so that we can expand our ice cream production capabilities," said Ann Ryan, Founder and CEO of Beachy Cream. "We sell to over 55 stores and can't make or store enough in our existing freezers to meet the demand. We appreciate the support we've received from the City of Long Beach, including the RLF loan, and are happy to have our new headquarters there." With this expansion, they hope to take their Southern California brand to stores nationally.
In Carlsbad, New Mexico, some local developers saw opportunity in an old, historic bank building. They wanted to convert the space into a boutique hotel and restaurant. Thanks to $80,000 from an RLF and other local support, The Trinity Hotel now boasts the finest dining establishment and most luxurious hotel suites in the area.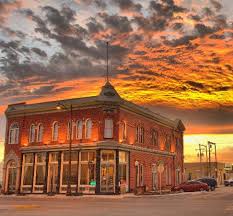 Trinity Hotel in Carlsbad, NM
The entire economy in the small town of Parkersburg, West Virginia is built on small businesses. Kreinik Manufacturing Company creates small textile embellishments and decorations. Demand was growing for these expertly crafted items, and the owners needed some new spooling equipment and computer upgrades to meet demand. "When the per spool cost went up, mainly because of transportation, I was wondering if I would be able to continue in business," said owner Doug Kreinik. "MOVRC [the local RLF operator] loaned me the money to procure a mold. The money saved paid for the mold, enabled me to lower my inventory costs and relieved me of the angst of bad weather or other factors holding up shipments of spools from the overseas vendor.  The best outcome is that with the help of MOVRC, I was able to support a local firm bringing more manufacturing to West Virginia."
There are hundreds more stories across the country of businesses that needed a little help and received it from EDA's RLF program. They may be small loans, but they make a big impact.
EDA's RLF program is an important economic development tool to support small business. To learn more about RLFs in your area, visit EDA's resources page.