Q&A with with Rebecca Blank, Acting Deputy Secretary of Commerce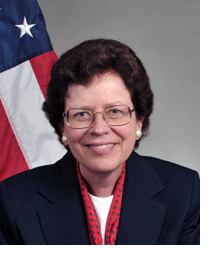 Rebecca M. Blank was designated as Acting Deputy Secretary of the U.S. Department of Commerce on November 18, 2010. In this role, Blank focuses on matters of management and policy for the department's 12 bureaus, functioning as Commerce's chief operating officer.
Q: It is Women's History Month. Please reflect on your career in economics and what you feel is needed to expand opportunity for women in America and globally.
A: A large segment of my past research and writing as an economist has focused in one way or another on women's lives and well-being. I've been very interested in the changes in women's work behavior and earnings over time, in changes in family demographics, and in the impact of public policies on family well-being. Women's employment opportunities have expanded greatly over the past several decades; women are working more and working more continuously throughout their lives. Furthermore, young women now graduate from college at a higher rate than young men. The combination of growing education levels and growing workforce experience means that women's wages and work opportunities should continue to expand.
That said, women still earn less than men, typically because they are in a very different set of jobs and these jobs tend to pay less on average. One of the reasons why I strongly support this administration's efforts to increase the number of women who are attracted to the so-called 'STEM' (science, technology, engineering and mathematics) fields is because I think girls need to be encouraged to think more broadly about the possible careers that are open to them. Beyond the United States, these issues are even more pressing. A growing body of research suggests that one of the best policies for long-term development is better education for girls in the developing world. Countries that increase girl's schooling opportunities typically see reduced population growth, improved family health, and higher family incomes.
Q:President Obama has made it clear that necessary spending cuts will not hinder much needed investments to continue the economic recovery. How does the President's FY2012 budget proposal help create jobs and increase U.S. competitiveness?
A: President Obama's FY12 budget invests in what will make America stronger – education, science and technology, and a 21st century infrastructure. Both parties understand the necessity of cutting spending, and the President's budget is filled with difficult choices. The budget reduces non-security, discretionary spending to its lowest percentage of the economy since Dwight Eisenhower was in office. But these choices allow us to make crucial investments that will help America out-educate, out-innovate and out-build our economic competitors. It's a budget that recognizes that the most important contest is not between Democrats and Republicans but between the U.S. and countries around the world that will be competing for the jobs and the industries of the future.
More jobs in the future will require higher education, and investments in education programs will ensure that the next generation is prepared with the skills they need to succeed and that America is well-positioned to win the future. The President has called for the preparation of an additional 100,000 science and math teachers, and vowed to make college more accessible and affordable by strengthening our community colleges and permanently extending the American Opportunity Tax Credit. These investments will help achieve the President's goal of having the highest proportion of college graduates in the world by 2020.
Investments in American research and technology will facilitate new innovation that leads to creation in American manufacturing. That's why the President's budget challenges our scientists and engineers to invent and develop new technologies to meet our nation's energy challenge, and why the President has set a goal for 80 percent of America's electricity to come from clean sources by 2035.
Building a 21st century infrastructure will help our businesses ship American goods, products, and ideas all over the world. The President has proposed new efforts to put Americans to work repairing and rebuilding America's crumbling roads and bridges, and called for a National Wireless Initiative to provide 98 percent of the country with access to high-speed Internet.
The difference between cuts that are responsible and ones that are reckless is the difference between a future where our children are in a strong position to compete for the jobs of the future and one where they are not. The right investments can win the future by laying the foundation for American competiveness for years to come.
Q: The U.S. Department of Commerce works closely with the Obama administration to promote job and economic growth in U.S. regions. Please discuss some recent investments and initiatives.
A: Last month, the White House launched Startup America, a national campaign to promote high-growth entrepreneurship across the country. Several agencies – including the Commerce Department – announced new initiatives to help encourage private sector investment in job-creating startups and small firms, accelerate breakthrough research, and reduce barriers to success for entrepreneurs and small businesses.
As part of this effort, Secretary Locke announced plans to build on the success of last year's inaugural i6 Challenge with i6 Green, a second competition focused on both regional economic development and environmental sustainability. The program aims to accelerate technology-led economic development in pursuit of a vibrant, innovative clean economy. Several high-profile, private-sector companies also made impressive commitments to support educational initiatives and programs that speed up the movement of new ideas from the lab to the marketplace.
Our CommerceConnect program is another initiative that is promoting business and economic growth across the country by helping businesses access key development resources. Cross-trained staff connect local businesses with the breadth of support that Commerce, the federal government, and state and local organizations have to offer – no matter whether these businesses are just getting off the ground or looking to expand into overseas markets. And since January, CommerceConnect has extended its services to cities like Chicago, Philadelphia, Atlanta and Los Angeles.
The department's Manufacturing Extension Partnership, or MEP, is also doing great work. MEP is a front-line program that works directly with companies to help them identify and enter new markets. Through its national field staff of over 1,400 technical experts located in every state, MEP helps manufacturers navigate economic and business challenges and connect to public and private resources essential for increased competitiveness and profitability. With a proposed MEP budget increase of $12.9 million for fiscal year 2012 over the President's fiscal year 2011 request, the administration recognizes the program's success and the importance of policy initiatives for domestic manufacturing that create jobs and better respond to future challenges and opportunities.
These are just some of the many initiatives we are working on to make American businesses more innovative at home and more competitive abroad, so they can create jobs.
Q: What is the role of the U.S. Economic Development Administration within the U.S. Department of Commerce in terms of job creation?
A: As the only government agency with economic development as its sole mission, the U.S. Economic Development Administration (EDA) plays an important role at the Commerce Department and within the administration. The agency's strategic investments enhance the competitiveness of America's communities, spur innovation and help create local jobs. EDA's flexible programs leverage public-private investments, support "bottom up" strategies and build 21st century infrastructure.
Every dollar that EDA invests leverages another $6.90 in public-private investment. Over the last two years, EDA has helped U.S. regions plan for long-term stability and create the conditions for the private sector to succeed. EDA's $1.4 million infrastructure grant to the city of Nashwauk, Minn., (population of less than 1,000) helped ensure that the new Essar Steel Minnesota plant – a $1.6 billion project expected to create 2,800 full-time jobs – was able to locate in the region.
EDA's approach prevents a "race to the bottom" in which cities, counties and states undercut each other to attract short-term growth. By bringing together business leaders, government officials, universities, and non-profits, EDA helps regions capitalize on shared strengths, multiplying their economic power and job-creating potential. To drive global competitiveness, EDA is developing regional innovation clusters that build around a region's unique strengths, like the Navy Yard in Philadelphia, where EDA and other federal agencies recently awarded $129 million to develop an innovation cluster for energy efficient buildings.
EDA is instrumental to achieving both the Commerce Department and the administration's goals of accelerating the economic recovery, enhancing America's long-term competitiveness, and winning the future.
Highlight
EDA Funding Benefits Women in Hawaii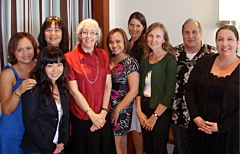 Submitted by EDA's Seattle Regional Office
In 2006, EDA invested $300,000 in the Maui Economic Development Board (EDB) in Hawaii to support the Women in Tech (WIT) project, which was started in 1999 and is currently administered by the Maui EDB. The founders of the WIT project were alarmed by data showing that the U.S. would be looking at a critical shortage in the technology workforce by 2012. The founders also viewed women and minorities as the largest under-utilized resource of potential in science and technology. The statistics indicated that in order to maintain the present number of scientists and engineers in the U.S., the enrollment and retention of women and minorities needed to rise from less than 25% to 75%.
The WIT project was developed to address this workforce development need. Partnerships were formed with educators and businesses to create a pipeline from education to employment in science, technology, engineering and math (STEM) on a state-wide basis.
By tapping into a non-traditional resource, this pipeline is helping to bring a new generation of highly skilled workers into STEM careers throughout Hawaii and helping Hawaii to keep pace with the changing technological landscape.
This goal of improving the economic quality of life for women by encouraging them into higher paying technology occupations is accomplished through mentorship, internships, facilitating job placement, and training employers and labor unions on strategies to recruit and retain women into apprenticeships and non-traditional employment. The target programs include: Kamaaina come home, mentornet and the Ke alahele program.
In 2003, EDA invested $1.75 million in the Waianae Coast Comprehensive Health Center in Waianae, Hawaii to expand its facilities and construct a new Women's Health and Training Center. The Center is located in the Native Hawaiian Homeland area that is one of the poorest in the State of Hawaii. While Hawaii residents enjoy one of the longest life spans in the nation, Native Hawaiians have one of the shortest life spans of any group in the United States. The Center was the largest single employer along the Waianae Coast when its Board committed the organization to provide community residents with education and training in the healthcare field, breaking the cycle of second and third generation welfare, particularly for women, and "growing their own healers".
They saw good education and meaningful employment as vital to the physical, mental, emotional and spiritual health of the community. In creating its seamless health career's pipeline, the center developed a training and educational program leading to health professions and health-related careers that was supported by the Harry & Jeannette Weinberg Foundation, the Robert Wood Johnson Foundation, the Hitachi Foundation, Leeward Community College and EDA. The Center provides health care track training in med tech, pharmacy tech, X-ray tech, nursing, and now osteopathic medicine to community residents, in particular women. About 100+ graduates enter into high paying health career positions annually. The Center has the strong support of the major hospitals, doctors, clinics and healthcare facilities throughout the State.
White House Honors Women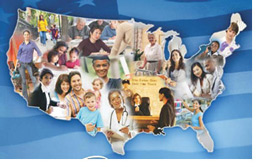 Last week, the White House released a new report entitled Women in America: Indicators of Social and Economic Well-Being, a statistical portrait showing how women are faring in the United States today and how their lives have changed over time. This is the first comprehensive federal report on women since 1963, when the Commission on the Status of Women, established by President Kennedy and chaired by Eleanor Roosevelt, produced a report on the conditions of women. View Women in America report.
Read The Wall Street Journal article, "Strides by Women, Still a Wage Gap" that highlights the White House report findings.
Women in America focuses on five critical areas: people, families and income; education; employment; health; and crime and violence. The Administration will be honoring Women's History Month throughout March, and will highlight a different section of the report every week.

Read President Obama's Proclamation of March 2011 Women's History Month
Valerie Jarrett, Director of the Council on Women and Girls and Special Assistant to the President, discusses the Women Owned Small Businesses Federal Contract Program and how it will help women break in to industries where they are currently underrepresented.
Women who are helping the Obama Administration achieve its goal of winning the future
Marie Johns' Story: Supporting Small Businesses and Growing the Economy
Marie Johns is the Deputy Administrator of the Small Business Administration.
Now, as Deputy Administrator of the U.S. Small Business Administration (SBA), I have the privilege of supporting the small businesses that are innovating, growing the economy, and creating jobs every day. I am especially focused on helping the SBA reach businesses in underserved markets, such as African-American communities. These businesses often have a harder time getting the tools and financing they need in order to compete and thrive. Our loan programs help banks lend more to small businesses everywhere, and our counselors reach millions of entrepreneurs and small business owners each year.
Click here to read the full blog
Dr. Regina Benjamin's Story: Promoting Health and Wellness for All Americans
Dr. Regina Benjamin is the Surgeon General of the United States.
Prevention is the foundation of public health, and prevention is the foundation of my work as Surgeon General. If we want to truly reform health care in this country, we need to prevent people from getting sick in the first place, and stop disease before it starts. In the health reform law that was enacted in 2010, Congress created a commission to develop the first-ever national prevention strategy, and named me to chair the commission. The panel, made up of the heads of 17 federal departments and agencies, is providing coordination and leadership at the federal level to ensure that the government is focused on prevention.
Click here to read the full blog


POLICY CORNER
Chicagoland Entrepreneurial Center

February 17, 2011
CEC Selects 11 Companies for Its Premier Mentoring Program
EDA's FY 2012 Budget Proposal
President Obama outlined the best way forward in his FY 2012 budget proposal to Congress by investing in what makes America stronger and cutting what we cannot afford.

Highlights

$325 million to EDA to support our strategic planning, innovation infrastructure and capital projects.
$40 million for new Regional Innovation Program (Growth Zones) to support regional cluster development, regional business plans, investment in science parks, etc. in 20 economically distressed areas with growth potential. Assist with planning, seed capital and technical assistance.
$20 million for Wireless Innovation Fund, creating a challenge program to leverage public-private partnerships to build or upgrade next generation information and communications technologies to foster regional competitiveness.
Fund 21st Century Infrastructure Program (formerly Public Works) at $96 million and Economic Adjustment Assistance, our most flexible program, at $85 million.

Click here to read White House Innovation Factsheet that mentions EDA investments
Click here to read White House DOC Factsheet that mentions EDA Growth Zone initiative
Federal Funding Opportunities
US EDA Announces FY 2011 Supplemental Appropriations Disaster Relief Opportunity
On February 11, EDA announced the availability of $49 million in disaster assistance to support recovery efforts in Rhode Island, Nebraska, Tennessee and Kentucky, all of which were impacted by flooding during the spring of 2010.

Funds will be awarded to projects that devise long-term economic redevelopment strategies and carry out implementation activities that will advance recovery, mitigation and growth efforts in these regions. The funding is available under the FY 2011 Supplemental Appropriations Disaster Relief Opportunity to Supplemental Appropriations Act.

Applications for economic recovery assistance are now available through www.grants.gov. Additional details on this funding opportunity can be found in the Federal Funding Opportunity (FFO) notice.
US Labor Department announces Green Jobs Innovation Fund Grant competition to support career training programs through community partnerships
The U.S. Department of Labor has announced the Green Jobs Innovation Fund competition to support opportunities for workers to receive job training in green industry sectors and occupations. Through this competition, the department will award approximately $40 million to support five to eight grantees with awards ranging from $5 million to $8 million each. Eligible applicants will include national and statewide organizations with local affiliates that have existing career training programs and will benefit a minimum of six communities per grant. Prospective applicants are encouraged to view the online tutorial "Grant Applications 101: A Plain English Guide to ETA Competitive Grants." They can register at http://www.Grants.gov to access the solicitation for grant applications. In addition, grant information is posted at http://www.doleta.gov/grants
Process Improvement Update
EDA's Regional Offices recently completed the first round of reviews for applications submitted since the launch of the improvement initiative. Each Regional Office received a number of competitive and highly competitive applications for funding and informed all applicants of their status within the 20 days promised from the December 15 application deadline. Overall, EDA received 120 applications. March 10, 2011 is the deadline for funding cycle 2.
FEATURE ARTICLE:
Submitted by Kim Hill, Director of Center for Automotive Research, Sustainability and Economic Development Strategies Group.

Partnering is the critical element
It's been a tough couple of years, but there are signs the economy is improving. Consumer confidence is returning. Many companies are beginning to invest in research and development and production capacity—especially in the manufacturing and automotive sectors. Perhaps the best sign of health is that the companies are hiring once again. The key question for communities is: are there things that they can do right now to capitalize on these opportunities and revitalize their economies?

The most successful communities are those that partner with their employers for mutual gain. To highlight the importance of these public-private partnerships, the Center for Automotive Research through its Automotive Communities Partnership is hosting the second Roads to Renewal conference entitled, "Partnering for Prosperity: Communities & Companies in the Resurging Automotive Economy."
The conference will focus on critical issues facing communities and companies—including strategies to improve access to capital, foster job growth, repurpose vacant industrial facilities, grow local businesses, work effectively with schools, colleges and universities, and package policies and assets in ways that attract additional private sector investments. Most importantly, the conference will provide high-value networking opportunities and highlight effective models that will enable attendees to adapt and use what they've learned in their own communities.
"We are drawing on years of experience working through the Automotive Communities Partnership to set an agenda showcasing experts who will illuminate the opportunities and recommend actionable initiatives to prepare for the coming surge of automotive investment," said Kim Hill, conference organizer and director of CAR's Sustainability and Economic Development Strategies group.
Roads to Renewal II will take place March 29-30, 2011 at the Hyatt Regency, in Dearborn, Michigan. Hosted by CAR, the event is sponsored by the U.S. Department of Commerce Economic Development Administration (EDA), and presented in collaboration with the Original Equipment Suppliers Association, the Detroit Regional Chamber, and the University of Michigan's Institute for Labor, Employment and the Economy. Learn more at cargroup.org.