HIGHLIGHT
U.S. Commerce Department leads U.S. Trade & Investment Program to HANNOVER MESSE 2011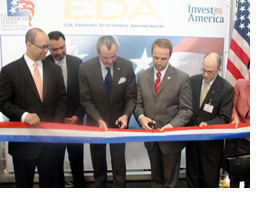 This week, over 20 organizations from across America's regions are participating in the world's largest industrial technology showcase as part of a mission hosted by U.S. Department of Commerce's Economic Development Administration (EDA) and International Trade Administration (ITA). Deputy Assistant Secretary for Economic Development Brian McGowan is co-leading the trip to HANNOVER MESSE 2011 in Hannover, Germany along with ITA's Director of the Invest in America program Aaron Brickman to promote innovation clusters as ideal locations to do business and increase U.S. exports.
The 21 economic development organizations include:
The States of Georgia, Utah, Wisconsin, West Virginia, and the Commonwealth of Massachusetts
Florida's Hillsborough Community College
Indiana's Madison County Economic Development Corporation; City of Anderson; and Vermillion County-West Central Indiana
Michigan's Detroit Regional Economic Partnership; Macomb County; Oakland County; and City of Auburn Hills
New York's Creative Core
Ohio's Northeast Ohio Trade & Economic Consortium
Pennsylvania's York County Economic Development Corporation; and Berks Economic Partnership
The State of Tennessee; West Tennessee Industrial Development Association; Chattanooga Area Chamber of Commerce; and City of Humboldt
Participants Trevor Hamilton, Vice President of Economic Development & Chief Economic Development Officer of Chattanooga, Tennessee; and Michael M. Philpot, Executive Director, West Tennessee Industrial Association of Jackson, Tennessee; discussed in a video blog the benefits of their participation in the program.
Read the DOC blog for more information.
Commerce Dept to Deploy Economic Assessment Teams to
Northeast Fishing Ports
Last week, the U.S. Commerce Department announced that economic development assessment teams will deploy this month to conduct a two-day analysis of six Northeast fishing communities. The teams will visit Portland, Maine, Seabrook, N.H., New Bedford, Mass., Gloucester, Mass., Point Judith, R.I., and Montauk, N.Y. The assessment teams will conduct meetings with local leaders to help identify economic development challenges and opportunities facing local industries and communities.
The goal of the visits is to provide customized technical assistance for fishing communities that experienced reductions in groundfish fishing revenues in recent years. The Economic Development Administration (EDA), in partnership with other federal agencies, will meet with local leaders to assess current and emerging economic issues. EDA, with the assistance of the U.S. Commerce Department's National Oceanic and Atmospheric Administration (NOAA), evaluated economic and fisheries industry data, including groundfish landing revenues and the percentage of groundfish landed at a port relative to the state totals, in order to select ports for the interagency assessments.
Click here to read press release
FUNDING OPPORTUNTIES
University Center Economic Development Program Competition
Last week, The U.S. Commerce Department's Economic Development Administration (EDA) announced its FY 2011 University Center Economic Development Program competition to promote bottom-up regional strategies that help foster business expansion and job creation in EDA's Chicago and Philadelphia regions.
Accredited institutions of higher education, including community colleges, or a consortium of accredited institutions of higher education are eligible to apply for funding. EDA will make awards of approximately $1.1 million in the Chicago region and $1.4 million in the Philadelphia region. Annual awards for the University Centers selected in past years generally have been in the range of $80,000 to $200,000.
The Federal Funding Opportunity deadline is June 30, 2011.
Click here to read the press release
Click here to register for today's webinar at 4:00pm ET.
EDA University Center Webinar
EDA's FY 2011 University Center Economic Development Program

Date: Thursday, April 7, 2011
Time: 4:00 - 4:30 pm EST
FEATURE ARTICLE
EDA Supports Brownfields Development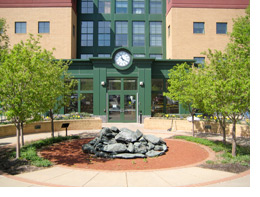 Submitted by EDA's
Ken Kukovich
EDA is authorized to provide broad-spectrum support for brownfields site assessment, market feasibility studies, incidental remediation, such as lead and asbestos abatement, and site redevelopment and reuse that furthers economic growth. EDA typically focuses on the reuse of brownfields. EDA encourages market-driven brownfields reuse to return non-productive, blighted, and formerly contaminated real estate to local tax rolls and foster capital reinvestment that creates jobs at higher skill and wage levels.
EDA funds brownfields-related projects through its existing assistance programs. Harbor Gardens Park office building and the Drew Mathieson Center greenhouse facility was the result of a 2001 EDA grant of $1,132,800 to the Manchester-Bidwell Corporation and the Business & Industry Development Corp, 1815 Metropolitan Street, Pittsburgh, PA.
This project addressed the lack of a horticultural science education center and greenhouse to provide skills and job training to unemployed from the inner city of Pittsburgh, and to create horticultural jobs in a commercial greenhouse for the unemployed from the inner city of Pittsburgh.
The Harbor Gardens office building and the 40,000 square foot greenhouse of the Drew Mathieson Center for Horticultural and Agricultural Technology initially concentrated on orchid production but over the last decade has evolved to offer programs in fields ranging from horticulture to medical IT records management. Today, the Manchester Bidwell Corporation is a nationally accredited and state licensed adult career training institution.


UPDATES
EDA's 1st Quarter Grant Process - Next deadline is June 10, 2011
To provide increased efficiency, transparency, and competitiveness in its application selection process, EDA recently revised its grants process by moving from a system of rolling application acceptance to one of quarterly funding competitions.
During the first quarter, EDA received 110 applications requesting a combined $158 million in EDA funding, of which:
75 applications were eliminated from the competition during EDA's Technical and Merit Review process;
35 applications, totaling over $48 million in requests, were forwarded to be reviewed by EDA's Investment Review Committee (IRC); and,
16 applicants received non-binding commitment letters to fund their combined $14.7 million in requests.
Applicants who submit a complete application package prior to the quarterly deadline are notified of EDA's selection decisions within 20 business days of that deadline. During the first round of competition EDA exceeded this goal, informing applicants about EDA's decision in less than 19 business days, on average. All projects are assessed against EDA's strategic priorities and evaluated by an Investment Review Committee (IRC) where EDA professionals will analyze and recommend proposals to the EDA Regional Director for that quarter's available funding. EDA received 11 proposals that were rated Highly Competitive when assessed by EDA's strategic priorities, and 71 proposals that were rated Competitive. Of these, only 35 applications that also passed EDA's Technical Review process were submitted to the IRC.
Commerce Dept Open Recruitment for U.S.-Brazil CEO Forum
Following President Obama's trip to Brazil, the U.S. Commerce Department has opened the recruitment period for U.S. companies to apply for private sector membership in the U.S.-Brazil CEO Forum. Secretary Gary Locke co-chaired the sixth meeting of the U.S.-Brazil CEO Forum this past weekend, where U.S. and Brazilian business leaders discussed concrete recommendations to improve trade between the two countries.
"Our nations established the U.S.-Brazil CEO Forum to add an important private-sector voice to the discussion on growing trade and investment, and creates jobs in both countries," Locke said. "The cooperative efforts already underway between our two countries will increase America's and Brazil's global competitiveness."
The Forum, made up of 20 CEOs from the United States and Brazil, meets twice a year to make recommendations to the two governments on ways to strengthen the U.S.-Brazil economic relationship. The U.S. CEOs serve two-year terms, and are selected from respondents to a joint Commerce-White House Federal Register notice for applicants to the U.S. section of the Forum.
The Forum's recommendations have advanced discussions between the United States and Brazil governments on important issues such as visa reform, customs procedures, education, energy, trade facilitation and infrastructure.
With a potential market of 195 million consumers, and per capita incomes forecasted to grow at an average rate of six percent during the next several years, Brazil offers tremendous opportunities to U.S. exporters of goods and services. In the past five years, trade between the United States and Brazil has more than doubled with total U.S. goods and services exports to Brazil in 2010 estimated to be more than $50 billion. Brazil is among the fastest growing economies in the world and is anticipated to grow by between 4 and 5 percent in 2011.
Companies interested in participating in the Forum should view the Federal Register notice for information on how to apply. Applications should be received no later than April 29, 2011.
Startup America from the White House Blog
Last month, Director of the National Economic Council, Gene Sperling and SBA Administrator, Karen Mills, along with Fast Company Editor Nancy Cook, hosted a live chat to answer your questions about the Startup America initiative and ways to reduce burdens to entrepreneurship and innovation. The White House launched the Startup America initiative to celebrate, inspire and accelerate high-growth entrepreneurship around the country. As part of the effort, senior Administration officials are traveling around the country for Startup America: Reducing Barriers Roundtables.

Check out the full video.