Q&A with Ginger Lew, Senior Counselor to the White House National Economic Council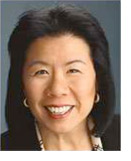 Ms. Lew is Senior Counselor to the White House National Economic Council and the SBA Administrator and she co-chairs the White House Interagency Group on Innovation and Entrepreneurship. She provides economic policy advice on a broad range of matters that impact small businesses.
Q. Given President Obama's commitment to increase job creation and economic competitiveness, how does the work of the White House National Economic Council help to drive growth and continue the recovery?
A: I am pleased to serve as Senior Counselor to the White House National Economic Council (NEC). The NEC has four principal functions: to coordinate policy-making for domestic and international economic issues, to coordinate economic policy advice for the President, to ensure that policy decisions and programs are consistent with the President's economic goals, and to monitor implementation of the President's economic policy agenda.
President Obama recently released his Strategy for American Innovation which seeks to harness the inherent ingenuity of the American people to ensure that our economic growth is rapid, broad-based, and sustained. The Innovation Strategy includes several new initiatives aimed at improving our nation's economic growth and global competitiveness.
Key initiatives include the Wireless Initiative to expand the availability of wireless broadband, reducing the backlog of patent applications through patent reform, the proposed Advanced Research Projects Agency – Energy (ARPA-E) to new Energy Innovations Hubs in critical U.S. regions, and Startup America to promote innovation and high-growth entrepreneurship and commercialize university-led research. The initiatives will continue driving economic growth and recovery and support the President's innovation agenda.
Q. President Obama's FY 2012 budget proposal to Congress makes a $40 million investment to EDA for a new 'Growth Zones' Regional Innovation Program in 20 communities around the country. How is this initiative part of the vision to win the future?
A: The Growth Zones Regional Innovation Program is designed as a regional economic development "race to the top" national competition to promote growth in communities that have strong plans for growth and are in need of additional support to stimulate transformative growth.
Twenty Growth Zones will be selected to receive a set of incentives to stimulate investment and job creation.
This initiative will help support President Obama's vision to out-innovate, out-educate, and out-build the competition and win the future by efficiently leveraging federal funding to help zones translate economic strategies into economic realities. The President recently called for a government-wide review of all regulations and processes to improve efficiency.
This Growth Zones initiative led by the Economic Development Administration (EDA), the Department of Housing and Urban Development (HUD) and the Department of Agriculture (USDA) does just that. Growth Zones are designed to build on the success of Empowerment Zones, enacted back in 1993, that had positive and measurable impacts on employment and wealth. Growth zones are designed to scale up this effective program while making improvements to ensure federal dollars are being spent effectively to generate the most impact on the ground. Growth zones will provide more streamlined support to distressed communities and stimulate a new nationwide competition for new recipients, while retooling the benefits that zones get and the criteria used to determine winners of the competition.
Q: In February, President Obama convened a Winning the Future Forum on Small Business in Cleveland, Ohio where he discussed the role that entrepreneurs and small business owners have in ensuring America wins the future. A major focus of that trip was to promote regional innovation strategies, like those that led to the high-growth cluster in Silicon Valley. The President said, "When you get a group of people together, and industries together, and institutions like universities together around particular industries, then the synergies that develop from all those different facets coming together can make the whole the greater than the sum of its parts." Please identify major administration initiatives that support America's regions.
Entrepreneurship is a core American value and supporting a culture that is conducive to entrepreneurship and startups is a core component for achieving sustainable growth and creating quality jobs. To support our entrepreneurs, boost exports, and help attract outside investment, President Obama has focused on strengthening Americas regions by boosting their ability to capitalize on their unique assets. The President knows that the key to our national competitiveness is our regional competitiveness. If America's regions are strong, America will be strong.
That is why the Obama administration has wholeheartedly embraced Regional Innovation Clusters, or RICs, as a new framework for structuring the nation's economic development activities. One initiative that supports this framework is the multi-agency Energy Regional Innovation Cluster (E-RIC) project aimed at accelerating the process of turning research investments into main street jobs.
E-RIC, which was won by the Greater Philadelphia Innovation Cluster Consortium, a public private partnership, is aligning resources to commercialize research, launch new small businesses, and connect education and workforce training strategies to create a regional innovation cluster that will boost job growth well beyond the borders of Pennsylvania.
To promote economic growth, President Obama's FY 2012 budget invests $40 million in EDA to develop a new Regional Innovation Program targeting 'Growth Zones' to foster collaboration across the federal government to build regional innovation clusters based upon the inherent strengths of local communities.
In addition, the President's FY 2012 budget strengthens initiatives being undertaken by our federal partners to advance regional innovation clusters:
To help our small businesses succeed, the President's FY 2012 request for the Small Business Administration will deliver $12 million to build upon programs like the "Innovative Economies" initiative that is helping 10 clusters provide small, high-growth businesses with business training; mentoring; and tech transfer and commercialization of existing R&D counseling.
For the U.S. Department of Labor, the President's FY 2012 request will fortify several initiatives underway to support the skilled workforce critical for regional innovation clusters to grow and prosper. A great example of the type of program the DOL is supporting and that will be strengthened by the President's proposal is the Green Jobs Innovation Fund, which is designed to expand the pipeline of workers with skills needed to compete for jobs in the emerging green economy.
And at the U.S. Department of Agriculture, the FY12 budget would compliment work being done to support people in rural communities who are working on developing regional strategies, and increase funding for two Rural Development programs that provide technical assistance to communities. In addition, the 2012 budget for USDA strongly supports strategic leveraging of existing resources to strengthen regional collaboration through the Regional Innovation Initiative, which will focus on the planning and coordination of USDA and other sources of assistance for rural communities.
These initiatives, coupled with the initiatives like Startup America, which is working to promote innovation and high-growth entrepreneurship, encourage private sector investment in job-creating startups and small firms, accelerate research, and address barriers to success for entrepreneurs and small businesses, and investments like those the administration is making to improve STEM education, will grow our regional economies and keep us strong in the future.
Click here to learn more about the National Economic Council
Jobs and GDP: Not What You Think
By: Mark Doms, Chief Economist, U.S. Department of Commerce
Many private-sector forecasters are expecting GDP growth to hit a bit of an air pocket in the first quarter of 2011 before growing at a pace above 3 percent for the remainder of the year. But the temporary deceleration in GDP Blue Chip forecasters are expecting coincides with an increase in private payrolls of 564,000 from December to March, the fastest pace of growth so far in this recovery. How can economic growth slow when employment is picking up? Well, this result is not unusual it turns out. As shown in the figure below, the relationship between private-sector job growth and GDP growth on a quarterly basis has been surprisingly weak over the course of the first two years of the past three economic recoveries (and "surprisingly weak" is an understatement as the correlation between the two series is almost 0). In late 2009 and early 2010, during the current recovery, we saw a combination of good GDP growth but weak employment growth, and wondered, where are the jobs?"
Click here to read the entire analysis.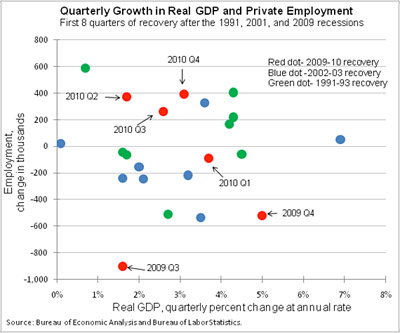 Click to view larger version of image.
White House: Embracing Innovative Clean Energy as an Economic Driver
The White House recently recognized innovators from around the country who are helping create the future of American-made clean energy and communities who have embraced innovative clean energy as an economic driver.
Investing in American innovation and ingenuity is crucial to winning the jobs and industries of the future. These innovators are already taking big steps to help create a secure energy future and reach the President's goal of reducing the amount of imported oil by one-third in the coming years while creating jobs and growing the economy.
SPOTLIGHT:
Gulf Coast – One Year After the BP Oil Spill
One year after the BP/Deepwater Horizon oil spill, EDA invested almost $4 million to support recovery efforts in the Gulf Coast. Investments include:
$1 million to Florida's Great Northwest, Inc. of Destin, Fla., to help the region implement a strategic business outreach program to strengthen the local economy.
$315,000 to the Louisiana Seafood Promotion and Marketing Board and the Louisiana Wildlife and Fisheries Foundation (LWFF) of New Orleans, La., to fund a marketing and rebranding campaign and workforce training program to aid the seafood and sports fishing industry affected by the oil spill.
To read the press releases: Click here and here.

The U.S. Commerce Department's CommerceConnect also launched a Gulf Coast initiative as part of a national effort to extend business assistance resources to communities across the country. The unique project will assist businesses and entrepreneurs in the region in three strategic ways, through: direct business assistance in five Gulf Coast cities; the development of robust partner networks that connect federal, state and local resources from both the public and private sectors; and the integration of government-wide federal resources.