Q&A with Dr. Frank L. Douglas, President & CEO, Austen BioInnovation Institute and Dr. George R. Newkome, President, University of Akron Research Foundation

Dr. Frank L. Douglas
An award-winning industry veteran with nearly three decades of experience as a leader in healthcare, pharmaceutical research and entrepreneurship, Dr. Frank L. Douglas is President and CEO of the Austen BioInnovation Institute in Akron.
Additionally, he is University Professor in the College of Polymer Science and Engineering at The University of Akron, Professor of Integrated Medical Sciences at Northeast Ohio Medical University, member of the Ewing Marion Kauffman Foundation's Board of Trustees, and senior partner emeritus of PureTech Ventures. Douglas currently is the national chairman of the Value-driven Engineering and U.S. Global Competitiveness initiative, a public-private coalition made up of leaders from industry, academia and the public and private sectors working to retain the United States' lead in medical device development and innovation.
While at Massachusetts Institute of Technology (MIT), Douglas was the Professor of the Practice in the MIT Sloan School of Management and held similar appointments in the departments of biology, biological engineering, and the Harvard-MIT Division of Health Sciences and Technology. He was also the founder and first executive director of the MIT Center for Biomedical Innovation and formerly executive vice president, chief scientific officer, and a member of the board of management of Aventis, where he headed drug innovation and approval, with global responsibilities for research, development, and regulatory and marketing support.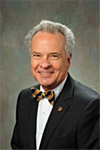 Dr. George Newkome
Dr. George Newkome is Vice President for Research and Dean of the Graduate School at The University of Akron. Since joining the University in 2001, Newkome has led efforts to expand its research infrastructure and broaden linkages with industries and foundations, as well as increasing integration of research and graduate education. Newkome, who also serves as president and CEO of The University of Akron Research Foundation, founded in 2003, as well as president of the Akron Innovation Campus, has made seminal contributions to the fields of chemistry and polymer science, including his pioneering work in 1985 on advanced molecular structures called dendrimers.
In addition, The Ohio Academy of Science appointed Newkome as an Honorary Fellow in May 2011. Newkome, a polymer scientist and chemist, was one of five Ohioans who received the distinction for rendering special services to the Ohio Academy of Science or for making extensive, productive scientific, technological or educational contributions to society. Academy Fellows of 2011 contributed to the fields of polymer chemistry, aerospace engineering, medicine, pre-med studies and science literacy, microbiology, science and science policy, botany and ecology.
Prior to arriving at UA, Newkome was vice president for research at the University of South Florida. Newkome began his career as a postdoctoral fellow at Princeton University, and later joined Louisiana State University where he became a full professor and the LSU Distinguished Research Master.
Q.The Austen BioInnovation Institute in Akron and University of Akron Research Foundation's "Innovative Solutions for Invention Xceleration" (ISIX) project is among the winners of the inaugural i6 Challenge in 2010. What is the status of the initiative?
A:The project "Innovative Solutions for Invention Xceleration" (ISIX) aims to increase innovation and minimize the time from idea to commercialization of new technology by bringing together world-class scientists, physicians, engineers, researchers and entrepreneurs in the biomedical devices and polymer science industries of Northeast Ohio. In the nine months since the official start of our ISIX program, significant progress has been made deploying the principles outlined in the ISIX proposal as an overarching methodology for everything that we do to stimulate entrepreneurship, company creation and job growth. The ABIA-UARF team is on track to reach or exceed all of the first-year milestones.
To date, the goal for number of invention disclosures submitted has been surpassed (goal of 50, to date 90 submitted) and the team is rapidly approaching its annual goal for funding through the Technology Development Fund, which facilitates continued development of promising technologies by funding such aspects as prototype development, market analysis and intellectual property review. Our success in increasing quality of invention disclosures is due to many efforts including our Structured Invention sessions, a program that brings clinicians, researchers and biomechanical engineers together to identify solutions in an intimate session that couples fundamental scientific insights with those gained from the clinical use of thousands of medical products.
The Collaborative Research and Development (CRD) grant program has enabled researchers within ABIA's founding members to move technology ideas closer to commercialization, and the annual CRD symposia bring together these teams to discuss their projects, and to identify potential collaborators as well as gain valuable input. Additionally, our monthly Synergy Seminars have brought together more than 500 potential "problem owners" with "solution providers" in stimulating discussions that have already led to the creation of innovation teams, and six projects, bent on providing new treatments for the waiting patients.
Our entrepreneurial support efforts include the very successful pilot of the ABIA-UA Women's Entrepreneurship Program (WEP) launched with eight teams of technologists and graduate business students and provided exposure to experienced biomedical developers, regulatory experts, intellectual property development and business plan writing. The teams are pushing several biomedical and alternative energy projects toward a path that facilitates commercialization of technology leading to spin out companies or licensing opportunities. Projects the teams are working on include developing a drug-eluting polymer tape for use on implantable medical devices, a unified battery management system, and social media-delivered personalized healthcare interventions. Further, courses that stimulate an entrepreneurial education have been added including the Akron Innovation through Convergence and Entrepreneurship Program, Integrative Graduate Education and Research Traineeship and the BioInnovation Design Course.
On the industry front, the ABIA-UARF team opened the Akron Functional Materials Center (AFMC). This unique national research resource focuses on elevating the technology readiness level of research discoveries and new polymer materials through a suite of open source, research-level facilities coupled with established "combi tools" dedicated to assist researchers, industry and innovators with the design, fabrication and optimization of polymers and advanced materials. The AFMC will target companies globally for participation and membership, and has 14 initial corporate members. Its six technical working groups include nanomaterials, complex fluids, biomaterials, adhesion, membranes and automation. Additionally, the Akron team has nearly met its goal in support to small companies with SBIR grant partnerships with three companies to date out of our goal of four.
These are just some highlights of the many activities described in ISIX that have been successfully implemented to date.
Feature Article
i6 Challenge Investment Supports Medical Device Innovation
Center in Atlanta
by Wayne Hodges, Executive Director, Global Center for Medical Innovation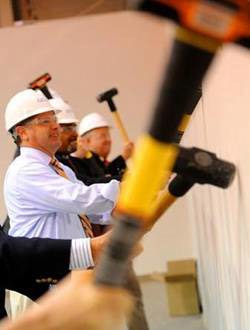 August 2, 2011 - U.S. Assistant Secretary John Fernandez joined local leaders, in Atlanta, GA during the 'wall breaking' to formally kick-off construction/renovation for the Global Center for Medical Innovation, the Southeast region's first comprehensive medical device innovation center and a 2010 EDA i6 Challenge awardee.
The worldwide market for medical devices is expected to top $300 billion this year and to continue growing, fueled by demands from a growing population and a U.S. Baby Boomer generation that expects a high level of healthcare services. That's an economic development opportunity that many states and regions would like to tap.
In Atlanta, a partnership of research and medical institutions, supported by the public-private Georgia Research Alliance (GRA), has formed the Global Center for Medical Innovation (GCMI) to do just that. With assistance from the Economic Development Administration, GCMI recently began construction of what will be the Southeasts first comprehensive medical device innovation center. The goal of the nonprofit center is to accelerate the development and commercialization of next-generation medical devices and technology.
Launched through a partnership of four leading research and healthcare organizations the Georgia Institute of Technology, Saint Josephs Translational Research Institute, Piedmont Hospital and the GRA the new center will fill a medical device commercialization gap for the region. GCMI will help new product teams shorten time to market, enhance their product development, achieve significant cost savings and create new jobs and economic activity.
The center includes both a prototyping design and development facility and an initiative to create new approaches for identifying, developing and moving technology from university laboratories, hospitals, companies and other organizations into the marketplace. An i6 Challenge Grant is helping GCMI bring together the key elements needed for developing medical devices: universities, research centers and clinicians; established drug and device companies; investors and early-stage companies.
The new center will be housed in a 12,000-square-foot facility being renovated in midtown Atlanta near the Georgia Tech campus. The facility, expected to open by the end of 2011, will house design, material and mechanical engineering resources, along with state-of-the-art rapid and functional prototyping equipment capable of producing a wide range of medical devices for development, pre-clinical testing and clinical studies.
As its name suggests, international partnerships will be a critical piece of GCMIs strategy. Already, it has begun developing a medical device partnership with the National University of Ireland in Galway through Georgia Tech, which has relationships and a facility there. International university and clinical partnerships will facilitate the development and launch of groundbreaking medical devices evaluated in different regulatory environments and produced with lower development costs.
Atlanta-based companies such as CardioMEMS, MedShape Solutions and Zenda Technologies have shown that the areas strong engineering and medical institutions can launch and build medical device companies. And a new survey of just one partner, Georgia Tech, shows more than two-dozen medical device technologies in the research and development pipeline.
GCMI will help Atlanta, Georgia and the Southeast expand what is already an important industry, building on the strengths of Georgia Tech, Emory and other research organizations; the real-world medical expertise and experience of area hospitals and clinicians; and the entrepreneurial know-how of investors and early-stage companies. Access to GCMI will allow Atlanta, Georgia and the Southeast to take better advantage of its resources to produce more investment and create more technology jobs for the area.
Spotlight
i6 Challenge 2010 Project Updates
St. Louis i6 Challenge Project Team Lead Organization: BioGenerator

The St. Louis region has made great strides in the creation of dedicated incubator and post-incubator laboratory facilities, capital, and support services for the development of bioscience companies.
Yet a gap exists at the earliest stage, where basic research from our institutions and nascent entrepreneurs is too undeveloped to sustain viable company formation. The St. Louis i6 Project is designed to fill this gap in the region's commercialization continuum by vetting innovative technologies with startup potential and providing resources to de-risk and advance those technologies to third party funding (e.g. investments, grants, contracts).
The i6 Project plan leverages (A) existing regional expertise; (B) new infrastructure positioned to lower costs of translational laboratory research, and (C) existing infrastructure resources with successful track records. It will increase the number and quality of technologies advanced to first funding.
The Project represents a unique, innovative partnership between the St. Louis region's non-profit commercialization organizations, its world-renowned research institutions, its urban and suburban governments, and the bioscience commercialization infrastructure that has been developed, along with additional expertise resident in the region individuals and small groups with entrepreneurial and industry expertise.
In its first ten months the Project has developed a procurement process, finalized the application process, assembled a group of local experts to review proposals, marketed the program and triggered the first round of applications, triaged these proposals, and selected six finalists. Awardees receive extensive support services and resources to advance their technologies to company creation and first funding.
Over the next few weeks we will announce initial awardees and trigger funding of action plans, contracting out activities that address key business and technical milestones. The Project also triggered a second round of applications; our goal is to announce the final group of awardees by the end of 2011.
Innovation Works' (IW) and Carnegie Mellon University's (CMU) EDA-funded i6 Agile Innovation System
Innovation Works' (IW) and Carnegie Mellon University's (CMU) EDA-funded i6 Agile Innovation System is accelerating the commercialization of technologies being developed within the region's universities and small businesses. The Agile Innovation System integrates the technological and educational strengths of CMU with the company-creation strengths of IW. By combining these strengths into a regional company development system, IW and CMU are creating a best-practice methodology for deriving regional economic benefit from federally funded research and student/faculty-generated opportunities. The system represents an extension of current commercialization and innovation models, but incorporates an adaptation of innovative "agile development" methods originally used in manufacturing that have since expanded to many industries. To date, 18 companies have participated in the i6 Agile Innovation program.
Agile innovation is based upon the belief that a company must intimately understand customer need by interfacing with customers as early as possible even before a product has been developed. A prototype product is quickly developed and presented to customers for feedback; that feedback is then used to refine and improve the product. This iterative process is repeated so that a marketable product addressing customer needs can very quickly come to market. This agile innovation process is taught through the i6 program, ensuring that companies understand its value and how to implement it to maximize the success of their product offerings.
Each team or company is paired with three distinct mentors from the program's extensive mentor network. The first mentor is a "quarterback" either an IW or CMU Entrepreneur-in-Residence who helps guide a company through the agile innovation process. The second mentor is a Business Mentor who has domain or functional experience that can quickly influence the direction of the company and their product. Lastly, a Product Mentor such as a current Product Manager or CTO helps the company navigate the realities of commercializing their products. These three mentors, focusing on process, function and implementation, are helping participating companies get better products to market in a shorter period of time, improving their competitiveness and laying the groundwork for success.
The i6 Challenge at Technology Ventures Corporation (TVC)

Technology Ventures Corporation (TVC) proposed to facilitate nine tasks for the i6 Challenge Grant.
TVC personnel were to begin the process by identifying current SBIR awardees who could benefit from the extensive program TVC has created to aid entrepreneurs in developing technology-based start-up companies and who could attract venture capital funding.
The TVC plan was to contact all active SBIR Phase II awardees. There were 75 actives identified. Of these, 45 had not received TVC commercialization assistance in the past. These organizations are being contacted and informed of the services offered by TVC.
The services offered include (1) assessment of the commercial viability of the research, (2) entrepreneurial skills training, (3) intellectual property (IP) development, (4) assistance in developing a written business plan, (5) facilitation of introduction to venture capital and other private equity sources of funding. In many of these areas, such as IP strategy planning and entrepreneurial skills development, concentrated education training is offered. For example, the entrepreneurial skills portion consists of six four-hour training modules on various topics from finance to business law. To enhance the real-world perspective, TVC is teaming with the New Mexico Angel network of investors to provide unencumbered insights to venture funding.
Historically, the SBIR program has not created many new viable commercial enterprises. However, there have been a few and some of those have been the successes that the venture investment community calls "homeruns." TVC's goal in the i6 Challenge program is the successful promotion of SBIR engaged companies into the commercial business sphere.
The Oregon innovation Cluster
In 2005, Oregon's Governor and Legislature brought together 50 leaders from the private sector, universities, venture capitalists and government to create new ways to build innovation into the DNA of Oregon's business. The process took 1,200 hours of volunteer time, and established the Oregon Innovation Council which in turn established three Signature Research Centers each tackling different emerging industry clusters: The Oregon Translational Research and Drug Development Institute (OTRADI), The Oregon Nanoscience and Microtechnologies Institute (ONAMI) and Oregon Built Environment and Sustainable Technologies (Oregon BEST). The collaboration born between OTRADI, ONAMI and Oregon BEST became the Oregon Innovation Cluster and is the 2010 winner of the i6 Challenge in the Seattle Region.
In the first months of operation under the EDA i6 Award, the Oregon Innovation Cluster has begun to focus on the four core missions of the grant, including:
Providing technical and business assistance services to start-up companies
Making proof-of-concept grants to universities involved with start-up companies
Attracting financial capital to Oregon
Establishing internship and sabbatical opportunities for high school through postdoctoral students
In particular, Oregon BEST has now funded grants at Portland State University and Oregon Institute of Technology to complete prototype testing of an innovative energy-efficient thermal window insert and to develop the electronics, software, and hardware necessary to produce a prototype two-seat, hybrid gas-electric, commuter vehicle with Green Lite Motors.
OTRADI is finalizing details with the Oregon University System and Oregon Health & Science University for a $6M investment to establish and run an accelerator for start-up bioscience companies within a new $300M Collaborative Life Science Building. OTRADI will manage the accelerator facility with plans to house start-up companies and a bioscience venture fund. OTRADI has also trained a high-school intern to conduct high-throughput screening for new antibiotics using state-of-the-art robotics.
ONAMI completed the selection of three Entrepreneurs-in-Residence (EIRs) to work with ONAMI startup companies to position them for growth and to attract financing. The EIRs will also work with ONAMI and university tech transfer staff to identify promising technology proof-of-concept teams to develop in Oregon.
The group collectively has sponsored the Willamette Angel Conference, an event that helps start-up companies find investors and culminates in a $200,000 investment awarded to a top start-up company from separate funds, as well as Angel Conferences in Portland, the Columbia Gorge and Southern Oregon.
The OIC also helped to plan an EDA i6 Awardees' Conference in Akron, OH which culminated in preparing a white paper delivered to the EDA summarizing all of the 2010 i6 awardees' plans of action, challenges and shared best practices we are undertaking.
While we have much left to do in the coming year, the OIC is making great progress delivering on our goals to strengthen the innovation ecosystem in Oregon to develop new sustainable, high wage jobs in our economic clusters.