The mission of the Economic Development Administration (EDA) is to lead the federal economic development agenda by promoting innovation and competitiveness, preparing American regions for growth and success in the worldwide economy. The agency has a competitive grant process and has established the following investment priorities as criteria: collaborative regional innovation, public/private partnerships, national strategic priorities, global competitiveness, environmentally sustainable development, and economically distressed and underserved communities.
Message From Deputy Assistant Secretary
Matt S. Erskine
Dear Friends,
Investing in our nation's business infrastructure and work force is more important today than ever before. But it is something that no entity—be it a state or local government, a town, or an economic development authority—can do on its own: The resources required are large and, to be effective, any investment needs to call on a wide pool of talent and resources. The key to success is collaboration.
It is this philosophy—collaborative investment with local and regional partners—that guides our work at the Economic Development Administration. In this issue of Innovate@EDA, we highlight a variety of EDA projects that represent strong examples of our approach in action. These include helping entrepreneurs in New Orleans through The Idea Village and underwriting the groundbreaking work of Atlanta's Global Center for Medical Innovation. And, according to a recent report published by the National Governors' Association, it is an approach that informs the strategies many states are taking as they work to improve their economies.
The collaborative approach is being successfully applied on the international stage as well, as you will see from the Q&A with Vinai Thummalapally, the new executive director of SelectUSA, the federal government's initiative to attract and retain business investment in the United States. On October 31 and November 1, you are invited to participate in SelectUSA's marquee event in Washington, D.C., the SelectUSA 2013 Investment Summit. This event will bring together businesses, serious investors, state and local economic development organizations, and high-level administration and White House officials. You won't want to miss it—not only will you hear from top leaders and experts, but you will have the opportunity to showcase the work that you have done to support business investment in the United States, as well as to solicit best practices and lessons learned from key stakeholders. In addition, the exhibition floor and matchmaking components of the Summit will serve as a platform for tangible transactions between investors and U.S. cities, states, and regions in support of job creation and economic growth. Information on how to register is in this issue. I strongly urge you to attend.
Thank you for your interest in our work at the U.S. Economic Development Administration.
Q&A: Partnering to Attract and Retain Foreign Direct Investment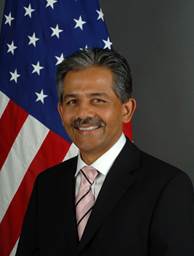 Vinai Thummalapally, executive director of SelectUSA
Ambassador Vinai Thummalapally serves as executive director of SelectUSA, a part of the U.S. Department of Commerce's International Trade Administration. SelectUSA is the U.S. government-wide initiative to attract and retain business investment in the United States. Originally from Hyderabad, India, Ambassador Thummalapally brings a wealth of experience from both the private and public sectors to his job. Immediately prior to coming to SelectUSA, he served as ambassador to Belize from 2009 until 2013. Before that appointment he served as president of MAM-A Inc., (formerly Mitsui Advanced Media), the nation's leading manufacturer and distributor of archival recordable optical discs. He also served as the plant manager of WEA Manufacturing Inc., was manufacturing manager of Disc Manufacturing, Inc., and holds U.S. patents for the design of optical disc manufacturing. Recently, Ambassador Thummalapally answered some questions about SelectUSA, its role in promoting investment in the United States, and the SelectUSA Summit scheduled to be held in Washington, D.C., October 31–November 1.
Q: What impact does foreign investment have on the U.S. economy?
Foreign direct investment (FDI) plays an important role in the U.S. economy. It leads to the creation of jobs, an increase in wealth and living standards, and overall growth and innovation that drive the U.S. economic competitiveness. The United States is the largest recipient of direct investment in the world. In 2012, the total stock of direct investment into the United States totaled nearly $2.7 trillion. Currently, majority-owned subsidiaries of multinational firms with U.S. operations employ more than 5.6 million workers and pay an average annual compensation of $77,600. In 2011, alone, U.S. subsidiaries of global firms spent more than $45 billion for research and development and accounted for 16.3 percent of U.S. goods exported in 2011.
SelectUSA Investment Summit

Pre-registration is now open for the SelectUSA 2013 Investment Summit. This first-ever event will take place in Washington, D.C., on October 31 and November 1, 2013, and will connect international and domestic investors and firms with economic development organizations from across the country in an effort to promote investment here and support the creation of American jobs. Participants will hear from world-class business leaders, senior administration officials, and industry and technical experts. The Summit will also feature an exhibition area for state, local, and regional economic development organizations and matchmaking sessions. For more information and to register, visit the SelectUSA Investment Summit's website.
Q: What are the things that make the United States attractive to a potential foreign investor? What do potential foreign investors look for in U.S. regions?
With renowned educational institutions, growing industry clusters, first-class research and development centers, and a productive work force, regions across the country offer investors a diverse mix of incentives to meet their needs. Businesses that work with SelectUSA state a diversity of reasons for their ultimate location decision. For example, in 2012 Voestalpine Metal Forming, an automotive industry supplier based in Austria, broke ground for their new U.S. plant in Cartersville, Georgia. The investment totals $62 million and will create 220 new jobs. For Voestalpine, the location's proximity to the production facilities of major automotive manufacturers and the business-friendly environment were both very important. Also in 2012, Canadian AGS Automotive System (AGS) announced plans to open an impact beam assembly facility in Flint, Michigan. The company's total investment was $21 million, creating 90 new jobs and supporting 50 existing jobs. AGS noted that seamless support from the state, county and city facilitated their decision to expand in Michigan. SelectUSA facilitated both the AGS expansion and Voestalpine location through the SelectUSA Ombudsman and Firm Counseling services.
Q: What role does the federal government have to play in attracting foreign investment to the United States, and why?
While U.S. states, regions, and cities have a strong legacy of pursuing and winning business investment projects, having a full wrap-around approach to serving investors is imperative as competition for global investment increases. With SelectUSA, state, regional, and local efforts are supported at the national level now more than ever. SelectUSA promotes the United States as the best place in the world to invest, and helps level the playing field for U.S. regions competing with foreign locations for investment projects. For example, through the Advocacy Service, SelectUSA worked with Louisiana officials to advocate for Sasol, the South African energy company, to locate its gas-to-liquids (GTL) plant in the United States rather than in a foreign location. U.S. economic development organizations (EDOs) can rely on SelectUSA as a single point of contact at the federal level to coordinate business investment-related resources across all agencies of the U.S. federal government. SelectUSA provides firms with comprehensive information on establishing and operating a business, information on federal programs and services available, and guidance on the competitive and regulatory landscape of doing business in the United States. SelectUSA is part of the International Trade Administration's U.S. Commercial Service, which has offices in more than 70 countries around the world. Through SelectUSA, U.S. EDOs can leverage this network to support their own efforts to attract foreign direct investment (FDI).
Q: How can regions and localities best work with SelectUSA?
SelectUSA is a resource for U.S. EDOs and offers a suite of services to support their investment attraction and retention efforts. When working with a potential or existing investor and issues arise involving federal rules, regulations, programs or activities, EDOs can refer cases directly to the SelectUSA Ombudsman service. SelectUSA also coordinates opportunities for U.S. regions to promote their locations in target markets through the Single Location Promotion (SLP) service. In-market experts help U.S. regions develop a customized SLP scope of services, including individual meetings with government representatives and firms identified by the EDO, briefings, events, and other activities. Commercial Service offices around the world also offer SelectUSA Facilitated Investment Missions (FIMs) to provide EDOs and jurisdictions with unique international promotion opportunities and access to potential investors. These services offer participants market insights, investor connections, one-on-one business appointments, and networking events. To learn about upcoming FIMs, see the "upcoming events" section on the SelectUSA website, or sign-up for the monthly newsletter. Finally, as subject-matter experts, SelectUSA staff can help EDOs successfully recruit and retain investment—through sharing investment-strategy best practices, developing customized reports, and sharing FDI trends.
Q: The SelectUSA 2013 Investment Summit takes place next month. What are the goals and objectives of the summit, and how will participants benefit from it?
The SelectUSA 2013 Investment Summit is a first-of-its-kind, national-level event intended to connect businesses and investors from around the world with U.S. economic development organizations at the state, regional, and local levels. The Summit takes place October 31–November 1, 2013, in Washington, D.C. and will be hosted by the U.S. Department of Commerce's International Trade Administration, and SelectUSA. We are very excited to have a prominent line-up of CEOs who will participate in the Summit, including Laurence Fink of BlackRock, Daniel Doctoroff of Bloomberg, Douglas Oberhelman of Caterpillar, Inc., Andrew Liveris of Dow Chemical Company, Eric Spiegel of Siemens Corporation, and William (Bill) Simon of Walmart U.S. In addition, Secretary of State John Kerry, Secretary of the Treasury Jack Lew, and U.S. Trade Representative Michael Froman will join Secretary of Commerce Penny Pritzker at this important event. Plus, EDOs from 42 states plus the District of Columbia and Puerto Rico are lining up to attend the Summit. U.S. EDOs will benefit from unique networking opportunities, one-on-one meetings with potential investors, moderated panels, and discussions on the latest information on all aspects of investment. Exhibits are open to U.S. EDOs through their respective state economic development agencies. To pre-register and for more information, please visit www.selectusasummit.com/.
Q: How do SelectUSA services and EDA programs uniquely help U.S. regions to attract and retain jobs?
The U.S. Economic Development Administration (EDA) and SelectUSA closely partner to help U.S. regions develop sound investment strategies, competitive environments, and connection with potential investors. Together, our complementary programs and services help regions successfully attract and retain investment. For example, EDA programs can provide catalytic funding to communities to upgrade physical infrastructure, often a crucial piece in attracting new industry or encouraging business expansion. Through SelectUSA, that same region has an opportunity to meet potential investors and promote business opportunities through developing an SLP event in target markets, participating in a FIM, or attending the SelectUSA 2013 Investment Summit. EDA also offers important funding to help regions develop long-term comprehensive economic development strategies (CEDS). The CEDS is designed to bring together the public and private sectors in the creation of an economic roadmap to diversify and strengthen regional economies. SelectUSA can support regions as they develop their CEDS through the EDO counseling service. This help could include, for example, assistance in conducting a global competitiveness assessment and effectively incorporating strategies focused on retaining and attracting investment, or establishing competitive international positioning.
SUCCESS STORY
Helping the New Orleans Region Diversify, Grow, and Create Jobs
With support from EDA, The Idea Village, an independent nonprofit, has helped New Orleans become a magnet for entrepreneurial activity.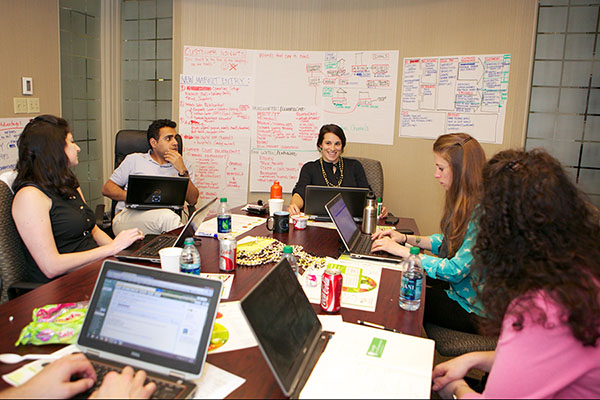 An IDEAcorps team from Yale University strategizes during New Orleans Entrepreneur Week 2013. The Yale team worked with New Orleans-based startup Your Nutrition Delivered, a fresh meal delivery service.
The sign posted at an event sponsored by New Orleans nonprofit, The Idea Village, should give a clue to anyone looking to find out more about the organization and its approach: "Crazy Ideas." It's the kind of spirit that the entrepreneurs who founded The Idea Village harnessed in their quest to reverse the economic decline of the Crescent City. Their success over the past 13 years has helped make New Orleans an entrepreneurial magnet: Forbes magazine named New Orleans the "Biggest Brain Magnet" of 2011 as well as the No. 2 "Best City for Jobs." And a July 2010 Brookings Institution report, "Katrina After 5," found that New Orleans' entrepreneurial activity was 40 percent above the national average, while Inc. magazine called New Orleans the "Coolest Startup City in America."
Those are heady accolades—both for a city that was battered by ferocious storms in the 2000s and for a region that saw a significant brain drain of its talented younger people during that time. But the achievements of today didn't come without a lot of hard work, and some savvy investments, to get the ball rolling.
Among those investors in New Orleans' turn-around was EDA. In 2009, in the wake of Hurricanes Katrina and Rita, EDA invested $800,000 with The Idea Village to help the city protect itself from further economic catastrophe, by encouraging economic diversification and the creation of a base of disaster-resilient industries, such as healthcare, information technology, and web design.
In order to develop a critical mass of such knowledge-intensive industries, New Orleans needed to expand its intellectual capital. EDA's investment funded the IDEAcorps program, which matched visiting MBA students from top-tier business programs of such institutions as the University of Chicago, the Massachusetts Institute of Technology, and Tulane University with local entrepreneurs and start-up companies.
These newly-minted business professionals helped provide technical assistance and business assistance to entrepreneurs, focusing on such fields as green technology, medical distribution and production, information technology, web development, and digital media production.
To date, 586 MBAs from 14 different universities have participated in IDEAcorps. In the 2012 Idea Village Entrepreneur Season, a six-month-long business assistance and education program that provides opportunities and support to entrepreneurs, 697 entrepreneurs received direct support, $2.2 million in resources were allocated, 14,405 hours of strategic consultation were delivered, and 75 events produced.
"Since its inception in 2000, The Idea Village has recognized that New Orleans has the assets needed to become an authentic self-sustaining entrepreneurial community," said Tim Williamson, cofounder and CEO of The Idea Village. "[The] investment and partnership from the Department of Commerce's Economic Development Administration is great validation that a movement has become a model—creating jobs, opportunities, choices, and a new generation of leaders for our community."
EDA's involvement with The Idea Village and New Orleans' community of entrepreneurs didn't end in 2009. In 2011, the agency awarded a second grant to The Idea Village, for $400,000, to further build on its programs that support entrepreneurship and to scale up New Orleans Entrepreneurial Week into a regional innovation challenge.

On August 28, during a visit to New Orleans, U.S. Secretary of Commerce Penny Pritzker visited The Idea Village and announced a new $600,000 EDA investment to continue this model public-private partnership. The latest grant will support technical assistance to an additional 300 local businesses in high-growth industries through programs such as IDEAcorps, and it will build upon the successful track record of The Idea Village's Entrepreneur Season. The grant will also help ensure the long-term sustainability of these efforts by underwriting the creation of a five-year strategic plan to guide future efforts to support New Orleans' entrepreneurial ecosystem and promote small businesses throughout the region.
The benefits of investments like this are clear. As EDA and Idea Village join forces, they are helping a once battered New Orleans economy to transform itself into a more resilient, innovative, and entrepreneurial place to do business.
SPOTLIGHT
Atlanta's Global Center for Medical Innovation Helps Bring Innovations to Market
In a recent visit to Atlanta, Secretary of Commerce Penny Pritzker saw first-hand how this EDA grantee and i6 winner is bringing together engineering and bioscience expertise to help entrepreneurs take their ideas from concept to market.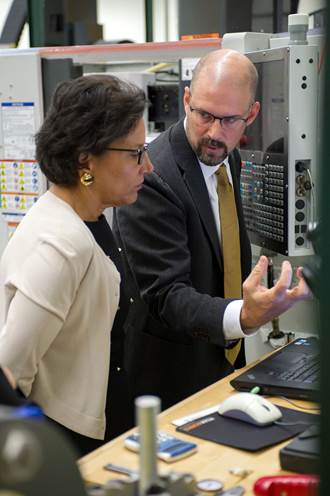 At the Global Center for Medical Innovation in Atlanta, Georgia on August 23, Secretary of Commerce Penny Pritzker views a prototyping machine.
On August 23, Secretary of Commerce Penny Pritzker visited the Global Center for Medical Innovation (GCMI) in Atlanta, Georgia, as part of her nationwide "listening tour." GCMI is an independent, nonprofit organization founded in 2010 that works with universities, research centers, and investors to help accelerate the commercialization of innovative medical technology.
In 2010, EDA awarded GCMI a $1.3 million grant that was critical to the organization's creation. These funds were matched by the Georgia Research Alliance, a public-private organization that supports development of the technology industry in Georgia. The same year GCMI was also awarded a $1 million federal grant as part of the multi-agency i6 Challenge, which helped GCMI grow to where it is today. The i6 Challenge was launched to support proof-of-concept centers and encourage and reward innovative, groundbreaking ideas that accelerate technology commercialization, new venture formation, job creation, and economic growth across the United States.
Located adjacent to the Georgia Tech campus, GCMI has a 12,000-square-foot facility that contains clean rooms and a state-of-the-art machine shop for prototyping and small-scale manufacturing of medical devices for preclinical studies. The center's rapid prototype machine is a 3D printer that enables innovators and entrepreneurs to bring their ideas from concept to reality in a matter of hours.
Since it opened its doors in 2011, GCMI has helped many companies develop their ideas and products, and currently houses four startups. Among its notable activities are a relationship with Georgia Tech and Children's Healthcare of Atlanta to develop and commercialize new medical devices for the pediatric market, and a project to help an Atlanta-based entrepreneur and inventor from Georgia Tech develop a functional prototype to help quadriplegics gain greater mobility.
For Pritzker, one of the key goals of federal investments made in the center was clear: "One of the things that we want to do is continue to encourage that kind of innovation process so that we can have new companies that are starting up that will create good jobs in America."
To read more about Secretary Pritzker's visit to GCMI, go to the Department of Commerce's website.
HIGHLIGHTS
New Manufacturing Jobs Pay Better than Others
A new report from the Department of Commerce shows that manufacturing jobs live up to their reputation as good jobs.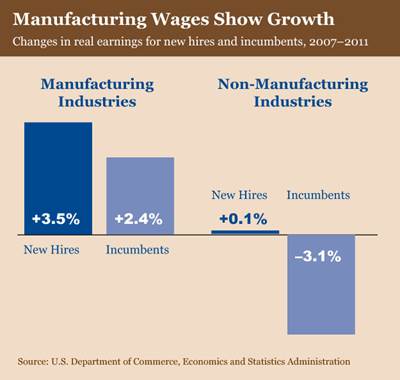 Manufacturing Wages Show Growth
Manufacturing jobs created in recent years are well-paying jobs, according to a report released in late August by the U.S. Commerce Department's Economics and Statistics Administration (ESA). The report found that new hires in manufacturing had 38 percent greater monthly earnings than new hires in other sectors at the end of 2011. The monthly earnings premium for the manufacturing workforce as a whole, including both new hires and incumbents, was 25 percent. This earnings premium results from both greater hourly earnings and from more hours of work per month.
Other findings of the report include:
At the end of 2011, the ratio of new hire earnings to incumbent earnings was about 8 percentage points higher in manufacturing than in other sectors.
Over time, the earnings of new hires relative to incumbents have been consistently higher in manufacturing.
Real average earnings of new hires in manufacturing grew 3.5 percent from 2007–2011, while earnings of incumbents in manufacturing grew about 2.4 percent. Over the same time, real earnings for hires in other industries were flat, and earnings for incumbents in other industries declined (see chart below).
Speaking to a gathering of U.S. manufacturers in Orlando, Florida, on August 21, U.S. Secretary of Commerce Penny Pritzker noted the significance of these findings. "Companies like yours are making and selling great products around the world at an all-time record pace. 'Made in America' is stronger than ever. … And just this week, we got even more good news. New hires in manufacturing had 38 percent higher monthly earnings that those in other sectors. So what's clear is this: America's new manufacturing jobs are good-paying jobs."
The complete report can be found on the ESA website.

In This Issue
San Francisco Visit Highlights NADO/EDA Partnership and EDA Support for Redevelopment of Hunters Point
On August 26, EDA Deputy Assistant Secretary Matt Erskine traveled to San Francisco, California where he met with the Board of Directors of the National Association of Development Organizations (NADO) and delivered the keynote address at the 2013 NADO Annual Training Conference. Erskine also joined EDA Seattle Regional Director Len Smith for a visit to Hunters Point on San Francisco Bay, where they enjoyed a presentation on redevelopment plans for this former Navy shipyard. The shipyard was closed by the Navy in 1994 as part of the Base Realignment and Closure Commission, and has undergone more than a decade of environmental remediation and site preparation for civilian reuse. Since 2001 EDA has provided $14.2 million in financial assistance to the city of San Francisco to support planning, design, pollution abatement, demolition, and new construction at the site. Currently, two EDA grants are active, focusing on the shipyard's Arts and Technology District
Super Computer Helps Ohio's Manufacturers and Knowledge Industry
HiVelocity media recently profiled the Ohio Supercomputer Center (OSC) in Columbus, Ohio. OSC is working with the National Digital Engineering and Manufacturing Consortium (NDEMC) to use its super-fast modeling and simulation capabilities to help small and medium-sized supply-chain businesses. NDEMC is a public-private partnership funded by EDA. Read the full story at hivelocitymedia.com.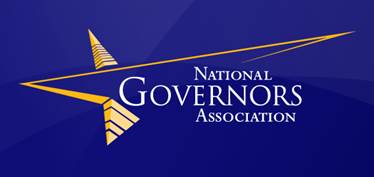 NGA Report Details Top Trends in State Economic Development
A recent report issued by the National Governors' Association (NGA) confirms what EDA has been doing for a long time: "with experience gained from practicing cluster-based economic development strategies, states are increasingly confident that they know how to strengthen the nation's competitive advantage through an embrace of innovation hubs and ecosystems." The report, Top Trends in State Economic Development, is available for download from the NGA website.

Florida Innovation Hub Helps Create 250 jobs in 20 months
The Florida Innovation Hub at the University of Florida in Gainesville has contributed to the creation of 250 jobs in just its first 20 months, and the three-story incubator already has more than two dozen tenants. The 48,000 square foot facility opened in October 2011, thanks to help from an $8.2 million EDA grant and a $5 million contribution from the University of Florida. For more information, see the article published by the University of Florida.
Upcoming Economic Development Events

September 16–17, 2013
September 24–27, 2013
October 6–9, 2013
October 23, 2013