The Mission of the Economic Development Administration (EDA) is to lead the federal economic development agenda by promoting innovation and competitiveness, preparing American regions for growth and success in the worldwide economy. The agency has a competitive grant process and has established the following investment priorities as criteria: collaborative regional innovation, public/private partnerships, national strategic priorities, global competitiveness, environmentally sustainable development, and economically distressed and underserved communities.
Message From Acting Assistant Secretary of Commerce for Economic Development
Matt S. Erskine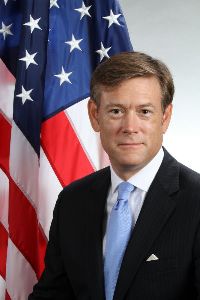 Dear Friends,
Economic growth is spurred by competition and fueled by collaboration. Small businesses, local communities, and regional economies depend on both to thrive. This issue of Innovate@EDA highlights concrete examples of competition and collaboration that jointly create success across a variety of sectors and on many scales.
This month's EDA newsletter spotlight is on two EDA-led national multi-agency manufacturing initiatives that were announced recently. The agency will support winners of the Investing in Manufacturing Communities Partnership (IMCP) and the Make it in America Challenge as they work to increase the competitive advantage of local communities and bring manufacturing jobs and investment to economically distressed regions.
Our featured success story describes EDA's investment in the organizations building the Baltimore Food Hub. This innovative project will leverage expertise and funding from the public, private, and non-profit sectors to transform unused, historic Baltimore buildings into facilities vital to entrepreneurs and workers in the city's food economy.
Our Q&A with Valerie Piper, Deputy Assistant Secretary for Economic Development at the United States Department of Housing and Urban Development (HUD), explores her leadership in implementing cross-cutting strategies between HUD, EDA, and other federal agencies to support jobs and small business across the country.
While EDA's work is focused on regional innovation and competitiveness in the U.S., our successful models are increasingly looked to as best practices by other countries. The most recent international recognition of EDA's work involves EDA funded projects featured in the Signs of Competitiveness in the Americas Report 2013.
Each of these stories shows how effective collaboration leads to novel competitive advantages for organizations and communities, regardless of their size or specialty. EDA is proud to be part of this innovative mix.

EDA was proud to work with the economic development community on the successful SelectUSA Investment Summit. Please continue to let us know how we can continue to support you and improve our level of service.

Thank you for your interest in our work at the U.S. Economic Development Administration, and thank you for your partnership.
Q&A: Valerie Piper, Deputy Assistant Secretary for Economic Development, United States Department of Housing and Urban Development
Valerie Piper serves as Deputy Assistant Secretary for Economic Development at the United States Department of Housing and Urban Development, where she oversees the Offices of Community Renewal, Rural Housing and Economic Development, Grants Management for Economic Development and Brownfields Economic Development Initiatives, and the Congressional Grants Division. Ms. Piper is also responsible for cross-cutting strategies between HUD and other federal agencies to support jobs and small business in HUD economic development goals.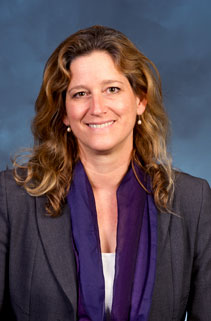 Photo of Valerie Piper
Question: The Department of Housing and Urban Development's Office of Economic Development is guided by the basic principle that government can help to create an environment that encourages innovation, rewards risk-taking, and promotes equal opportunity. This orientation supports President Obama's priority that federal agencies work together to better support bottom-up plans to spur economic and job growth. What multi-agency initiatives has HUD been involved in and what are some of the successes you have had?
HUD is working with other federal agencies, including the Economic Development Administration, on several initiatives that assist communities in creating jobs and helping hard-working people reach the middle class. These initiatives build upon proven tools to make existing federal programs work more effectively together, and partner with community leaders from the public, private, and nonprofit sectors that have come together with a focus on results.
As part of the Partnership for Sustainable Communities, HUD's Sustainable Communities Initiative has awarded 152 grants totaling $240 million that have in turn secured almost $253 million in private investment and commitments from local partners. The communities that have received these grants vary from rural communities in West Virginia and South Dakota to cities like Pittsburgh, Indianapolis, Austin, and Memphis; who through these grants have partnered with their local business community to create sustainable economic development plans. The 2012 grantees have brought significant local, state, and private resources to the table. HUD's investment of $95.8 million in 2012 is garnering $115 million in matching and in-kind contributions – which is over 120% of the Federal investment – from the 56 selected grantees. This brings to total public and private investment for this round of grants to over $211 million. These communities want to see vibrant districts in their cities that incorporate mix-use principals and provide their residents with transportation options that are close to job centers and housing.
Strong Cities, Strong Communities (SC2) creates an innovative model of federal-local collaboration dedicated to assisting communities in getting back on their feet and creating jobs by better leveraging federal resources and forming key partnerships to implement economic visions. SC2 developed out of conversations with mayors, Members of Congress, foundations, nonprofits, and other partners working in economically distressed communities who consistently highlighted challenges of local governments, the inadequacy of disjointed programs, and the need for a strong, clear, and more coordinated relationship with the federal government.
Seven locations have received intensive technical assistance from federal inter-agency Community Solutions Teams, and three other locations have been named as recipients of the Economic Development Administration's SC2 Economic Visioning Challenge. Community Solutions Teams have provided technical assistance that have enabled communities to more effectively utilize over $160 million in existing funds and successfully compete for nearly $100 million in new resources – over a quarter of a billion dollars in investment. The teams have also facilitated 160 new cross-sector partnerships – involving philanthropic and non-profit partners, businesses and other local anchor institutions working with municipal and federal staff. More than 700 small businesses and other organizations have received technical assistance.
The Investing in Manufacturing Communities Partnership (IMCP) is a new Administration-wide initiative intended to accelerate the resurgence of U.S. manufacturing and help cultivate an environment for businesses to create well-paying manufacturing jobs in regions across the country. The winners of the first phase of IMCP are highlighted in this newsletter.
The Promise Zones (PZ) initiative will revitalize high-poverty communities across the country by attracting private investment, improving affordable housing and educational opportunities, providing tax incentives, and reducing violent crime. The approach includes assisting local leaders in navigating federal programs, cutting through red tape, and utilizing resources of signature revitalization initiatives from the Departments of Education (ED), Housing and Urban Development (HUD), Agriculture (USDA), and Justice (DOJ), to ensure federal programs and resources support efforts to reinvigorate high-poverty urban, rural, and tribal communities across the country. Should Congress enact the Promise Zones tax credit (crafted on the proven model of Empowerment Zones tax credits), private businesses would receive tax incentives for hiring and investing in Promise Zones, to create jobs and attract additional private investments. Up to five Promise Zones will be designated this year, and a total of 20 designations will be made by the end of 2016. Information on the Promise Zone initiative can be found at www.hud.gov/promisezones.
Q: What are the policy priorities for the next few years for your division?
In addition to supporting the described initiatives, HUD's Office of Community Renewal, Office of Rural Housing and Economic Development and Congressional Grants Division are collaborating with other agencies including the Department of Treasury, the Department of Agriculture and the Small Business Administration to increase the flow of public and private capital to underserved rural areas, and support small and disadvantaged contractors in qualifying to bid on federally-funded construction. Applications are currently under review for the Border Community Capital Initiative, under which HUD will make small grants to nonprofit lenders serving low income residents of colonias near the U.S.-Mexico border. The Department of Treasury CDFI Fund will include the grantees in capacity building activities, and the Department of Agriculture -- Rural Development will make efforts to award points in relevant program areas for Border Initiative grantees, where appropriate and permitted under program regulations. To improve participation by small and emerging contractors in federally funded opportunities, HUD and SBA are working with private sector and local partners in participating communities, to provide business training and counseling geared specifically for construction and improve access to working capital sufficient to allow contractors to cover expenses through their initial progress payments on new construction jobs. Both of these initiatives work with existing funding and proven tools to reach underserved markets and improve opportunities for low income people and small businesses.
SUCCESS STORY
Expanding Baltimore's Food Economy and Job Market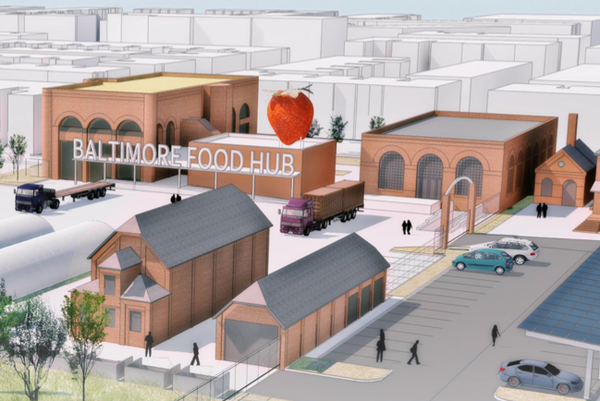 Artist's rendering of the Baltimore Food Hub

An EDA investment is supporting the work of the Historic East Baltimore Community Action Coalition Inc. (HEBCA) to transform unused buildings into an engine of growth and employment for Baltimore's food economy.
A shortage of commercial kitchens in Baltimore prevents local catering businesses from expanding their operations and hiring new workers. A feasibility study completed in 2012 demonstrated that a lack of facilities where local producers can legally and safely manufacture, prepare, and store specialty food products presents a barrier to small and medium-sized businesses (SMEs) that wish to compete locally and abroad. Overcoming this barrier would make new Baltimore business ventures more sustainable.
The EDA is helping a team of nonprofit organizations, businesses, and state and local agencies solve this problem by turning the historic buildings of the city's abandoned Eastern Pumping Station into a center of entrepreneurship and employment. The new Baltimore Food Hub will offer comprehensive services and resources vital to the area's food economy. An incubator will provide commercial kitchens for rent by the hour, food storage facilities, and affordable office space for new businesses.
EDA's $1.4 million investment in HEBCA's work on the project will be matched by local contributions, making a total of $2.8 million available for developing the Hub. This collaboration between local and outside investors will help strengthen the overall economy of Baltimore by creating an attractive infrastructure for SMEs seeking success in the $70 billion specialty foods industry. Backers hope to open the Hub in late 2014.
Participating organizations expect that combining resources for entrepreneurship with on-site job training programs in an economically distressed area will significantly aid efforts to create new jobs in Baltimore, where the Hub-related businesses are expected to hire for a wide variety of positions, including food production workers, cooks, bakers, packers, associates, and managers. The American Communities Trust anticipates that the Hub will create hundreds of jobs.
According to the project website, award-winning chef, restaurateur, and local food innovator Spike Gjerde will locate a production kitchen at the Hub, which will strengthen the ties between specialty food entrepreneurs and local farmers. Baltimore-based Big City Farms will build an urban farm on the site, adding to local food production. An educational garden modeled after celebrity chef Alice Water's Edible Schoolyard project will offer resources to local schools and youth programs. Further, the Hub will include a public farm stand and garden center.
By investing in this vital project, EDA is helping to diversify the local food economy, create new jobs, and bolster Baltimore's tax-base.
SPOTLIGHT
Fall Sees Major Developments in Manufacturing Promotion
The Obama Administration this fall announced major developments in its ongoing efforts to support American manufacturing. The winners of two multi-agency initiatives – the Investing in Manufacturing Communities Partnership (IMCP) and the Make it in America Challenge – will support local efforts to promote economic growth and advance regional investment collaboration.
On September 25, the administration announced the IMCP awards, an initiative that will help accelerate the resurgence of manufacturing in the United States and create jobs in cities across the country.
The forty-four planning grants and investments, totaling $7 million, are funded through the Departments of Commerce and Agriculture, the Environmental Protection Agency, and the Small Business Administration.
These grants and investments will help communities undertake the strategic planning necessary to compete for the IMCP Challenge being launched in fall 2013 and awarded in the spring of 2014.
In the 2014 Challenge competition, the Administration will designate stand-out "Manufacturing Communities" and give them an advantage in securing grants and investments through programs offered by 10 federal departments and agencies across the government.
"The IMCP is a program that challenges communities around the country to coordinate their resources for strategies on economic development," said Secretary of Commerce Penny Pritzker. "These planning grants and investments provide an opportunity for communities to design plans that help revitalize American manufacturing, attract investment, and strengthen our economy."
The Make it in America Challenge, launched in September of 2012, is also helping to strengthen U.S. manufacturing. Since early 2010, U.S. manufacturing has added over half a million manufacturing jobs, and surveys show that more than half of all manufacturers are, or are actively considering, re-shoring production to the United States. The Challenge aids domestic production and job growth by encouraging U.S. companies to keep, expand, or re-shore their manufacturing operations. Further, it entices foreign companies to build facilities and make their products in the U.S.
Ten Challenge winners in nine states were announced on October 22, 3013 and will leverage investments from several sources. Funds from the U.S. Department of Commerce's Economic Development Administration (EDA) will help distressed regions build on existing assets and create competitive environments for foreign-owned and domestic firms, encouraging job growth. The Department of Labor's Employment and Training Administration (DOL-ETA) will provide H-1B Technical Skills Training Grant funds for training and training-related employment activities to develop skilled workforces for target industries. The Delta Regional Authority (DRA) will support the winner from the agency's congressionally designated area, and the National Institute of Standards and Technology Manufacturing Extension Partnership (NIST-MEP) plans to make awards in early FY2014.
Secretary Pritzker explained that Challenge grants "reward promising ideas that will advance the Obama Administration's goals of improving our economy by strengthening our manufacturing sector and making our country a more attractive place to do business."
The 10 grantees will receive a total of $20.5 million for projects supporting regional economic development, advanced skills training, greater supply chain access, and other enhancements.
Look for further reports on the push to make America a magnet for jobs and manufacturing in upcoming issues of Innovate@EDA.
HIGHLIGHTS
Competitiveness Report Features Six EDA Projects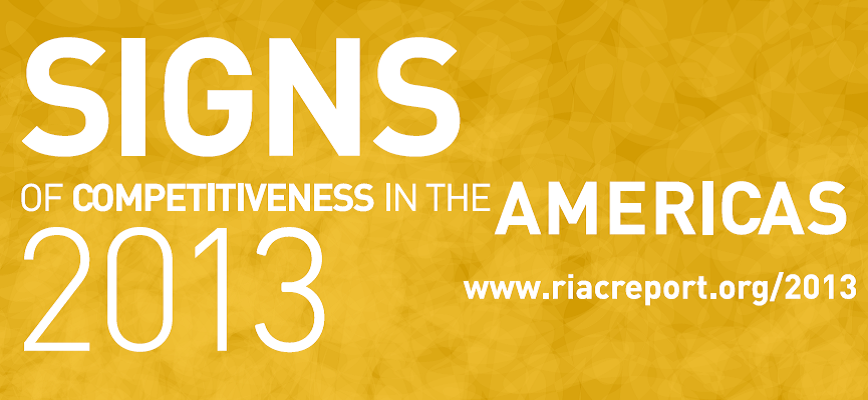 The new RIAC competitiveness report features EDA projects

Six EDA grantees were recognized in the Signs of Competitiveness in the Americas Report 2013, produced by Panama with the support of the Organization of American States (OAS) and presented at the Annual Meeting of the Inter-American Competitiveness Network (RIAC) in Panama City on October 2.
The featured EDA investments include:
$2.4 million in public works funds to improve the city of Rochelle, Illinois' municipal water and sanitary sewer utilities and the city-owned Rochelle Dual Access Railroad.
$1 million i6 Challenge grant to BioGenerator, Washington University in St. Louis, Saint Louis University, the University of Missouri at St. Louis, Donald Danforth Plant Science Center, St. Louis County Economic Council, and the St. Louis Development Corporation to advance bioscience technology commercialization.
$2 million in public works funds to Rutgers University to build the Food Innovation Center business incubator.
A $1.5 million to the city of Conover, North Carolina and Catawba Valley Community College to build a new home for the Manufacturing Solutions Center (MSC) and its business incubator at Conover Station in Hickory, North Carolina.
A $2.5 million grant in partnership with the Northern Arizona Council of Governments (NACOG), Northern Arizona University (NAU), and the city of Flagstaff to construct the Northern Arizona Center for Entrepreneurship and Technology Incubator (NACET) facility.
A $3 million grant for the construction of the Center for Emerging Technologies at the Clemson University International Center for Automotive Research (CUICAR) Campus in Greenville, South Carolina.

In This Issue
Secretary Pritzker Declares America is Open for Business at Inaugural SelectUSA Investment Summit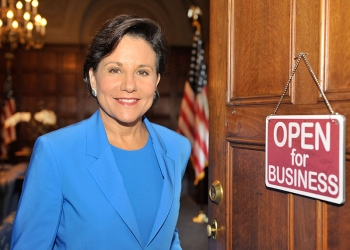 On Thursday, October 31, Commerce Secretary Penny Pritzker launched the inaugural SelectUSA 2013 Investment Summit, telling the more than 1,200 attendees from nearly 60 countries, 47 states, the District of Columbia, and three U.S. territories that the United States is open for business. The first-ever event is connecting foreign and domestic investors with local, state, and regional economic development organizations to promote investment and job creation in the United States. Read more here.
New DOC/Council of Economic Advisors Report: See how Foreign Direct Investment (FDI) Impacts the U.S. Economy
Every day, foreign companies establish new operations in the United States or provide additional capital to established businesses. With the world's largest consumer market, skilled and productive workers, a highly innovative environment, appropriate legal protections, a predictable regulatory environment, and a growing energy sector, the United States offers an attractive investment climate for firms across the globe.
A new report prepared by the Department of Commerce and the President's Council of Economic Advisers shows the benefits to the United States of being the world's largest recipient of foreign direct investment (FDI) since 2006.
New DOC report - "The Innovative and Entrepreneurial University: Higher Education, Innovation and Entrepreneurship in Focus"

The U.S. Department of Commerce has unveiled a report, "The Innovative and Entrepreneurial University: Higher Education, Innovation and Entrepreneurship in Focus," that shows how universities across the country are engaging to nurture innovation and entrepreneurship among their students, faculty and communities with the goal of supporting industry and the regional economy to create jobs and keep America competitive.
The report highlights how colleges and universities are working in five areas where universities are supporting innovation and entrepreneurship. These categories included:
Promoting student innovation and entrepreneurship
Encouraging faculty innovation and entrepreneurship
Actively supporting university technology transfer, facilitating university-industry collaboration and
Engaging in regional and local economic development efforts.
BusinessUSA Nominated for a FedScoop 50 Award

BusinessUSA, a collaborative effort of government agencies to provide a single access point for businesses and exporters to connect with government programs and services, has been nominated for a FedScoop 50 award. EDA is one of many government agencies that have been working to grow and build BusinessUSA over the past two years. Business owners now have a way to find our programs, and other programs across the government that may be able to help them, all at one convenient spot. If you haven't already, check out BusinessUSA's great tools and services today. And when you're done, read more about its nomination here.
City of Greensboro Extends Deadline for Submissions To Its SC2 (Strong Cities, Strong Communities) Challenge
The City of Greensboro, North Carolina, has extended its competition that will award up to $1 million for the winning proposal for spurring economic growth in the region. This challenge is part of the EDA Strong Cities Strong Communities (SC2) Economic Visioning grant that Greensboro received in 2012. The new deadline for submitting a proposal is April 15, 2014. For more information, visit the City of Greensboro's SC2 Challenge Website and GreensboroIdeas.com.
EDA Tools for Economic Developers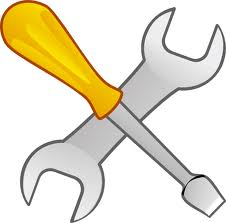 EDA partners with entities to develop and disseminate tools on new and emerging economic development concepts that practitioners and policymakers can use to make more informed development decisions. These tools can help you identify levels of distress, develop a strategic plan, build the regional ecosystem, identify competitive advantage, and decide among competing projects. For access to all of these EDA tools, please click here.