The Mission of the Economic Development Administration (EDA) is to lead the federal economic development agenda by promoting innovation and competitiveness, preparing American regions for growth and success in the worldwide economy. The agency has a competitive grant process and has established the following investment priorities as criteria: collaborative regional innovation, public/private partnerships, national strategic priorities, global competitiveness, environmentally sustainable development, and economically distressed and underserved communities.
Message From Acting Assistant Secretary
Matt S. Erskine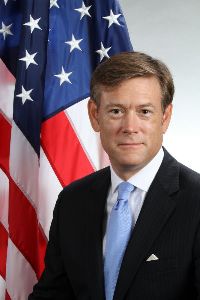 Dear Friends,
A crucial facet of economic development involves fostering mutually beneficial partnerships comprising leaders from the private, public, and higher education sectors. Effective and sustainable collaboration results in thriving communities with increased business activity and more and better paying jobs. We see this time and time again in our work across our great country.
Partnerships depend on connections. Our Q&A with Dennis Alvord, Executive Director, BusinessUSA, explores how BusinessUSA is supporting entrepreneurship and economic growth by connecting small businesses with the resources they need to thrive in the global marketplace.
Our success story this month highlights how a relatively modest EDA investment in critical infrastructure is supporting an alternative energy cluster in Colorado and driving regional economic growth. Our investment is helping to power more foreign direct investment in the region as well as new high-paying manufacturing jobs – making the front range region a leader in the field of green energy.
Be sure to check out the spotlight section to read a blog post on U.S. Treasury Secretary Jacob Lew's visit to Virginia's Commonwealth Center for Advanced Manufacturing (CCAM). I was pleased to join Secretary Lew as he saw first-hand how CCAM is changing the game for how we can grow manufacturing in the U.S.
Finally, the highlight section explores how the Administration's cross-cutting, multi-agency Make it in America Challenge investments are helping to generate foreign direct investment (FDI) in Pennsylvania through a partnership with the SEDA-Council of Governments.
All of these stories show how EDA is promoting the business and job growth objectives of communities across the country. Developing linkages within regions helps businesses and communities better align their assets with the needs of the marketplace and more effectively generate better paying jobs.
EDA is proud to support this mission and to serve as a partner in the exciting innovations taking place in both the public and private sectors.
Thank you for interest in our work at the U.S. Economic Development Administration, and thank you for your partnership.
Q&A: Dennis Alvord, Executive Director, BusinessUSA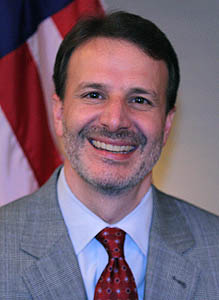 Dennis Alvord, Executive Director of BusinessUSA
Dennis Alvord was appointed Executive Director of BusinessUSA in March 2012. Launched by President Barack Obama in October 2011, BusinessUSA is a multi-agency customer service initiative designed to improve awareness of and streamline access to business assistance resources. As Executive Director, Mr. Alvord is charged to develop and deploy the initiative's operational infrastructure. He is a tireless advocate of small businesses and entrepreneurship and helping U.S. firms compete in the global economy.
Mr. Alvord previously served as Executive Director of the U.S. Department of Commerce's CommerceConnect initiative. Started by Secretary Gary Locke in October 2009, CommerceConnect was a customer service initiative that simplified access to Commerce business solutions though a single entry point to programs, information, and services.

Earlier in his career, Mr. Alvord served in a variety of executive positions at the Department's Economic Development Administration (EDA) including as the Acting Deputy Assistant Secretaries for Economic Development, Regional Affairs, and External Affairs.

Before joining the federal government, Mr. Alvord was a Project Manager in the Infrastructure Finance Group of the Bethesda, Maryland-based environmental and transportation consulting firm Apogee Research, Inc. Mr. Alvord holds a Masters of Public Administration degree from the George Washington University School of Business and Public Management in Washington, D.C. and a Bachelor of Arts in Political Science from the State University of New York College at Cortland.
Q: What is BusinessUSA and how was it created?
BusinessUSA is the federal government's official assistance resource for U.S. businesses. As a government-wide initiative, BusinessUSA is the principal gateway to resources for entrepreneurs and businesses to grow and succeed. Launched in February 2012, BusinessUSA provides businesses, exporters, and entrepreneurs with a single access point to up-to-date business-related information, programs, tools, and services. With thousands of federal, state, and local resources, BusinessUSA is making it easier for entrepreneurs and exporters to locate, access, and utilize the enterprise assistance resources most relevant to their business needs. Because BusinessUSA leverages multiple federal partnerships and integrates thousands of business-facing resources and tools through a single point of entry, BusinessUSA saves entrepreneurs valuable time otherwise spent navigating through the myriad of government resources. BusinessUSA addresses the needs of businesses by providing easy access to information and services through various customer service channels (e.g. web, FAQs, phone, etc.).
On October 28, 2011, President Obama created the initiative in a Presidential Memorandum entitled, Making It Easier for America's Small Businesses and America's Exporters to Access Government Services to Help Them Grow and Hire. The enterprise is co-managed by the U.S. Department of Commerce and the U.S. Small Business Administration, which are responsible for the design, development, and operation of the effort. Among the key tenets of the initiative is to quickly and easily connect businesses to the government services most relevant to them. To date, signature products include the Business.USA.gov website and a contact center at 1-800-FED-INFO. BusinessUSA has also been expanding other customer service channels such as email ticketing, chat, and social media.
Q: What key services and resources are available through BusinessUSA to help connect businesses with the information they need to succeed? Do businesses have a role in ensuring that the program works to meet their needs?
BusinessUSA's customers receive a personalized service delivery approach integrating innovative technology solutions and multi-channel customer service based on their individual preferences. Customers are able to interact with BusinessUSA in whatever manner they prefer – some of the most popular avenues include using self-service tools on the website, speaking with a contact center agent, and submitting an email request on-line. Whether a business is just starting out or looking for opportunities to grow or export their products to new markets, BusinessUSA can connect firms to the right resources and services to meet their needs.
BusinessUSA houses a wide array of resources. Current offerings help business customers start or grow a business, protect intellectual property, improve manufacturing efficiency, identify procurement opportunities, locate financing, learn about health care, access data and information, begin or expand exporting, facilitate veterans' entrepreneurship, grow women and minority-owned businesses, receive disaster recovery and preparedness assistance, understand taxes and regulations, invest in the United States, and much more. To date, BusinessUSA has had over 1 million website visits and 3.6 million page views, more than 14,000 phone inquiries, over 79,000 newsletter subscribers, and more than 28,000 twitter followers. Business-facing resources have expanded from 297 at launch to over 5,700 federal, state, and local resources. The website has also promoted 200 success stories and 25,000 business-related events.
Particularly important to BusinessUSA is obtaining customer feedback to ensure that customer needs are being met. Indeed, the President's Memorandum creating the initiative directed that it be "…designed, tested, and built with the active feedback of U.S. businesses and relevant online communities." As such, BusinessUSA continually solicits information on customer satisfaction and how the customer experience can be enhanced.
This is achieved through online and contact center user surveys, website analytics, presentations to business organizations, website usability sessions, and focus groups to name a few. Perhaps the greatest source of feedback comes from visitors to Business.USA.gov who avail themselves of the options on the customer service tool bar allowing them to 'Ask a Question' or 'Give Feedback'. BusinessUSA welcomes feedback on the initiative and how to best meet customer needs.
Q: The Commerce Department's Open for Business Agenda focuses on trade and investment, innovation, and data as critical components of our economic growth. How is BusinessUSA working to advance this agenda?
As a single access point for business information and resources, BusinessUSA supports all aspects of the Department's Open for Business Agenda. As the title of the President's Memorandum creating the initiative suggests, there is a particularly tight nexus to the trade and investment components of the Agenda, where BusinessUSA works to expand access to resources that help firms export and access financing. In fact, BusinessUSA recently added new export resources to the website available at business.usa.gov/export.
BusinessUSA also added resources to the website homepage in support of the Department's SelectUSA initiative and to help firms make good in-bound foreign direct investment decisions that support new and expanded U.S. operations. BusinessUSA supports the innovation plank of the Agenda by connecting firms to manufacturing and technology commercialization resources as well as resources to help with challenges such as intellectual property protection. Finally, the initiative also fully supports the Department's interest in enabling businesses in a globally competitive economy to make better use of government data. In creating BusinessUSA, the President directed that "…agencies shall work together to aggregate on the BusinessUSA platform statistical, demographic, and other raw Government datasets of particular interest to small businesses and exporters, making government data more easily accessible and spurring innovative uses of the data through business oriented web or mobile applications." In total, BusinessUSA provides access to dozens of programs, services, and data resources spanning all 12 Commerce Bureaus that support the Department's Open for Business Agenda.
Q: How can regions and localities best work with BusinessUSA?
Every entrepreneur has unique business needs and BusinessUSA is working to assist businesses in gaining access to the services, programs, and resources across the government, many of which are most readily accessed through regional and local offices. Since its launch, Business.USA.gov has worked to provide a personalized experience that is intuitive, interactive, and responsive to customer needs and preferences. To that end, users can enter a zip code to locate the closest federal resource providers, state, and local information and local business training opportunities and events.
One of the goals of BusinessUSA is to increase and improve the content and provide innovative new user-friendly tools that will help businesses and entrepreneurs to get the answers they seek quickly in a more comprehensive, well organized manner—no matter their location. Therefore, we encourage regions and localities to: 1) help us identify resources that can be made available through BusinessUSA, 2) work with us to cross-promote the initiative and enhance awareness of BusinessUSA as a resource, and 3) give us feedback to help us continually improve.
By engaging businesses at conferences and workshops, and through conversations with area entrepreneurs, local business assistance organizations can help promote the benefits of BusinessUSA and encourage its use as the definitive source for federal information and services aimed at helping sustain businesses. BusinessUSA also encourages the sharing of information through national and local organizations marketing and outreach efforts such as business correspondence, social media outlets, and print and electronic newsletters, and publications like the Innovate@EDA newsletter.
Q: What are the policy priorities for the next few years for BusinessUSA?
Over the next few years, customers can expect to see a variety of enhancements to the BusinessUSA initiative. Importantly, we will continue to work to maintain, update, and expand the content and information offered through BusinessUSA. In many areas, we are just getting started identifying, compiling, and capturing the resources that will be most helpful to tomorrow's entrepreneurs and business leaders. To be successful, we will continue to grow and strengthen our partnerships at the federal, state, and local levels.
BusinessUSA is also very interested in developing and implementing new collaborative customer service models that replicate best practices from the private sector. We will strive to build out a full, multi-channel customer experience in a uniquely integrated fashion that includes existing customer service channels like the website, contact center, and email as well as new channels such as a better search engine, online communities, social media, blogs, chat, more robust FAQs, and other customer accoutrements. Non customer-facing improvements, including a vigorous shared knowledge base, enhanced metrics and analytics, and an improved ability to track, refer, respond, and follow up on customer inquiries will also be developed.
Finally, from a technology development perspective, BusinessUSA will accelerate the development and integration of innovative new technology solutions using an agile methodology and iterative approach to improvements. Expect to see new personalized features that leverage the work of BusinessUSA's team of White House Presidential Innovation Fellows on the 'MyUSA' platform, as well as creative new smart tools and features that respond directly to customer feedback and requests.
We're just getting started! Please visit Business.USA.gov frequently, share the URL with others, and join the conversation about what enhancements you would like to see in the future.
SUCCESS STORY
Winds of Change Bring New, High-Paying Jobs to Colorado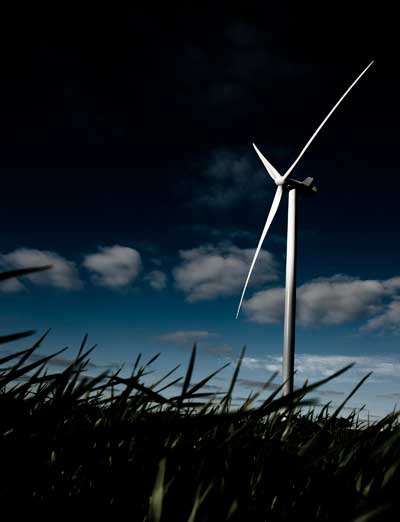 Parts for Vestas Windmills, like the one pictured, are now built in Brighton, Windsor, and Pueblo, Colorado. Photo courtesy of Vestas Wind Systems A/S
There is a positive change in the air along the front range of Colorado. Thanks in part to critical infrastructure grants from EDA, foreign-direct investment has blown into the region. Vestas Wind Systems, a Danish-headquartered company that has become the world's largest supplier of wind-power generation equipment, has recently announced that it is expanding operations in Brighton, Pueblo, and Windsor to create more than 1,300 new, high-paying manufacturing jobs in the state.
The front range region offers unique opportunity for development and expansion of the wind generation and manufacturing sectors, but the community needed some assistance to help it fully capitalize.
In Brighton, existing Northeastern Renewable Energy Park was in dire need of upgrade in order to accommodate Vestas as well as continue to support existing activity. A $3 million EDA investment helped to upgrade roadway, water, and waste water infrastructure to allow for growth of industry and new job creation. In Windsor, a $1.7 million EDA investment helped to ugrade the wastewater treatment plant to accommodate additional development.
Today, the new Vestas plant in Brighton produces both blades and nacelles (the gearboxes and generator shells for the turbines), and the nearby plant in Windsor manufactures blades. Vestas' third facility in Pueblo builds the actual towers, which puts Colorado in the forefront of wind power manufacturing.
"We would not have been able to create so many jobs so quickly in our community without the critical assistance from EDA that allowed Vestas to build its plant here."
The EDA investments aren't just helping to generate jobs in the region – they are catalyzing the region's alternative energy company cluster. The goal is not just to create jobs for now but to create jobs for the future. EDA recognizes that vision and forward thinking and is excited to play a role in making the community economically stable for years to come.
"We all want to bring more jobs to our communities, and a integral part of the attraction is to effectively construct roads and wastewater infrastructure. It's not something people typically think about… that infrastructure investment translates into permanent job creation," said Robert Smith EDC Director for the City of Brighton. "We would not have been able to create so many jobs so quickly in our community without the critical assistance from EDA that allowed Vestas to build its plant here. These kinds of partnerships with the EDA are making a real difference in communities like ours."
"We knew that there was tremendous potential for industrial investment in the town of Windsor," said Kelly Arnold, Town Manager for Windsor. "EDA enabled us to make the necessary upgrades to our town's infrastructure to realize that potential. We are very grateful for the support and look forward to continued growth thanks to EDA's help."
The future is bright for the front range region. New orders for the plants mean more new jobs for the citizens of Brighton and Windsor. Vestas is looking at hiring several hundred more workers throughout 2014 and 2015 to meet capacity. The investments from EDA and Vestas have provided both the literal and figurative wind that is allowing this town to reach new economic heights.
SPOTLIGHT
After State of the Union Secretary Lew Highlights Importance of U.S. Manufacturing and Workforce Training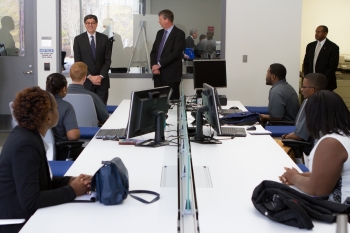 Secretary Lew and Deputy Assistant Secretary Erskine visit CCAM
Guest blog post by Marissa Hopkins Secreto, Senior Advisor to the Assistant Secretary of Public Affairs at the United States Department of the Treasury and Angie Martinez, Director Office of External Affairs at the U.S. Department of Commerce, Economic Development Administration.
As part of President Obama's call for creating more high-tech manufacturing jobs in his State of the Union Address last week, Treasury Secretary Jacob J. Lew visited the Commonwealth Center for Advanced Manufacturing (CCAM) in Prince George County, Virginia, on Friday. Secretary Lew toured CCAM's facility and discussed the future of U.S. manufacturing and the importance of workforce training with CCAM's business and university partners, as well as Matt Erskine, Deputy Assistant Secretary of Commerce for Economic Development.
"To build on the progress we have made over the last five years, we have to continue to take action to help strengthen economic growth, create jobs, and restore opportunity for all," Secretary Lew said in statement about his visit. "CCAM is at the forefront of expanding opportunity by bringing researchers, students, and business together to drive innovation and develop advanced manufacturing technologies. It is also a powerful example of why this Administration's focus on increasing job training, modernizing our education system, and creating manufacturing institutes is so important."
CCAM is changing the game for how we can grow manufacturing in the U.S. Their approach bridges the gap between fundamental research typically performed at universities and product development routinely performed by companies. CCAM's members guide the research, leveraging talent and resources within CCAM and at Virginia's top universities, through a collaborative model that enables them to pool R&D efforts to increase efficiencies. Results can then be applied directly to the factory floor, turning ideas into jobs faster and more affordably than ever before. CCAM is just one example of the federal government's efforts to connect universities to businesses and strengthen American manufacturing and our economy through these partnerships.
The U.S. Commerce Department's Economic Development Administration (EDA) has been a key partner in the development of CCAM since its inception. In May 2011, EDA invested $4 million to help build the CCAM facility, which opened in September 2012. The 62,000 square-foot state-of-the-art building serves as the physical hub for university and corporation collaboration.
In October 2013, EDA, through the Administration's multi-agency Investing in Manufacturing Communities Partnership (IMCP), awarded a $280,600 strategic planning grant to CCAM to help develop an Advanced Manufacturing Apprentice Academy Center to prepare workers in the region for careers in advanced manufacturing.
Friday's visit to CCAM reinforces the Administration's commitment to investing in high-tech manufacturing, research and development, and job training in order to promote real, lasting economic opportunity for all. To make sure America is better positioned than ever to compete globally, the President has proposed launching four new manufacturing institutes in 2014, a government-wide review of federal training programs to help Americans get skills in demand for good jobs, and expanding apprenticeships by mobilizing business, community colleges and labor.
HIGHLIGHT

SEDA-COG Attracts International Investment to Rural Pennsylvania
The SEDA-Council of Governments, along with numerous partners across the state, has begun a $3 million program to attract international investment and generate economic growth across Pennsylvania's rural counties.
A portion of the program's funding has been provided through an EDA "Make It in America" grant, one of ten such grants approved nationwide by the Obama Administration. The program will be carried out in the 52 counties that comprise the "T" region of Pennsylvania.
Key funding sources include the Economic Development Administration (EDA), Employment and Training Administration (ETA), and National Institute of Standards and Technology/Manufacturing Extension Partnership (NIST/MEP).
The program will employ a comprehensive plan of "reverse investment," encouraging foreign companies to expand into Pennsylvania, as well as domestic companies that have moved their production overseas. "Our state has a lot to offer," said Noelle Long, Director, SEDA-COG Export Development program, "a reliable, industrious work force; quality schools and research centers; and potential opportunities in areas like agribusiness, energy, and advanced manufacturing.
"What we have to do," she said, "is match the economic development assets of Pennsylvania with the needs and objectives of the world's manufacturing community."
On an individual basis, organizations in the state have pursued foreign investment but may not have had adequate time, financial resources, and staff. "In this case, however," said Mrs. Long, "we'll be working together, sharing, and learning from one another in order to bolster current efforts." SEDA-COG and six additional multi-county organizations involved in the project have years of experience in export markets, familiarizing themselves with foreign companies and distributors while learning about their culture. Several are members of Pennsylvania's Regional Export Network (REN).
A major role will also be played by the Commonwealth's Center for Direct Investment. As a division of the Pennsylvania Office of International Business Development, the Center is familiar with foreign trade show participation and exhibitions. In addition, the Center works with authorized investment representatives around the globe. "In fact," said Mrs. Long, "Pennsylvania has the largest network of overseas offices of any of the 50 states. The investment representatives will be our eyes and ears on the ground."
Among major international companies which have found a place in Pennsylvania's business community are Shire Pharmaceuticals, Gamesa, Siemens, Almac, Nestle, and Toshiba.
Commenting on the new program, C. Alan Walker, Secretary, Pennsylvania Department of Community and Economic Development, said, "Governor Corbett's commitment to an improved business climate and lower taxes is resulting in businesses from around the globe taking a serious look at Pennsylvania to grow and thrive. Our efforts to attract international companies will be strengthened by this new partnership, and together we can introduce a new, energized Pennsylvania to businesses throughout the world."
The Team Pennsylvania Foundation, also a key partner in the project, has worked extensively to increase the state's share of international business, leading trade missions overseas and conducting stateside tours for foreign journalists, consultants, engineers, and others who have contact with firms overseas.
"Team PA is proud to unite with our REN partners and the state's Office of International Business Development via a program geared to provide expansion opportunities for Pennsylvania businesses while attracting new ones to the Commonwealth," said Matt Zieger, President and CEO, Team PA. "This initiative dovetails nicely with the recommendations in the Governor's Manufacturing Advisory Council report as we collaborate with our partners to build an even stronger manufacturing sector in Pennsylvania."
The project will be carried out over three years, and much of the first year will be devoted to training and preparation. Pennsylvania's Industrial Resource Centers, including the IMC in Williamsport, will identify and analyze the state's "industry clusters," i.e., independent companies, congregated together, and sharing complementary interests and requirements. "This is where international companies will find great opportunities," Mrs. Long said, "meeting the needs of our industry clusters, whether in terms of supplies, manufacturing, or distribution." As industry clusters and additional opportunities are identified, Workforce Investment Boards will be charged with training the labor force needed to meet companies' requirements.
Extensive training will also be provided to economic development professionals who will interact directly with potential foreign investors. They are going to learn how to attract and host foreign investors, learning about their cultures and protocol.
"Pennsylvania is already home to more than 6,000 foreign-owned businesses," Mrs. Long said. "Now we're going to bring the rest of the world to rural Pennsylvania. The result is going to be more jobs, more business, and economic growth."

In This Issue
Submit your success stories to be featured in an upcoming issues of Innovate@EDA
Your success should be seen. If you are an EDA grantee, we would like to tell the story of your work in Innnovate@EDA's regular Success Story section. Send details of your project's local and regional impact, along with "before and after" photographs, to edanews@eda.gov, and if you're selected, we will showcase your success here in our monthly newsletter.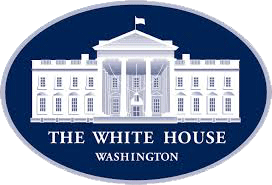 President Obama Takes Action on Manufacturing
On January 15, 2014 President Obama spoke at North Carolina State University to announce that the next hub for high-tech manufacturing will be in Raleigh, North Carolina. The Next Generation Power Electronics Innovation Institute brings together leading companies, universities, and federal research to develop wide bandgap semiconductors. This is the second hub of its kind, and the President seeks to do more. Read his full remarks here.
Secretary Penny Pritzker launches first-ever instagram account for a Cabinet Secretary
Ever wonder what a typical day looks like for a Cabinet Secretary? Well, now you can follow Secretary Pritzker on Instagram and find out! The launch is part of the Commerce Department's efforts to increase digital engagement with consumers, businesses, and other stakeholders through 21st century technology. As the voice of business in the federal government, the Department is committed to promoting U.S. innovation and competitiveness and championing the entrepreneurs and start-ups that are at the heart of our growing digital economy. Follow Secretary Pritzker now at: www.instagram.com/pennypritzker and www.twitter.com/pennypritzker.
EDA and IEDC to host webinar on IMCP Competition
In December 2013, the Obama Administration launched a national competition to designate up to 12 "manufacturing communities" in the U.S. The Investing in Manufacturing Communities Partnership (IMCP) will help accelerate the resurgence of manufacturing in regions across the country. The designation as a manufacturing community offers preferential consideration for up to $1.3 billion in federal dollars and assistance from 10 federal agencies. To determine which communities will be selected, EDA issued a notice in The Federal Register announcing a competition. The deadline to apply to be designated as a manufacturing community is March 14, 2014. EDA and IEDC are offering a free webinar on February 19 at 2:00 p.m. to provide some additional information and guidance as the deadline approaches. To learn more or register: https://www4.gotomeeting.com/
register/252715879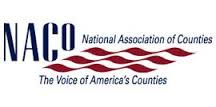 National Association of Counties (NACo) Report Tracks Economic Recovery at Local Level
In January, the National Association of Counties (NACo) issued a report tracking economic recovery at the county level. NACo's new study, County Tracker 2013: On the Path to Recovery, assesses the performance of the nation's county economies by studying annual changes in four indicators – economic output (GDP), employment, the unemployment rate, and home prices. The report also contains case studies to illustrate how specific county economies fared during the recession and recovery. The County Tracker examines county economic performance through 2013 based on data from Moody's Analytics on four economic performance indicators: economic output (GDP), employment, the unemployment rate and home prices.

The Department of Defense, Office of Economic Adjustment (DOC/OEA) has come out with a comprehensive guide to responding to an Economic Adjustment
The three shorter guides provide an overview of the organizing and planning process, approaches to assisting small and medium-size firms, and strategies for coordinating worker transitions. The larger guide covers these themes in greater depth. All emphasize the importance of local leadership and getting an early start. The guide is available here: http://www.oea.gov/programs/dia/
resources/local-officials-guide-to-
economic-adjustment.
Cities Launch Prize Competitions to Spur Economic Development Planning Strategies
Under the interagency Strong Cities, Strong Communities Initiative (SC2) the Commerce Department's Economic Development Administration supports the SC2 Visioning Challenge (SC2 Challenge) to generate innovative ideas, strategies, and perspectives to advance economic development planning and ultimately job creation in three partner cities. Last week, the cities of Greensboro, NC; Hartford, Connecticut; and Las Vegas, Nevada launched their SC2 Challenge competitions. These competitions are designed to assist Greensboro, Hartford and Las Vegas with leveraging innovative ideas and approaches from diverse perspectives to create and adopt actionable economic development proposals and plans. Each city's competition is now open and the cities are looking for teams to submit their best ideas. Visit www.sc2prize.com to learn more. In other challenge news, Challenge.gov has been recognized for changing how the federal government solves problems. Read about the award here: http://www.federalnewsradio.com/
519/3548879/Challengegov-
platform-recognized-for-changing-how-feds-solve-problems.