The Mission of the Economic Development Administration (EDA) is to lead the federal economic development agenda by promoting innovation and competitiveness, preparing American regions for growth and success in the worldwide economy. The agency has a competitive grant process and has established the following investment priorities as criteria: collaborative regional innovation, public/private partnerships, national strategic priorities, global competitiveness, environmentally sustainable development, and economically distressed and underserved communities.
Message From Deputy Assistant Secretary
Matt S. Erskine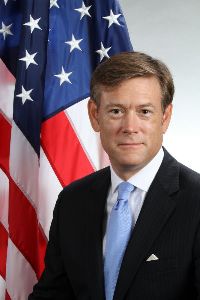 Dear Friends,
The recently released Strategic Plan for the U.S. Department of Commerce outlines five major objectives: trade and investment, data, innovation, environment, and operational excellence. EDA plays a significant role in each of these. Under the environmental objective, EDA's work includes ensuring that communities and businesses have the necessary information, products, and services to prepare for and prosper in a changing environment. Given this critical component and since April 22nd is Earth Day, this month's Innovate@EDA is focused on environmental issues, green investments, and building community resilience. EDA has made more than 130 investments that support green projects and resilience in the last 5 years alone. As climate change becomes more pronounced, it is crucial that new development and infrastructure account for and mitigate potential environmental impact.
EDA's triple bottom line tool is one way EDA helps potential grantees focus on the environment. In this issue of Innovate@EDA, Dr. Janet Hammer of Portland State University's College of Urban and Public Affairs, who heads the Initiative on Triple Bottom Line Development, answers Q&A on the tool and its uses.
Read about the success of EDA grantee the Cold Climate Housing Research Center in Fairbanks, Alaska, which is conducting numerous projects that build warmer, more energy efficient homes in the circumpolar regions of the plant.
Check out the spotlight section for an update on the i6 Green Challenge winners to see what they have accomplished with the grants they received in 2011.
Finally, learn what the Administration – including fellow Commerce bureau NOAA – is doing about to help people and businesses deal with climate change in the highlight section.
The environment belongs to all of us. We all have a responsibility to safeguard the planet for future generations and drive resilience planning and action. EDA, the Department, and the Administration recognize the necessity of the public sector, business, and higher education institutions working together in this endeavor. I hope the stories contained in this issue of Innovate@EDA will inspire you this month. Thank you for your interest and for your partnership.
Q&A: Dr. Janet Hammer, Program Director, The Initiative on Triple Bottom Line Development, Portland State University College of Urban and Public Affairs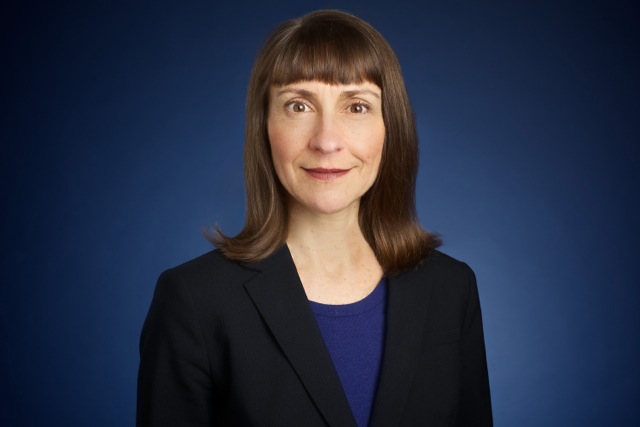 Photo of Dr. Janet Hammer, Program Director, Initiative on Triple Bottom Line Development, Portland State University
Dr. Janet Hammer is Program Director of the Initiative on Triple Bottom Line Development at Portland State University and has led the development of the TBL Tool. Drawing on two decades of experience in public, private, and non-profit settings, Janet is a systems thinker who works in the challenging but essential spaces where different disciplines and sectors intersect. She comes from a family of small business owners and has earned degrees in environmental policy analysis and planning (UC Davis), city and regional planning (University of Pennsylvania), energy management and policy (University of Pennsylvania), education (Portland State University), and urban studies (Portland State University).
Question: For our readers who may not be familiar, how does the triple bottom line tool work and when should an organization use it?
Answer: The triple bottom line is a term that refers to economic, environmental, and social performance of investment. It aims to capture important investment value that may not appear in traditional financial accounts. The concept is increasingly salient to organizations, with key drivers including improved accountability and transparency, stronger investment performance, cost savings, competitive advantage, innovation opportunity, risk management, and alignment with stakeholder goals.
To date, there has been no common framework to address triple bottom line performance of economic development. The TBL Tool meets this need, doing so in a way that is responsive to different project and community types. The tool is useful to public, private, and non-profit organizations that approve, fund, or engage in economic development.
The TBL Tool generates scores for three goals (economic vitality, natural resource stewardship, and community well-being) as well as the performance areas and measures that comprise a goal. Scores give an indication of how well a project appears to align with TBL goals and where there may be room for improvement. The website (tbltool.org) includes a brief overview video that introduces the tool and how it works.
The tool helps optimize and communicate triple bottom line performance of development investment. When to use the TBL Tool depends upon the organization, as the tool has a number of potential applications. For example, you can use it to review or prioritize proposals, improve project performance, communicate with stakeholders, prepare bid documents, provide better accounting and transparency, strengthen an application, or demonstrate alignment with community goals.
Q: Since this newsletter is focused on green issues, can you talk about the environmental element of the tool and explain the type of information it seeks to capture to calculate a score?
A: The triple bottom line concept provides a way of talking about financial capital, natural capital, and human capital – which are all essential to economic development. As important, but often forgotten, is the reality that these three capitals are interconnected. For example, a green building can be thought of as good for the environmental bottom line but associated cost savings and employee impacts can improve the financial and social bottom lines as well.
Within the natural resource (environment) goal the TBL Tool considers green design and construction, green operations, and industry eco-efficiency (resource impacts per job created). Environmental elements are also addressed in the community well-being goal through some of the place-making and accessibility measures. For example, a project with good pedestrian, bike, and transit accessibility can benefit the environmental bottom line as well as the social and economic bottom lines. Thus, while the TBL Tool provides scores for each of the three goals we encourage users to think about the connections between them.
Q: Why do you think the environment is an important consideration when planning for economic development/why was it included in the tool?
A: Companies understand that natural capital is fundamental to their business, and that the environment is an important consideration for cost efficiencies, innovation opportunities, risk management, and stakeholder relations. The question is no longer whether to engage with the issue but how.
The same goes for economic development. The environment is a foundational underpinning to what we do – it provides essential inputs to production, livability amenities that are important for attraction and retention, enhanced resilience to natural disasters, and contributes to individual and community health. What's been missing is a common framework that helps organizations manage and communicate triple bottom line performance – a framework that is responsive and flexible, not punitive, rigid, or burdensome. That's what the TBL Tool delivers.
Q: Can you provide a brief example of an organization that has had success using the tool?
A: We're early in the process but are beginning to hear feedback from the field. For example, Minneapolis thinks the tool will be useful for reviewing bids submitted in their RFP process and also for determining which location(s) may be best for an investment. A small community in Nebraska is hoping that the tool will help them identify ways to strengthen proposed projects. Salt Lake City is integrating the TBL Tool into their economic development strategy, providing loan applicants a discount if they complete a TBL report and an additional discount if the project achieves a certain score threshold. The City also found that the tool has helped bridge economic development and sustainability silos and prompting productive dialogues about how best to align efforts.
The TBL Tool early adopter program is designed to help organizations successfully apply the tool, while also providing insight on how the tool is most valuable and where there is room for improvement. Organizations that are interested in learning more about the TBL Tool or early adopter program are welcome to contact me at info@tbltool.org.
SUCCESS STORY
Warming Homes Without Warming the Planet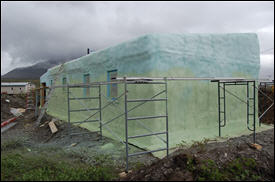 Construction of a Cold Climate Housing Research Center prototype home in Alaska
Alaska is unparalleled in its natural beauty. From Alaska, one has views of the Pacific Ocean, glaciers, mountain ranges, lush forests, and even Russia (according to one prominent Alaska resident, at least). But for its residents, that rugged beauty comes at a price. For a large portion of the year, Alaska is blanketed by endless nights and frigid temperatures. In much of rural Alaska, it is not uncommon for a household to spend 20-30% of their income on heating and electric bills. Finding energy efficient ways to deal with Alaska's harsh winters not only benefits its residents, but it also has a significant positive effect in preserving environment. Luckily, EDA grantee the Cold Climate Housing Research Center (CCHRC) is making strides in finding an efficient and environmentally friendly means to deal with winter in Alaska and other cold climates.
CCHRC is an industry-based, nonprofit corporation created to facilitate the development of energy-efficient and cost-effective building technologies for people living near Polar Regions. In 2009, EDA invested $1.9 million to expand the CCHRC facility in order to house the Sustainable Northern Communities Project.
Alaska is diverse, which makes finding solutions a real challenge and requires a place for people to gather, for ideas to form, and for innovations to be created and implemented. The Sustainable Northern Shelter program provides a space for members of the building community, including builders, homeowners, suppliers, engineers, architects, banks, realtors, appraisers, and policy makers, to collaborate, learn, and share best practices.
"The addition to the Cold Climate Housing Research Center, funded by EDA, will have a positive impact on Alaskans for decades," said Jack Hébert, President and CEO of the Sustainable Northern Communities project. "The Nation's farthest North LEED Platinum facility now has the classroom and workspace to train building professionals, trades, owners and the general public on construction and operation of high performance buildings."
In the few years since its founding, the center has more than 40 projects occurring statewide at any time and has developed several prototype homes that can be easily and affordably reproduced throughout the state to provide much-needed housing that is designed with energy efficiency and durability in mind. Additionally, the center provides more than 50 trainings, 2,000 tours, and 2,000 consultations per year that provide crucial development to the region's workforce.
The building itself is LEED Platinum certified and designed to be 75% more efficient than a traditional building of the same size. It reduces heating oil use by 5,000 gallons per year through a combination of energy efficiency and renewable energy and has an estimated green-house gas reduction of 49 metric tons per year.
The Alaskan winter hits its residents hard – physically, emotionally, and financially. But the pioneering advancements taking place at the Cold Climate Housing Research Center through the Sustainable Northern Communities project are finding ways to reduce winter's literal and figurative (frost) bite without compromising the state's natural awe-inspiring beauty.
SPOTLIGHT
i6 Green Challenge Winners Update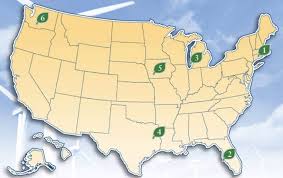 Map of i6 Green Challenge Winners
In 2011, EDA awarded six i6 Green Challenge Winners. The $12 million i6 green challenge was a collaboration between EDA's Office of Innovation and Entrepreneurship, the U.S. Environmental Protection Agency, the National Science Foundation, the U.S. Departments of Agriculture and Energy, as well as Commerce's National Institute of Standards and Technology and U.S. Patent and Trademark Office. ‪ EDA made awards of $1 million to the six organizations with the most innovative ideas to drive technology, commercialization, and entrepreneurship in support of green innovation.
Louisiana Tech created a proof of concept center to move green innovations to market using a project-based partnership model that brought university and commercialization partners together to collaborate on field/site testing and deployment of new technologies. To date, the project has generated $5.2 million in private funding committed by 16 partners across the energy, construction materials, and biosciences sectors. The center has also succeeded in licensing 10 technologies with 8 commercial partners to take them to market. Three regional companies have launches and three regional companies have expanded.
The Iowa Innovation Network, Iowa Department of Economic Development, and Iowa State University developed an innovative proof of concept and proof of commercialization that supports centers that accelerate the launch of new firms to spur job creation and contribute to economic growth in Iowa. Several of the companies supported by Iowa's grant have introduced products to the market with many more undergoing testing and certification. MCG Biocomposites has introduced two varieties of MCG Biomarkers, which are eco-friendly plant markers for gardening. ReWall developed several construction materials made from 100 percent recycled materials. The existing products and the strong pipeline of other products are poised to make a positive impact economically for Iowa and globally for the environment.
New England's Cleantech Innovations New England (CINE) program has directly managed eight solicitations, evaluated more than 165 different businesses and awarded a total of $381,000 of direct financial support to 15 companies in 11 different cleantech sectors in the past two years. These awards resulted in the creation of more than 25 jobs throughout the region and $15.5 million of follow on funding to date. Altaeros Energies, a wind energy company formed out of MIT received a $20,000 grant from CINE's Utility Challenge Grant Program in 2012 and is preparing for the first commercial pilot of its airborne wind turbine technology in Alaska. The $1.3 million 18-month project is expected to break the world record for the highest wind turbine ever deployed at 1,000 feet.
Michigan State University's Bioeconomy Institute works with entrepreneurs and client firms to commercialize green research discoveries. Some of the technologies that the "proof of concept" center supported include a commercial line of animal bedding using fiber waste called EcoComposites, a line of thermochromic windows for energy conservation in buildings from Pleotint, and technology for controlling fats, oils, and grease in sanitary sewers and septic fields that is reportedly in use at 18 regional McDonald's franchises plus other sites. In addition, the i6 green assisted company Marrone BioInnovations has opened a production facility in a re-purposed biodiesel plant in Bangor, Michigan.
The Florida Cleantech Acceleration Network (i6) and MegaWatt Ventures programs, now known collectively as the Innovation Concourse of the Southeast, offer participating companies and researchers receive one-on-one coaching, entrepreneurship education workshops, live industry networking opportunities, UCF Mentor Network access, templates and resources, and other support for their technology, business and management development. To date, the program has fostered technology scouting and investment scouting connections for clients and university researchers with over 160 Fortune 1000 and other large corporations, especially focusing on sustainability, facility and fleet management product decision makers. In 3 years of operation, the program has supported 300+ companies from throughout the state of Florida, incorporated 33 new Florida and another 12 new Southeastern university spin-outs.
The i6 Green Challenge Team was formed in Washington to remove barriers for Seattle's Energy Efficiency Cluster and created the Smart Buildings Center and High-Performance Buildings Project. The Smart Building Center pulls together real-time energy data from buildings nationwide so companies can learn what technology works best for their type of facility. The High-Performance Buildings Project seeks to prove that commercial building owners can save 10-25% by using Cloud technology to manage their existing building equipment. In November, one of the participating buildings saw a 3.4% reduction in electricity consumption and 2.15% reduction in natural gas consumption. In December, another facility saw a 2.28% reduction in electricity consumption. In order to train building operators to run these new, smarter buildings, there is also a workforce development component to the project. South Seattle Community College is developing the nation's first Bachelors of Applied Science degree designed by industry to train employees with the skills industry needs and is recruiting students for the fall semester.
HIGHLIGHTS
The President's Climate Data Initiative: Empowering America's Communities to Prepare for the Effects of Climate Change
Climate change is a fact. While it is important to find ways to cut emissions and develop technologies that will lessen our impact on the planet, it is equally important to deal with the new climate and environmental realities we are facing. Last week, President Obama announced the launch of the Climate Data Initiative — a broad effort to leverage the Federal Government's extensive, freely-available climate-relevant data resources to stimulate innovation and private-sector entrepreneurship in support of national climate-change preparedness.
The Administration has made a number of commitments, many of which involve Commerce's National Oceanic and Atmospheric Administration (NOAA), and the Administrator for NOAA has attended meetings with the White House to discuss moving these commitments forward. The White House issued a fact sheet on the initiative that offers more detail, but several important priorities for EDA's sister bureau NOAA include:
Launch of climate.data.gov
Launch of NASA and NOAA Innovation Challenge on Coastal Vulnerability and Preparedness
NOAA Request for Information on Increasing Access to Environmental Data
Expanding Stakeholder Outreach & Engagement
Yet it isn't enough for the federal government to leverage its own resources – the private sector needs to use the information available to build tools that will help make America's communities more resilient to climate change and to forge cross-sector partnerships to make those tools as useful as possible. The President also laid out several private sector commitments in his announcement. A full list is available in the White House fact sheet, but here are a few highlights:
Intel Corporation: Fostering Regional Partnerships and Hosting Hackathons to Boost the Development of Climate Resilience Tools.
Google: Providing Vast Cloud Computing Resources to Spur Creation of High-Resolution Drought and Flood Mapping, Apps, and Tools for Climate Risk Resilience.
Climate Central: Releasing New Web Tools to Assess Local-Scale Sea Level Rise.
Microsoft Research: Providing Climate Scientists with New Tools and Computing Resources.
The World Bank: Launching New Initiative for Global Use of Open Data for Climate and Disaster Resilience.
Antioch University New England: Creating New Academic Center for Climate Preparedness and Resilience.
MIT Climate CoLab: Crowdsourcing Solutions to Global Climate Change Preparedness.
The environment is a shared resource and a shared responsibility, and everyone needs to work together to safeguard it. This initiative is just one example of how government and the private sector are joining forces to address climate change.

In This Issue
Tell us your story!
We want to hear from you. Have an economic development success story or trying something innovative in your community? Send the information to edanews@eda.gov for consideration for an upcoming issue of Innovate@EDA. Next month we're looking for trade and investment stories in recognition if international trade month!
Conference Opportunity: Discover Global Markets 2014
The U.S. Commercial Service is hosting a series of conferences in 2014 on growing business through exports. Each conference will offer a similar format but unique agenda focus sure to resonate with exporters nationwide:
| | |
| --- | --- |
| Africa, Middle East, & India: | San Antonio, TX May 1-2 |
| Europe: | Los Angeles, CA June 2-4 |
| Free Trade Agreement Areas: | Detroit, MI September 9-10 |
| Greater China: | New York, NY October 7-8 |
| The Americas: | Charlotte, NC October 29-31 |
| Africa: | Atlanta, GA November 5-6 |
| Healthcare and Life Sciences: | Minneapolis, MN November 17-18 |
For more information or to register for an upcoming conference, visit: www.export.gov/discoverglobalmarkets.
NEA Request for Proposals on Rural Design
Rural communities facing design challenges— such as Main Street revitalization, how to manage and direct growth, design community-supportive transportation systems, preserve natural and historic landscapes and buildings, protect working agricultural lands, and provide adequate and affordable housing—and are interested in hosting a workshop to address those challenges are invited to submit a proposal to receive funding and technical assistance. Requests for proposals to host the 2014-2015 Citizens' Institute on Rural Design workshops are now being accepted by NEA at the CIRD website. For the Request for Proposals and Application, please click here.
The deadline for applications is May 6, 2014.
NIST Blog: Growing Clusters, One Manufacturer at a Time
The cluster in East Tennessee entitled AMP!, has been hard at work connecting companies with resources made available through the AMJIAC funding. What is AMJIAC? The Advanced Manufacturing Jobs and Innovation Accelerator Challenge. Ten public-private partnerships across America received funding in 2012 in order to help revitalize U.S. manufacturing around the country through the growth --> Read More.