Spotlight: EDA Awards its First CARES Act Grant to Three Rivers Planning and Development District in Pontotoc, Mississippi, to Help Combat Economic Effects of COVID-19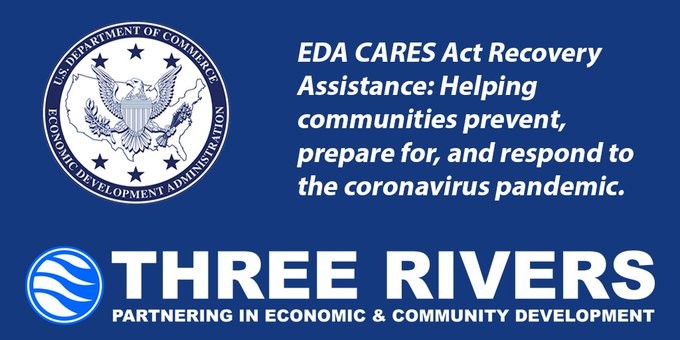 CARES Act Three Rivers graphic
On June 16, EDA awarded its first Coronavirus Aid, Relief, and Economic Security (CARES) Act Recovery Assistance grant in the amount of "$400,000 to the Three Rivers Planning & Development District, in Pontotoc, Mississippi. The grant will be used to hire a Disaster Recovery Coordinator, update economic development plans with business and industry leaders, and fortify programs to assist communities in responding to the coronavirus pandemic.
Three Rivers Planning & Development District is one of the more than 850 existing, high-performing EDA Economic Development District, University Center, Tribal, and Revolving Loan Fund (RLF) grant recipients invited to apply for supplemental funding under the CARES Act. As an EDA-designated EDD, Three Rivers helps to lead the locally-based, regionally driven economic development planning process that leverages the involvement of the public, private and non-profit sectors to establish a strategic blueprint for regional collaboration.
Along with many other communities across our nation, the region that Three Rivers serves has suffered severe economic dislocation caused by the novel coronavirus. Specifically, Three Rivers will use the new CARES Act funding to hire a recovery coordinator who will help create a new development plan and partner with businesses and economic development leaders across the region.
Success Story: EDA Fosters Foreign Direct Investment in Distressed Communities, Attracting Investors from Across the Globe
Foreign Direct Investment (FDI) is one of EDA's main investment priorities and critical to supporting projects that promote and facilitate business investments in the United States.
In 2019, global FDI stayed at a flat rate at $1.39 trillion, compared to $1.41 trillion in 2018. However, unlike the larger declines in other economies, the United States received consistent FDI between 2018 and 2019, with $251 billion in 2019.1
These estimated numbers reflect that the United States is the largest recipient for FDI in the world, with inflows at least $100 billion greater than those of any other destination market.
Communities across the country have made attracting FDI a key component in building economic development strategies and EDA has helped drive these strategies forward.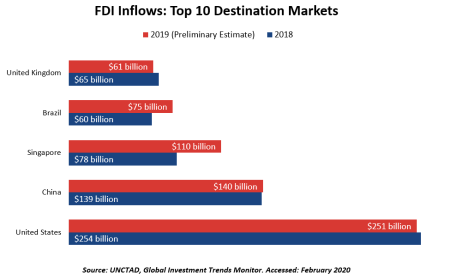 FDI Top Destination Markets 2019
Highlight: Yeshiva University's Innovation Lab Utilizes Foreign Direct Investments to Share Innovative, Life-Saving Ideas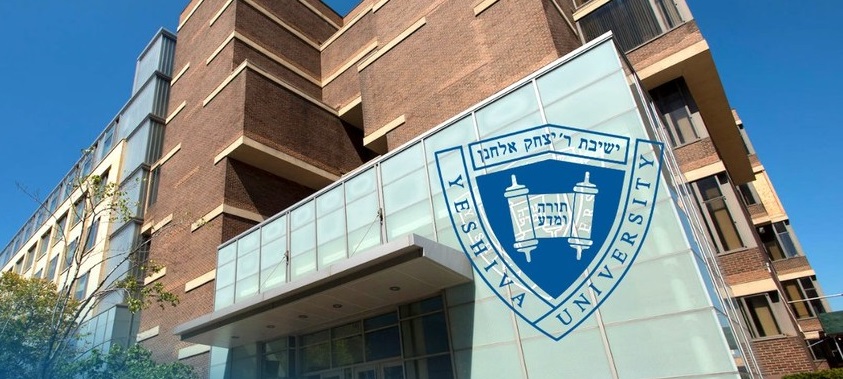 Yeshiva University in NYC
In April, EDA awarded a $1.4 million grant to Yeshiva University's (YU) Innovation Lab in a New York City Opportunity Zone to provide technical assistance to Israeli firms seeking to locate in New York City.
The YU Innovation Lab is a faculty and student-led startup accelerator that couples modern innovation with Jewish values and traditions, fostering a culture focused on transforming human insight into business value. YU partners with other labs from Israel and NYC to provide technical assistance and global business opportunities, and already EDA's investment is having a significant impact.
Recently, Israel-based company Emnotion asked the Innovation Lab for strategic guidance in an initiative to mitigate the pain and tragedy of the COVID-19 pandemic. Emnotion develops climate forecasting solutions for urban and rural areas, often block by block, using mathematical algorithms. They partnered with the Lab to help introduce their powerful predictive Artificial Intelligence (AI) platform to map the path of the coronavirus.