In This Issue
EDA In The News
Message From Assistant Secretary
Jay Williams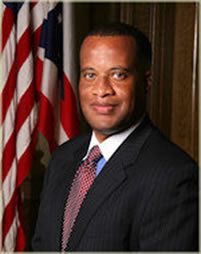 The New Year is always a time of great promise – and it's no different at EDA. This year, EDA will celebrate its 50th anniversary. For 50 years EDA has been helping communities across the nation strengthen and grow their economies. While we look back to commemorate our history and community impact, we are also excited to look to the future. In 2015, we will continue our work across agencies that foster regional collaboration, like IMCP. We will continue to support small businesses and entrepreneurs through the Regional Innovation Strategies programs, and we will help communities plan, build, or rebuild in order to be more resilient and competitive in the global economy. Thank you to all of our stakeholders and community partners for their instrumental work in helping to create sustainable economic growth and opportunity for the communities we serve.
Thank you for your continued support. Happy New Year! Let's make 2015 a great year together.
Jay
Success Story: Flooding Wisconsin with Innovation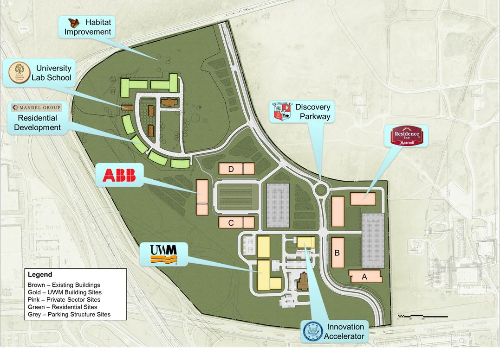 Map of the UWM Innovation Campus
In 2008, flooding devastated the City of Wauwatosa, Wisconsin. Heavy rain, winds, and several tornadoes had caused lakes, rivers, and creeks to overflow, literally washing away homes and businesses. The manufacturing sector was particularly affected, which contributed to a rise in unemployment. The entire state of Wisconsin was declared a disaster area in June of that year, and the long task of rebuilding began with help from several federal and local agencies. As things were slowly put back together, the City of Wauwatosa and the University of Wisconsin-Milwaukee Real Estate Foundation, Inc. opted to think about the long-term resiliency of the region's economy and began working on a plan.
In 2010, the two organizations received an EDA grant for $5.4 million to construct a LEED silver certified industry accelerator facility with world class laboratories. The facilities funded by the EDA grant were part of an innovation campus that the city and University of Wisconsin at Milwaukee (UWM) created to nurture advanced manufacturing businesses. This blend of higher education with business initiatives minimizes technology transfer difficulties and helps the region's pillar sector of manufacturing recover from the floods of 2008 and the subsequent rise in unemployment. The Innovation Campus already credits over 325 jobs and $15 million in private investment to the development of the Accelerator project.
Spotlight: Guest Column - The Important Work of NACIE Begins
By Julie Goonewardene, Vice Chancellor for Innovation & Strategic Investment, Diaceutics Chairwoman, AMA Board, MBI Board
NACIE Member Julie Goonewardene
Last year, I was honored to be appointed as an advisor to Secretary Pritzker as part of the National Advisory Council on Innovation and Entrepreneurship (NACIE). NACIE is emblematic of all the entrepreneurs, educators, philanthropists, and innovators in all sectors of the economy who are working to ensure that our country remains a place of opportunity, innovation and entrepreneurship for generations to come. In December 2014 Secretary Pritzker convened the first meeting of the 27-member NACIE. My NACIE colleagues impress me. We are a diverse group, and I was excited to hear from my fellow council members as they brought their experiences to bear as we began discussing the issues. I can't think of a better group to address the challenges of creating an innovation economy.
As the current NACIE we are charged with bringing our ideas, and networks together to identify and recommend policies, programs, and partnerships that can help American businesses, individuals, and communities become even more competitive in the global marketplace.
Economic development is hard. It demands years of sustained effort that transcends political movements, market cycles, demographic changes, and geopolitical shifts. It also requires people from all sectors of the economic ecosystem to analyze and understand what is working, to offer alternatives where improvement is needed, and to reach consensus around policies and investments that support paths to prosperity for all Americans.
Highlight: What You Need to Know About EDA Grant Process and Regulation Changes
Submitting a grant application to EDA? Toying with the idea of applying for funding at some point? There are some important changes to our processes that you need to know.
You may remember that EDA had requested comments a while back on ways to improve its regulations. Our stakeholders submitted 170 comments which shaped a proposed rule. EDA considered all of the feedback in developing the final rule, which appeared in the Federal Register on December 19, 2014. The new regulations will take effect on January 20, 2015. The final rule clarifies EDA's policies and definitions, streamlines regulations, and facilitates coordination among federal investment opportunities. Some key changes include:
Removing the requirement that RLF recipients request that EDA subordinate its interest when seeking approval to sell or securitize its portfolio.
Streamlining CEDS requirements by replacing the long list of CEDS elements with four essential planning elements.
Authorizing a grant rate of up to 80 percent to incentivize projects that encourage broad, innovative regional planning or demonstrate effective leveraging of other federal resources.
Eliminating membership thresholds and quotas for Economic Development Districts.