Success Story: EDA's Revolving Loan Fund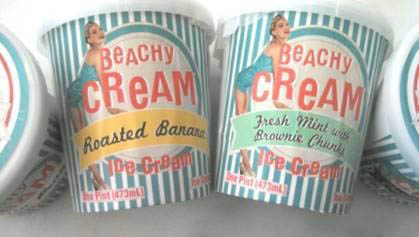 Beachy Cream Organic Ice Cream, a business supported by EDA's RLF Program
Imagine you have a small business or an idea for a small business. You need a relatively modest amount of money to get it off the ground or expand, but you've been turned down by the banks and other traditional lenders in your area. Maybe you don't have the right credit or enough assets. Maybe you're just a victim of bad timing and the fact that banks are being more cautious about business loans. No matter the reasons you're being denied, there may be another option.
EDA has a number of programs designed to help support economic development and growth. Generally, EDA's investments support communities as they attract businesses, but EDA's Revolving Loan Fund (RLF) program is different. EDA capitalizes funds that are managed and loaned out by local organizations that serve as RLF operators. RLF funds are specifically intended to create small loans for high-risk projects – people who cannot get a traditional loan.
Highlight: We've Got the POWER…Implementation Grant Funding Available (Including Important Updates about SBA Cluster Solicitation)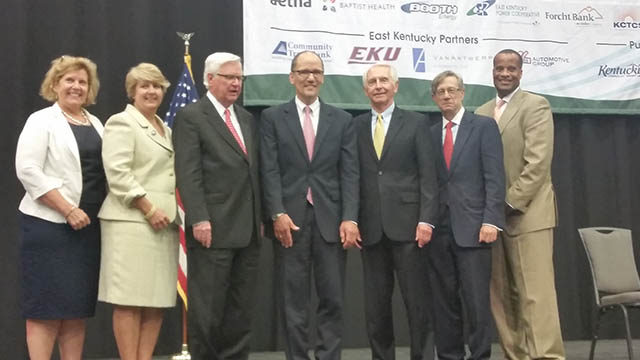 From left: Lillian Salerno, Administrator for Rural Business-Cooperative Service, USDA; Wendy Spencer, CEO, Corporation for National and Community Service; Congressman Hal Rogers; Thomas Perez, Secretary of Labor; Governor Steve Beshear; Earl Gohl, Federal Co-Chair, Appalachian Regional Commission; Assistant Secretary Williams
Changes in energy policy and economic downturns have affected the coal economy significantly over the last several years. Many communities that once relied on coal for jobs are struggling to find their way as the world changes around them. The federal government, including EDA, is helping these communities as they attempt to diversify and adapt to the changing economy. Today, federal agencies are collaborating on these issues to affect greater change.
On May 11, EDA joined Secretary of Labor Thomas Perez to announce up to $35.5 million in funding is available for coal-impacted communities across the country as part of the Obama Administration's Partnership for Opportunity and Workforce and Economic Revitalization (POWER) initiative.
Spotlight: Another Amazing Americas Competitiveness Exchange (ACE) Trip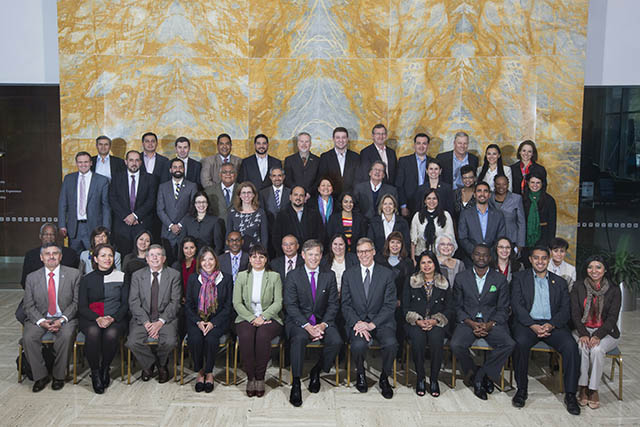 ACE delegates at the Mayo Clinic in Rochester, Minnesota
What do you get when you take four agencies, 43 high-ranking foreign officials from 26 countries across three states, and to visit more than 40 sites? You get the most successful Americas Competitiveness Exchange to date! On April 19-25, EDA, the International Trade Administration, the Organization of American States, and the U.S. Department of State led an international delegation on a tour of innovative sites in Minnesota, Wisconsin, and Illinois for the Third Americas Competitiveness Exchange on Innovation and Entrepreneurship.
The tour kicked off in Minneapolis, where Minnesota Department of Employment and Economic Development treated participants to a briefing and tour. The next day, the delegation visited the University of Minnesota to hear about how the state is supporting apple breeding and flood mitigation to grow and protect jobs. The delegation then headed to Rochester where they participated in a tour of the Mayo Clinic to learn about the latest medical innovations taking place there.