Highlight: We've Got the POWER…Implementation Grant Funding Available (Including Important Updates about SBA Cluster Solicitation)
June 2015 Newsletter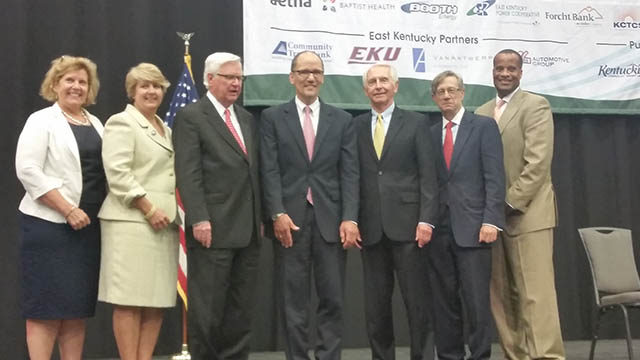 From left: Lillian Salerno, Administrator for Rural Business-Cooperative Service, USDA; Wendy Spencer, CEO, Corporation for National and Community Service; Congressman Hal Rogers; Thomas Perez, Secretary of Labor; Governor Steve Beshear; Earl Gohl, Federal Co-Chair, Appalachian Regional Commission; Assistant Secretary Williams
Changes in energy policy and economic downturns have affected the coal economy significantly over the last several years. Many communities that once relied on coal for jobs are struggling to find their way as the world changes around them. The federal government, including EDA, is helping these communities as they attempt to diversify and adapt to the changing economy. Today, federal agencies are collaborating on these issues to affect greater change.
On May 11, EDA joined Secretary of Labor Thomas Perez to announce up to $35.5 million in funding is available for coal-impacted communities across the country as part of the Obama Administration's Partnership for Opportunity and Workforce and Economic Revitalization (POWER) initiative.
The Federal Funding Opportunity (FFO) outlines the POWER Initiative implementation grant priorities, evaluation factors, and application guidance for the up to $12.5 million in funding from the EDA, up to $20 million from Department of Labor's Employment and Training Administration (ETA), and up to $2.5 million from the Small Business Administration (SBA), and up to $500,000 from Appalachian Regional Commission (ARC).
On June 5th, 2015, the U.S. Small Business Administration released a combined solicitation for three regional innovation cluster initiative services. As part of SBA's involvement in POWER, one of the three awards is set aside to provide services to a community affected by changes in the coal economy. The remaining two awards are being competed full and open. Those who intend to submit a proposal to serve a community affected by the coal economy should cross reference the POWER Federal Funding Opportunity and take note of the special instructions included in the SBA statement of work. Proposals are due August 4, 2015 by 3:00 p.m. Mountain Time. For more information, SBA will hold an overview webinar on June 11, 2015 from 3 p.m. to 4 p.m. Eastern Time.
EDA and its partners are looking to fund projects that take a comprehensive approach toward economic diversification and worker advancement in implementing their economic development strategic plans. Projects that integrate both economic development and workforce development solutions with broad community partnerships are more successful than those where solutions are pursued independently. Therefore, applicants should build partnerships of regionally-driven economic development and workforce development organizations anchored in impacted coal communities. The idea is that the POWER implementation grants will enable grantees to build economic resilience, industry diversification, and promote new job creation opportunities.
Although resources from EDA, ETA, ARC, and SBA are made available through this FFO, each funding agency/program will require its own application. The deadline for receipt of applications for EDA and ARC funding is July 10, 2015, and applications for ETA funding will be accepted on a rolling basis. Proposals for SBA's Regional Innovation Clusters Program contract solicitation will be accepted until August 4, 2015 at 3:00 p.m. Mountain Time.
EDA also recently announced $3 million in available POWER planning grants available through EDA's Planning Program and Local Technical Assistance Program FFO. Applying for the planning grants does not preclude a community from applying for the implementation grants – and vice versa. In addition, receiving one type of grant does not help an applicant receive the other type.
Coal-reliant communities are facing challenges, but those challenges don't have to be economic death sentences. POWER is just one of many resources out there to help them diversify  (see sidebar about NACo/NADO Innovation Challenge). Through POWER and its other funding programs, EDA will continue to support economic development efforts for these and other distressed communities.