Spotlight: EDA 2016 National Conference Focuses on the Role of Government in Redefining Economic Development
"I was quite simply blown away by the conference: the sessions were relevant, insightful, and thought provoking." - North Carolina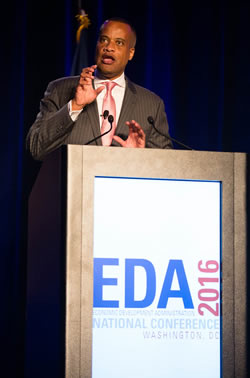 EDA Assistant Secretary Jay Williams opens the 2016 EDA National Conference.
On April 7-8, EDA brought together over 800 regional and local economic development professionals, non-profit and private partners, and federal, state, tribal and local officials to explore issues related to improving competitiveness, job growth, innovation and overall quality of life in communities at our 2016 National Conference in Washington, D.C.
Conference speakers included: U.S. Secretary of Commerce Penny Pritzker; U.S. Deputy Secretary of Commerce Bruce Andrews; U.S. Secretary of Transportation Anthony Foxx; Director of the U.S. Office of Management and Budget Shaun Donovan; U.S. Senator Sherrod Brown; Jerry Abramson, Deputy Assistant to the President and Director of Public Affairs, The White House; Mayor of Detroit, Michigan Mike Dugan, and Victor Hwang, Vice President of Entrepreneurship, The Kauffman Foundation, among others.
"The conference was one of the best conferences I have ever attended in my 30 years working in housing and economic development." - Glenn (Richmond, VA)
The conference provided a forum for thoughtful and impactful discussions for economic development leaders to share best practices about what has been accomplished in communities and regions and explore plans for future economic growth. The conference also discussed the ongoing role of the Federal government in expanding opportunities for innovation and entrepreneurship, creating more public-private partnerships, and ensuring our communities are becoming places that enable families to succeed and thrive through the Administration's place-based initiatives.
Success Story: Alabama Tombigbee Regional Commission Helps to Drive Critical FDI to Rural Wilcox County, Alabama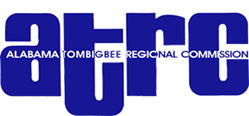 ATRC logo
Devastating tornadoes that struck rural Wilcox County, Alabama in 2011 resulted in the loss of lives and permanent jobs when production in the region's critical timber and paper production sectors was forced to cease for a number of weeks.
To help advance the region's economic recovery and resiliency efforts, EDA, in 2013, invested $1.9 million in the town of Pine Hill to make water and sewer improvements needed to bring GD Copper (USA), Inc.'s specialized tubing and copper products operations to the county.
GD Copper is a Chinese firm that is adding to a growing metals cluster in southwest Alabama, which also includes such firms as Thyssen Krupp, SET Enterprises, Metals USA and JMC Steel.
Highlight: Highlights: Fifth Americas Competitiveness Exchange Brings 51 High-Level Representatives from 24 Countries to Arizona and California
From April 10-16, 51 high-level representatives from 24 countries visited Arizona and Southern California to explore global and regional partnerships and economic development opportunities through the 5th America's Competitiveness Exchange on Innovation and Entrepreneurship.
The delegation toured advanced technology centers, innovation hubs, public-private partnership ventures, and strategic investments in cities ranging from small towns like Gilbert, Arizona, and Vista Escondido, California, to major metropolitan areas like Phoenix and San Diego.
EDA DAS Tom Guevara and ACE organizers greet Arizona Governor Doug Ducey on the opening day of ACE.
In Phoenix and Tucson, Arizona, the delegation learned about the cutting-edge work being done at the University of Arizona (UofA) and Arizona State University (ASU) to revolutionize the fields of optics, biosciences, medicine, business, technology transfer, and many others.