Spotlight: EDA 2016 National Conference Focuses on the Role of Government in Redefining Economic Development
April 2016 Newsletter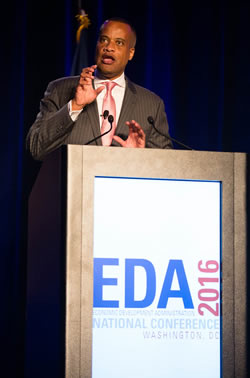 EDA Assistant Secretary Jay Williams opens the 2016 EDA National Conference.
"I was quite simply blown away by the conference: the sessions were relevant, insightful, and thought provoking." - North Carolina
On April 7-8, EDA brought together over 800 regional and local economic development professionals, non-profit and private partners, and federal, state, tribal and local officials to explore issues related to improving competitiveness, job growth, innovation and overall quality of life in communities at our 2016 National Conference in Washington, D.C.
Conference speakers included: U.S. Secretary of Commerce Penny Pritzker; U.S. Deputy Secretary of Commerce Bruce Andrews; U.S. Secretary of Transportation Anthony Foxx; Director of the U.S. Office of Management and Budget Shaun Donovan; U.S. Senator Sherrod Brown; Jerry Abramson, Deputy Assistant to the President and Director of Public Affairs, The White House; Mayor of Detroit, Michigan Mike Dugan, and Victor Hwang, Vice President of Entrepreneurship, The Kauffman Foundation, among others.
"The conference was one of the best conferences I have ever attended in my 30 years working in housing and economic development." - Glenn (Richmond, VA)
The conference provided a forum for thoughtful and impactful discussions for economic development leaders to share best practices about what has been accomplished in communities and regions and explore plans for future economic growth. The conference also discussed the ongoing role of the Federal government in expanding opportunities for innovation and entrepreneurship, creating more public-private partnerships, and ensuring our communities are becoming places that enable families to succeed and thrive through the Administration's place-based initiatives.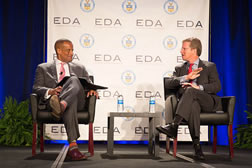 EDA Assistant Secretary Jay Williams and Director of the U.S. Office of Management and Budget Shaun Donovan engage in an armchair discussion at 2016 EDA National Conference.
The U.S. Department of Commerce plays a key role in supporting the innovators and job creators of tomorrow. For example, the Regional Innovation Strategies Program (RIS) competition, which is managed by EDA's Office of Innovation and Entrepreneurship, provides grants for communities and regions to help our entrepreneurs gain the tools they need to move their ideas and inventions to market. These grants invest in business incubators, startup accelerators, maker spaces, entrepreneurial training, and the establishment of locally-managed seed funds which support startups. The next round of RIS competition opened on April 25.  See side bar item in this issue of Innovate@EDA for more information on how to apply.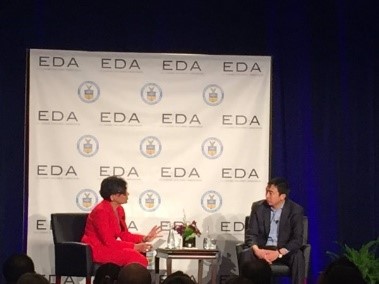 Commerce Secretary Penny Pritzker and Andrew Yang, CEO and Founder of Venture for America engage in conversation.
Focusing on the need for a skilled workforce, Secretary Pritzker spoke about the Department's "Skills for Business" initiative and on how EDA was contributing to equipping the next generation workforce. In April 2015, EDA and the Aspen Institute launched a nationwide effort to recruit and select communities to participate a new learning exchange that builds regional partnerships to accelerate and document more effective, employer-led regional workforce initiatives across America. Seven communities, that represent a broad cross section of America ranging from NW Georgia to New York City, have now begun a 15-month intensive learning exchange designed around each region's pursuit of job-driven talent development strategies to promote economic growth. The idea is that these communities will develop replicable methods and practices that any community can use to improve their workforce training efforts. Secretary Pritzker and Assistant Secretary Williams will visit the partnership in Dalton, Georgia in May to spotlight their efforts under this program.
U.S. Senator Sherrod Brown talks about how EDA investments in Ohio are helping to transform communities.
"…I am sure that the information shared and lessons learned during the conference will make history happen somewhere – perhaps even here in Pennsylvania. And I thank and congratulate you and your team for being the catalyst of that through the provision of a great event." - Eric (Hanover Township, PA)
EDA also supports workforce development through its regular Public Works and Economic Adjustment Assistance grant programs. EDA has established "job-driven skills development" as an investment priority for its competitive grants, leading to funding for physical infrastructure improvements to training facilities such as public buildings, roads, water/sewer systems, broadband, as well as to investments in planning, research and other "soft-programs" to help communities determine their training and workforce development needs.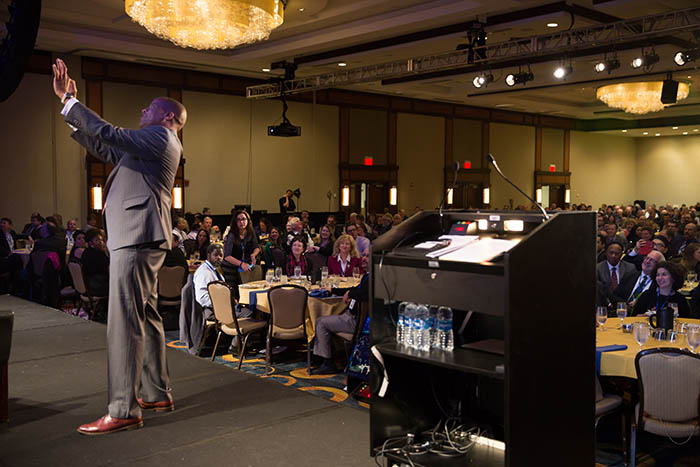 AS Williams takes a fun selfie with 2016 EDA National Conference participants.
The conference concluded with participants agreeing that it provided a forum for thoughtful and impactful discussions about our economic future and included shared best practices and an exploration of a bold plan for future economic growth.