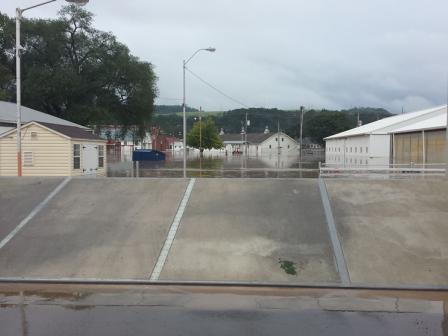 EDA Infrastructure Investment Protects Manufacturing Businesses from Catastrophic Flooding in Bloomsburg, Pennsylvania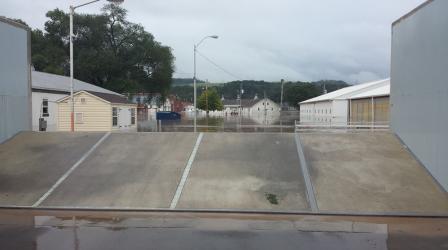 In September of 2011, Tropical Storm Lee severely impacted the Town of Bloomsburg, Pennsylvania and surrounding Columbia County after the Susquehanna River crested, leaving a third of the community underwater. Two major manufacturers suffered heavy damage in excess of $70 million.
Following the flood event, community leaders worked towards construction of a major floodwall to protect the business community, but necessary funding for the project was still needed. To help, leaders from Columbia County, the Town of Bloomsburg, and the SEDA-Council of Governments engaged with EDA and applied for disaster recovery funding.
In February 2013, EDA awarded Columbia County $15 million to help build flood control systems needed to protect vital business infrastructure in the town. As a result, Bloomsburg's two major employers, Autoneum and Windsor Foods, decided to stay in the area, saving an estimated 900 jobs.
The flood walls have helped stave off flood waters and protect businesses since they were installed.
EDA currently has $587 million available for disaster recovery grants in areas impacted by Hurricanes Harvey, Irma, and Maria and wildfires and other federally declared natural disasters occurring in calendar year 2017. For more information on this disaster funding opportunity, including FAQ's and how to apply, please visit our Disaster Supplemental Funding page.