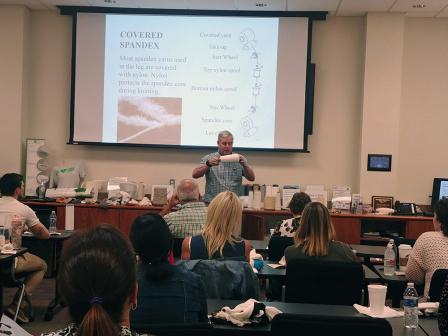 EDA Innovation Investment Supports Textile Manufacturing in North Carolina
North Carolina has a vibrant history in textile manufacturing, which dates back decades before technological advances such as the high-tech knitting machine.
"There's been a lot of advances. It's not exactly how it used to be. There is a lot of automation, technology and programming. There are robots that will sew your garments," said Rachel Cranston, project and academic relationship coordinator at the Manufacturing Solutions Center (MSC), which is part of Catawba Valley Community College in North Carolina.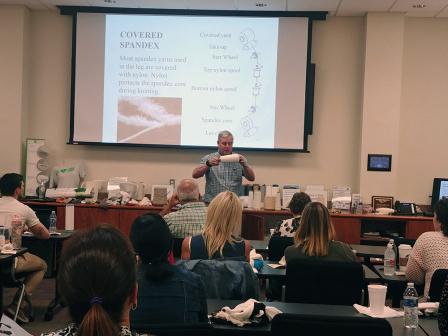 In 2019, Catawba Valley Community College received a $750,000 grant from the U.S. Economic Development Administration to leverage resources for cutting-edge innovation and entrepreneurship at MSC, which is based in Conover, N.C. The college matched the grant with $750,000 in local funds.
The grant, awarded through EDA's Regional Innovation Strategies (RIS) program (now known as Build to Scale), has allowed MSC to expand its support for small businesses looking to manufacture their textiles.
Since the grant was awarded, MSC has supported more than 400 businesses – including entrepreneurs – and held more than 60 trainings. The efforts have sought to increase the competitiveness of American companies in the face of lower-cost labor overseas.
"They want that better quality back and that long-lasting American quality. We are trying to bring it back here," Cranston said. "In addition to bringing textiles back to the U.S, to bring better quality back, MSC's mission is to create and maintain jobs in the US. Bringing textiles back to the US helps to create these jobs and support new businesses as they start up across the country."
MSC has been able to offer services such as yarn sourcing, fabric/product development, and multiple iterations and production runs to the startup company.
"If it weren't for MSC and their invaluable programs and resources we wouldn't have been able to move forward with our company at the pace we did. Manufacturing in the United States is very important to us and MSC made that happen. I am anxiously awaiting our scaling phase, and I have no doubt that MSC will be there to help us," said Kim Hart, founder and CEO of Rydir, luggage accessory manufacturer.
MSC also taught employees from sock company GRIP6 to program and run hosiery machines, which has helped the company grow.
"The training received from the Manufacturing Solutions Center was outstanding and just what GRIP6 needed to get a jump start in the world of USA sock manufacturing. Their well-trained and knowledgeable staff helped us with the complete process to get our mill running and operating at the highest level. They have become a valuable resource and long-lasting partner in our journey to provide the highest quality socks," said Cassidy Keyes, of GRIP6.
As part of the grant, MSC will focus on advanced fibers and fabrics to work in the areas of bio-textiles, military applications, wearable textiles, industrial hemp fiber re-introduction, eco-friendly sustainable products and other advanced textile items.
Since the COVID-19 pandemic started in March, MSC has pivoted to meet the needs of the industry, which has focused on the supply of PPE, such as masks and protective clothing.
"We have been able to test for particle, blood and water penetration on thousands of masks and gowns that have come in for entrepreneurs making new stuff as well as existing companies that had to switch gears from their original products to PPE," Cranston said. "The grant has allowed the extra resources to work on those things."
For more information about EDA, visit www.eda.gov.
Click here to learn more about the Build to Scale program.