Spotlight: EDA's Revolving Loan Fund Program Helps Bakers Move from Kitchen to Front Office
When the Food Network visited Chico, California's Upper Crust Bakery and Eatery for a 2019 episode of its popular series "Diners, Drive-Ins and Dives," viewers got a taste of some of the signature dishes, like black bean chili with jalapeño cheese corn muffin, that have long earned the Upper Crust rave reviews from locals.
Upper Crust's recent notoriety was no accident: it is the result of the hard work and talent of a husband and wife team of restaurateurs, who have also received support from EDA's Revolving Loan Fund (RLF) program, which provides gap financing to businesses that cannot otherwise obtain traditional bank loans.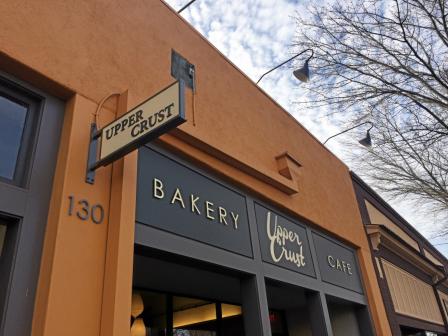 Upper Crust Bakery and Eatery and its menu of 'handcrafted wholesome food' has been a staple of the dining scene in Chico for more than three decades. When its longtime proprietor announced plans to retire in 2018, she wanted to ensure this community fixture remained in good hands and personally selected Jeff and Shelby Plummer, both of whom were Upper Crust employees at the time, to take over the business. Without the significant capital needed to meet commercial underwriting standards, however, the Plummers' found themselves unable to secure a conventional bank loan to finalize the purchase.
"A major hurdle my wife Shelby and I faced buying this business was the lack of financing options in our community," explained Jeff Plummer. "We had the experience; however, we hadn't built up the financial strength banks were requiring."
That's where 3CORE, an EDA-funded Economic Development District (EDD) and RLF administrator serving Butte, Glenn, and Tehama counties California's Central Valley, stepped in to the picture.
The Plummers were able to apply for a loan from 3CORE's RLF, which was capitalized with $1.1 million from EDA in August 2020 to secure $122,000 in financing needed to finalize the purchase of Upper Crust.

As a result of the purchase, the Plummers were able to retain 24 full-time employees and preserve a legacy business in Chico. In addition, the Plummers paid off their loan in less than two years, allowing its principal to be recirculated to other aspiring entrepreneurs.
To see how other businesses are utilizing EDA's RLF program to grow their enterprises, please visit EDA's Small Business/RLF Success Stories webpage.