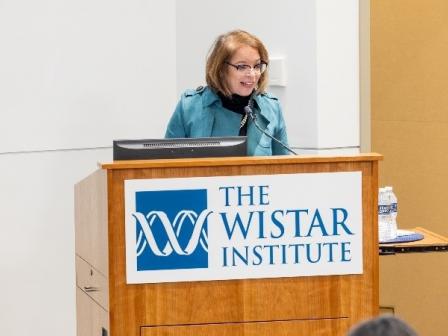 Assistant Secretary Castillo Visits Philadelphia to Announce STEM Talent Challenge Awardees and Meet with EDA Grantees
U.S. Assistant Secretary of Commerce for Economic Development Alejandra Y. Castillo visited Philadelphia, Pennsylvania, on January 27, 2022, to announce the eight grant recipients of the $2 million STEM Talent Challenge.
Castillo made the announcement at The Wistar Institute, one of the grantees and a world leader in early-stage discovery science in the areas of cancer, immunology, and infectious disease. She was joined by U.S. Rep. Mary Gay Scanlon, who represents Pennsylvania's 5th congressional district, and Philadelphia Mayor Jim Kenney.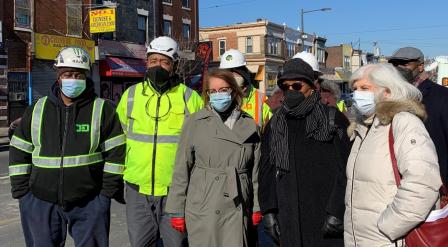 Before the announcement, Castillo toured two Wistar labs – one conducting cancer research and the other COVID research – and spoke with researchers and students – all of which, shared how support for apprenticeship programs were critical for students of color in pursuing STEM fields [View photos from the Wistar visit.] 
Following the announcement at Wistar, Castillo visited three sites to see the impact of EDA grants: The 52nd Street Commercial Corridor, Dorrance H. Hamilton Center for Culinary Enterprises and the University City Science Center.
The 52nd Street Commercial Corridor initiative, led by the Enterprise Center, seeks to spur revitalization along the corridor that is historically known as "West Philly's Main Street." Castillo met with Black entrepreneurs with businesses in the corridor. An EDA investment supports funding for a strategic study which is conducting an analysis of the current economic, physical, and demographic conditions of the corridor and develop strategies for targeted areas of the corridor.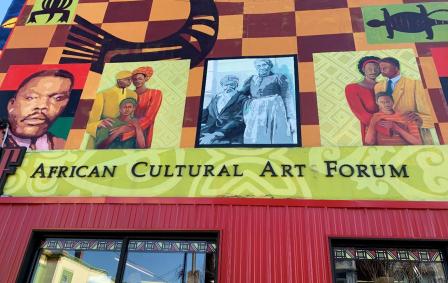 At the Dorrance H. Hamilton Center for Culinary Enterprises, Castillo participated in a luncheon and informal discussion with Black entrepreneurs. The center, a public-private partnership including EDA funding -- supports both established and start-up food businesses and food processors in need of commercial kitchen space. An EDA investment assisted the original development of Enterprise Center.
The University City Science Center (UCSC), which was awarded a STEM Talent Challenge grant in 2021, helps commercialize technology, deploys capital to address health inequities, and cultivates STEM talent. Castillo met with Tiffany Wilson, UCSC's president and CEO to learn more about the center's work.
Castillo also met with representatives from the World Trade Center of Greater Philadelphia, which aims to accelerate the global business growth of companies in Southeastern Pennsylvania and Southern New Jersey, to identify possible areas of EDA collaboration.