Americas Competitiveness Exchange (ACE) Takes Place in Quito, Ecuador
Ecuador hosted the 15th America's Competitiveness Exchange (ACE) from November 13-17, convening leaders from more than 20 countries and a diverse array of international organizations.
ACE is the premier economic development, innovation, and entrepreneurial network of the Americas and is one of the leading high-level events of the Organization of American States (OAS). The ACE program is one of the core initiatives of the Inter-American Competitiveness Network (RIAC) and organized in partnership with EDA, the International Trade Administration, and the U.S. Department of State.
ACE Ecuador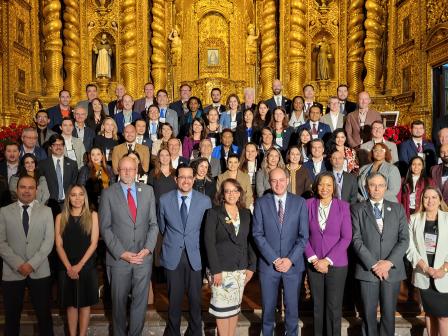 ACE Ecuador was convened by Ecuador's Ministry of Production, Trade, Investment, and Fisheries, along with support from Ecuador's Ministry of Foreign Affairs and the Permanent Mission of Ecuador to the OAS.
U.S. Assistant Secretary of Commerce for Economic Development Alejandra Y. Castillo provided the keynote to delegates during the opening session. Castillo was joined by Nathan Ohle, President and CEO of the International Economic Development Council (IEDC), recently announced as the lead awardee of a $30 million CARES Act grant to establish and operate a nationwide Economic Recovery Corps program, who participated in the "Programs, Policies, and Strategies that Effectively Promote Diversity, Equity and Inclusion" panel.
Eric Smith, Director of EDA's Office of Innovation and Entrepreneurship, provided remarks on Venture Capitalist Ecosystems following a walking tour of Kruger Corp.
The delegation ventured to more than a dozen sites in the capital city of Quito showcasing industries such as financial technology and banking innovation, industrial manufacturing, recycling innovation and sustainability, venture capital and entrepreneurship development, and higher education.
The week included a welcome at the Presidential Palace and Museum; a tour of Novopan, a private company that optimizes raw materials using technology and innovation to create high-quality wood panels; a tour of Enkador, a manufacturing company that has a history of investing in plastic recycling innovation to bring a circular economy to Ecuador; a research fair hosted by the Universidad San Francisco de Quito, highlighting patents, the prototyping lab, and academic research and industries; a tour of the Quito International Airport to learn about new trends resulting from the COVID-19 pandemic; and a variety of business panels and networking opportunities. The delegation also learned about Ecuador's impressive chocolate industry at the IDE Business School.
Global Collaboration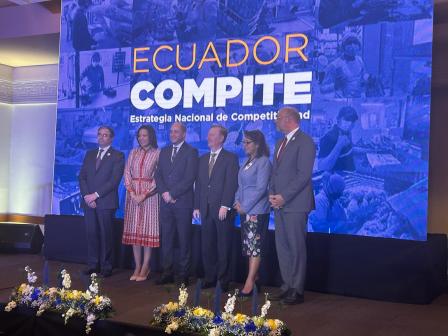 The international ACE delegation was comprised of representatives from nations throughout Latin America, including Ecuador, Argentina, Brazil, Paraguay, and Guatemala, as well as Germany, Canada, and the United States. Representatives from international organizations attending included the International Economic Development Council, the Pan American Development Foundation, and the U.S.-Mexico Foundation.
Notably, during ACE Ecuador, an agreement was signed between Ecuador and the OAS. Ecuador will be adopting the University of Texas at San Antonio's Small Business Development Center model, which is an EDA University Center effort. The agreement was signed during a special ceremony by Executive Secretary for Integral Development Kim Osborne (OAS), Minister of Commerce Julio José Prado (Ecuador), and the U.S. Ambassador to Ecuador Michael J. Fitzpatrick. Part of Ecuador's new economic platform, the agreement was witnessed by Assistant Secretary Castillo and Thomas Hastings, the Interim Permanent Representative of the United States to the OAS.
What's Next
During the week, potential collaboration and partnerships were sparked: from possible research agreements to entrepreneurial exchanges, and even new trade and investment possibilities.
As the ACE international delegation returned home, they will continue to strengthen their networks and begin to build on new partnerships formed. Read more about results reported by past ACE participants.
The next ACE exchange will be held in Seattle, Washington, in May 2023.
If your region is interested in learning more about the ACE program and how they can host, visit: http://riacevents.org/ACE/.