Message From Assistant Secretary
Jay Williams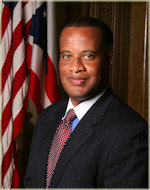 As we celebrate African-American history month in this final February of President Obama's administration, I cannot help but reflect on the tremendous strides our nation has made under the leadership of our nation's first black president.
For example, after turning the nation away from the worst economic crisis this country has seen in over 70 years, we are now experiencing one of the longest economic expansions in the history of our country with businesses having added 14 million jobs over 71 straight months and the unemployment rate has dipped to 4.9 percent for the first time since February 2008. The African American unemployment rate has been halved since its Great Recession peak.
In addition, the President paved the way for millions of uninsured American's to gain access to quality, affordable healthcare, including more than 2 million African Americans.
Today, African American high school and college graduation rates are at an all-time high.
Progress like this is welcome news. Yet we are not satisfied.
President Obama believes we need to do more than just recover from the economic crisis - a crisis that has hit the African-American community especially hard.
We need to restore security and opportunity for working Americans with the fundamental values that made our economy the strongest in the world – making sure everyone does their fair share, everyone gets a fair shake and hard work and responsibility are rewarded.
In my role at EDA, I am honored to travel the country and to see first-hand the positive impact that EDA investments have across every state and territory and across rural and urban regions in the nation.
As an African American, I am particularly proud when visiting EDA investments that are working to help African-American communities grow and thrive. Several of these critical investments are highlighted in this newsletter.
Working together, with our partners at every level of government and with leaders like you across the nation, our economy has moved from recession to recovery to expansion over the past seven years.
To build on our momentum, we look forward to seeing you at EDA's 2016 National Conference that will take place on April 7-8 in Washington.
Jay
Success Story: Operation Hope's Small Business Empowerment Initiative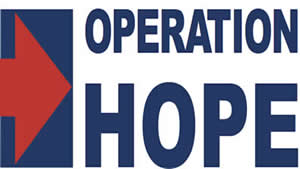 Operation Hope logo
The President is committed to providing talented entrepreneurs in underserved communities with the opportunity to put their dreams into action. At EDA we are focused on building ladders of opportunity for all Americans by fostering innovation and supporting entrepreneurs.
A $2.5 million EDA investment in Operation Hope, for example, helped to expanding the HOPE Inside Small Business Empowerment Initiative into Atlanta; Birmingham; Memphis; Jacksonville; Orlando; the greater Los Angeles and Oakland areas; Phoenix and Tucson; Las Vegas; New York; Baltimore, and Washington, D.C.
The program provides budding entrepreneurs in disadvantaged communities with introductory small business workshops; comprehensive entrepreneurial training, and individualized technical assistance they need to learn, grow, and succeed. Through the expanded initiative, Operation Hope intends to: Graduate 600 entrepreneurs from its training program, educate 6,000 participants through their small business workshops, create 600 small businesses, enroll 4,500 participants in credit and money management, and provide technical assistance to 3,000 small business owners.
Spotlight: EDA Invests to Strengthen African-American Businesses and Workers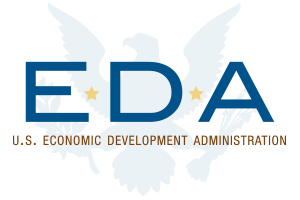 EDA word treatment logo
EDA has been investing to help advance African-American communities and businesses since the agency's inception in 1965.
In Watts, California, for example, EDA played a vital role in helping the community recover from the Watts riots.
Immediately following the riots in Watts, EDA was there. It was perhaps the first test of the then fledging agency.
EDA invested over $40 million in Watts and the South Central area to help create thousands of jobs and economic opportunity for the region.
Today, EDA continues to focus on building ladders of opportunity for all Americans by fostering innovation and supporting entrepreneurs.
Last October, for example, Assistant Secretary Williams joined Baltimore Mayor Stephanie Rawlings-Blake and National Urban League (NUL) President and CEO Marc Morial to bring some good news to Baltimore.
There, EDA has invested $300,000 in the NUL to help provide training and technical assistance to micro-business owners as well as entrepreneurs who have been financially affected by the recent unrest in the region.
Highlight: New Braunfels, Texas Holds Inaugural Martin Luther King, Jr. Day March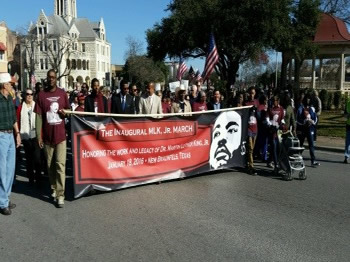 Assistant Secretary Jay Williams participates in the city of New Braunfels, Texas' Inaugural MLK Day march
Assistant Secretary Jay Williams joined Bishop Michael D. Franklin, District 1 City Councilman George Green, and New Braunfels Mayor Barron Casteel – among others - for the city of New Braunfels, Texas' inaugural Martin Luther King, Jr., March on MLK Day, January 18 to commemorate the life and legacy of Dr. Martin Luther King, Jr.
City Councilman Green led the effort to have Martin Luther King Day recognized by the city and Bishop Franklin's 15 year old son - JonMichael Franklin - led a year-long campaign that resulted in the School District of New Braunfels officially observing the MLK holiday for the first time ever this year.