Success Story: Operation Hope's Small Business Empowerment Initiative
February 2016 Newsletter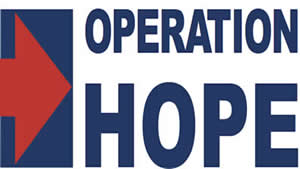 Operation Hope logo
The President is committed to providing talented entrepreneurs in underserved communities with the opportunity to put their dreams into action. At EDA we are focused on building ladders of opportunity for all Americans by fostering innovation and supporting entrepreneurs.
A $2.5 million EDA investment in Operation Hope, for example, helped to expanding the HOPE Inside Small Business Empowerment Initiative into Atlanta; Birmingham; Memphis; Jacksonville; Orlando; the greater Los Angeles and Oakland areas; Phoenix and Tucson; Las Vegas; New York; Baltimore, and Washington, D.C.
The program provides budding entrepreneurs in disadvantaged communities with introductory small business workshops; comprehensive entrepreneurial training, and individualized technical assistance they need to learn, grow, and succeed. Through the expanded initiative, Operation Hope intends to: Graduate 600 entrepreneurs from its training program, educate 6,000 participants through their small business workshops, create 600 small businesses, enroll 4,500 participants in credit and money management, and provide technical assistance to 3,000 small business owners.
A great example of how the program is working to advance promising entrepreneurs can be found in the story of Cedric Brown, 24, is an international fashion designer and visual artist.
Mr. Brown received a B.F.A in Fashion Design, from Savannah College of Art and Design and has won several awards and scholarships for his fine art.
At age 20, one of his paintings was accepted into the National Russian Museum in St. Petersburg, Russia. In 2014, he was selected as the winner of British designer, Ozwald Boateng's, "A Man's Story," US Design competition.
After graduating college and looking for employment, Brown decided to take the Entrepreneurial Training Program class at Operation Hope.
The 12 week program featured influential guest speakers every week that gave good business tips. In the course, they focused on creating a well written business plan. They got tips on modern ways to market their businesses, enhanced their presentation skills, and received feedback from other participating students. The staff worked hard and was dedicated to their jobs. The best advice Mr. Brown says he received as part of his training was learning what to do with a good credit score and cutting down production costs to reach better margins.
After graduating, he was ready to take his business to another level. Brown launched an e-commerce website for Cedric Brown Collections LLC, which is based out of Atlanta. The brand is known for its colorful, abstract and organic prints with an urban edge. All of the prints are designed in-house.
To gain more knowledge about the fashion industry, Brown moved to New York City for freelance work as an Assistant Men's Sportswear designer at Li and Fung Limited. At LF, he assisted the team on designs being sold at Lord and Taylor, Macys, Target, Wal-Mart and other outlets.
During New York Fashion Week, he had his very first pop up shop with Harlem Fashion Row (HFR) "Shop, Brunch, an Be Social" The event was held at the Norwood Club in Chelsea. HFR has promoted his scarves as item of the day multiple times on their social media campaigns. Atlanta fashion blogger Kelsey Lee has featured his scarves, and he is a featured designer in the Pecola boutique in the Inman quarter shopping center in Atlanta.
Currently, Mr. Brown is expanding his line with Men's accessories, pocket squares and ties, which will be available this spring.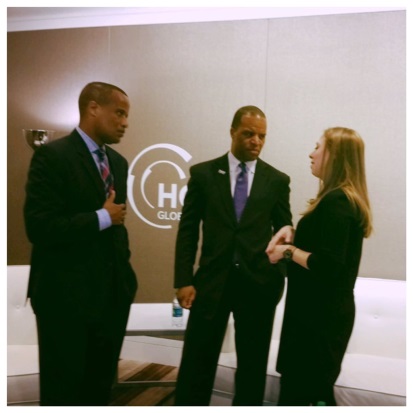 Assistant Secretary Williams speaks with Chelsea Clinton and John Hope Bryant at the 2016 Hope Global Forum