Spotlight: EDA Invests to Strengthen African-American Businesses and Workers
February 2016 Newsletter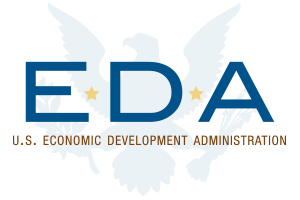 EDA word treatment logo
EDA has been investing to help advance African-American communities and businesses since the agency's inception in 1965.
In Watts, California, for example, EDA played a vital role in helping the community recover from the Watts riots.
Immediately following the riots in Watts, EDA was there. It was perhaps the first test of the then fledging agency.
EDA invested over $40 million in Watts and the South Central area to help create thousands of jobs and economic opportunity for the region.
Today, EDA continues to focus on building ladders of opportunity for all Americans by fostering innovation and supporting entrepreneurs.
Last October, for example, Assistant Secretary Williams joined Baltimore Mayor Stephanie Rawlings-Blake and National Urban League (NUL) President and CEO Marc Morial to bring some good news to Baltimore.
There, EDA has invested $300,000 in the NUL to help provide training and technical assistance to micro-business owners as well as entrepreneurs who have been financially affected by the recent unrest in the region.
EDA's Revolving Loan Fund (RLF) is also working to ensure that promising businesses get the capital they need to grow and thrive.
A great example of the positive impact of EDA's RLF program can be found in Jackson, Mississippi where a $128,000 EDA RLF investment helped to establish McDade's Market. The market - run by African-American husband and wife team Greg and Kathy McDade – is today positively impacting the community, which had lost a larger super market chain.
We are also working today to support President Obama's commitment to help communities develop a workforce with 21st century skills.
In Camden, New Jersey, an EDA Public Works program investment in Respond, Inc., helped to establish the Sayre New Worker Job Development Center, which provides job seekers with the skills they need to fill entry level jobs in the automotive sector.
As a result of this investment, Respond has successfully placed numerous graduates into automotive service positions, and many other graduates have gone on to start their own automotive repair businesses.
There are many more EDA success stories nation wide, including:
Economic Adjustment Assistance and Local Technical Assistance investments of $300,000 and $220,000 respectively in Christian Evangelistic Economic Development (CEED) helped catalyze the growth of the faith-based community non-profit operating in Pittsburgh, Pa. The organization has become a model for microenterprise technical assistance programs as it has worked with the African War Refugee community and other minorities in highly economically challenged neighborhoods in Pittsburgh and surrounding communities. Jointly funded by EDA and the Heinz Endowments, CEED's efforts resonated in the community as microbusiness after microbusiness planted roots and grew, allowing neighborhoods to seed their own economic growth, serving unmet needs and creating jobs and success.

EDA has worked with West Philadelphia-based The Enterprise Center on multiple investments, including the Dorris Hamilton Culinary Center, which provides shared kitchen and food processing space for food industry entrepreneurs, and also the Spark/Ignite Forum series which is designed to link faith organizations in largely African-American and minority neighborhoods with the resources necessary to establish their own Community Development Corporations to invest in the economic wellbeing of their own neighborhoods.

A $1 million EDA investment in Southern University and A&M College of Baton Rouge, Louisiana, helped to establish the Center for Business Opportunities and Disaster Recovery, which will work to diversify and further develop the region's economy by strengthening existing businesses, nurturing new ones, adding jobs, and increasing the knowledge of risk mitigation, including those associated with disaster recovery and resiliency. The Center is located next to the Louisiana Small Business Development Center and the Center for Rural and Small Business Development, which are both sponsored by the University. Together, these Centers will provide a one-stop service center providing technical assistance and business incubation opportunities for the community.

A $1 million EDA investment in rural Prairie View, Texas – located in the state's Gulf Coast region - is helping to provide critical water and sewer infrastructure to support the James Muse Parkway and Old Houston Highway corridor. The project will benefit private development along James Muse Parkway by attracting future business opportunities, which are expected to increase tax revenue for the city, create continuous and permanent job growth, and spur local and regional economic development. According to grantee estimates, this project will create 50 jobs, save 100 existing jobs, and generate $5 million in private investment.

A $500,000 grant to San Antonio Growth on the Eastside (SAGE) in San Antonio, Texas, helped SAGE conduct the necessary analysis to develop the Eastpoint Promise Zone Economic Development Strategy. According to the grantee, the region has suffered from recent disinvestment in the area, because rents and fair market values do not support real estate development that provides a fair return to investor developers. As a result there is a need to reassess the current conditions of the real estate market and evaluate the highest and best use for properties in key commercial nodes in the footprint. The market analysis funded by EDA will provide critical information for the types of businesses that SAGE can focus on for recruitment efforts, as well as identify linkage opportunities for existing businesses and thereby create expansion and job opportunities. The implementation of this strategy is expected to ultimately help expand job growth, create new businesses and raise the standard of living due to new public transportation.
EDA looks forward to serving communities like these and others for the next 50 years and beyond!