Spotlight: Diverse Leadership Appointed for National Innovation and Entrepreneurship Council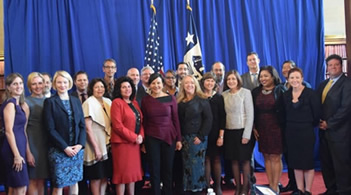 Commerce Secretary Penny Pritzker welcomes NACIE 3.0 board members during the leadership transition meeting.
The Obama administration strongly believes that our country is at its best when we harness the talents of all parts of our society, and our greatest accomplishments are achieved when diverse perspectives are brought to help overcome our greatest challenges.
On October 6, 2016 the Department of Commerce welcomed 30 diverse leaders in innovation, entrepreneurship and employer-driven talent development from across the country to the National Advisory Council on Innovation & Entrepreneurship (NACIE).
NACIE is charged with identifying and recommending solutions to issues critical to driving the innovation economy in America, including enabling entrepreneurs and firms to successfully access and develop a skilled, globally competitive workforce.
Operating as an independent entity managed through EDA's Office of Innovation and Entrepreneurship, NACIE members serve two-year terms and work collectively to identify new ways to take great ideas from the lab to the marketplace, to drive economic growth and create jobs in America.
From October 5-7, NACIE transitioned to its third membership cycle. Members from across the country convened in Washington, D.C. to close out the council's 2014-2016 term (NACIE 2.0) and transition its 30 new members, who will serve from 2016-2018 (NACIE 3.0).
Success Story: NDSU Research and Technology Park Spurs Groundbreaking Innovations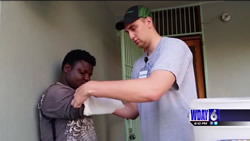 North Dakota State University student Cooper Bierscheid fitting his 3D-printed prosthetic limb.
The University Center Economic Development Program at EDA helps make the resources of local universities available to the economic development communities in their areas. One such program is located in North Dakota.
Funding from the University Center Program has facilitated the development of many groundbreaking innovations through North Dakota State University's Research and Technology Park's Innovation Challenge.
With support from the NDSU Research and Technology Park's Innovation Challenge, Cooper Bierscheid, a senior Manufacturing Engineering student with a passion for helping others, was able to turn his great idea into his own company, Protosthetics.
A few years ago, Cooper invented a way to 3D-print custom prosthetic limbs for less than $10,000 while the current market cost is between $25,000-$100,000, making these prosthetics available to people in developing countries who could not otherwise afford them. In fact, during last year's Haiti Medical Mission of Fargo-Moorhead, Cooper had the opportunity to fit a 24-year-old Haitian native with one of these prosthesis.
The boot camp, pitching phases, and mentorship offered by the Innovation Challenge guided Cooper through the entrepreneurial process and brought him to the final competition where he won $5,000 and the ability to grow and expand Protosthetics.
Highlight Story: Sustainable Economic Growth Begins with a Skilled Workforce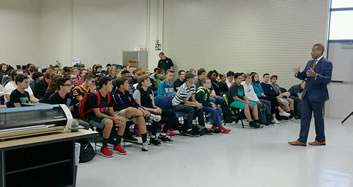 EDA Assistant Secretary Jay Williams speaking to students during a 2016 Manufacturing Day event with STEM students in Ohio.
An employer-aligned, demand-driven comprehensive approach to skills development is essential to helping businesses across all sectors better access skilled workers in order to grow, innovate, and increase their productivity.
In recognition of this need, EDA and other federal agencies, including the U.S Departments of Labor and Education, are partnering to focus on the development of workforce training programs.
Under the Commerce Department's Skills for Business initiative, EDA has incorporated job-driven training principles into our Comprehensive Economic Development Strategy (CEDS) (PDF guidelines to help focus communities on addressing their local and regional workforce needs. EDA's approach to aligning economic and workforce development results in grant investments that meet the specific needs of the business community.
In the past year, EDA has invested millions of dollars to support workforce training programs and help develop high-skilled regional workforces. EDA is also working with local leaders to address and anticipate market demands for talent.
EDA's support for workforce development is diverse and includes funding for physical infrastructure improvements (e.g., public buildings, roads, water/sewer systems, broadband) needed to construct skill-training facilities, planning and technical assistance funding to develop and implement workforce development strategies, and workforce analysis that provide critical decision-making assistance to local leaders.