Success Story: NDSU Research and Technology Park Spurs Groundbreaking Innovations
November 2016 Newsletter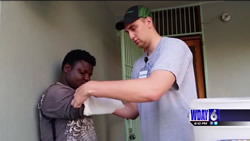 North Dakota State University student Cooper Bierscheid testing out his 3D-printed prosthetic limb.

The University Center Economic Development Program at EDA helps make the resources of local universities available to the economic development communities in their areas. One such program is located in North Dakota.

Funding from the University Center Program has facilitated the development of many groundbreaking innovations through North Dakota State University's Research and Technology Park's Innovation Challenge.

With support from the NDSU Research and Technology Park's Innovation Challenge, Cooper Bierscheid, a senior Manufacturing Engineering student with a passion for helping others, was able to turn his great idea into his own company, Protosthetics.

A few years ago, Cooper invented a way to 3D-print custom prosthetic limbs for less than $10,000 while the current market cost is between $25,000-$100,000, making these prosthetics available to people in developing countries who could not otherwise afford them. In fact, during last year's Haiti Medical Mission of Fargo-Moorhead, Cooper had the opportunity to fit a 24-year-old Haitian native with one of these prosthesis.

The boot camp, pitching phases, and mentorship offered by the Innovation Challenge guided Cooper through the entrepreneurial process and brought him to the final competition where he won $5,000 and the ability to grow and expand Protosthetics.

"If you would have talked to me a year ago I would never have thought I would be in this position," Cooper said after winning the Innovation Challenge. "I am excited every day, I love this work, it is what I want to do."

Since completing the Innovation Challenge, Cooper is working to raise a round of investment capital to scale his business.

For more information on EDA's University Center Program and to see the 2016 competition winners, visit eda.gov.

Success Story submitted by Chuck Hoge, Executive Director, NDSU Research and Technology Park.