Wisconsin Chocolatier Achieves Sweet Success With Help From EDA-Funded Programs and Projects
"I was just a humble chocolate maker with a dream."
Daniel Herskovic, a gourmet chef who worked at top restaurants in San Francisco, New York, and Chicago, started his luxury chocolate company, Mayana Chocolate, in his apartment and eventually moved to a small table in the corner of a local cheesecake bakery on Chicago's North Side.
Now, just over 10 years later, Mayana Chocolate bars are sold in every Whole Foods in the country and company sales hit $1 million in the first half of 2023 alone.
The company took off when Herskovic and his wife, Tamara, moved to Spooner, Wisconsin – a small town seven hours northwest of Chicago – where the couple connected with the Northwest Regional Planning Commission (NWRPC), one of about 400 EDA-designated Economic Development Districts (EDD) around the country that supports regional economic development.
Through NWRPC, Mayana Chocolate received two low-interest loans from their EDA-funded Revolving Loan Fund (RLF) program and now occupy space in a business incubator that was renovated with an EDA grant in the late 1990s. In addition, Herskovic credits his success to NWRPC's technical assistance and hands-on support through every step of growing his business.
"We wouldn't be where we are today without the help of Northwest Regional Planning Commission," Herskovic said. "They wouldn't let us fail. I started a business without knowing anything about business and now I have my own factory with advanced machines. It's a great accomplishment."
 In 2013, Mayana Chocolate received a $30,000 low-interest loan from NWRPC's EDA-funded RLF to move into an approximately 2,000-square-foot facility in an industrial park near downtown Spooner – a building that is part of NWRPC's business incubator network. The loan, which since has been repaid, helped pay for equipment and provided capital to get the business started.
In 2016, NWRPC provided another loan to help with re-branding and packaging from a separate RLF program funded by the U.S. Small Business Administration.
In 2019, the company took on another $45,000 loan from an NWRPC EDA-funded RLF that allowed for Mayana Chocolate to move into a space that is four times larger in another building that is also part of the NWRPC's incubator network. The company has repaid this loan and has a pending loan application for another $100,000 to help purchase a new caramel machine, more equipment, and working capital to help manage its growing business demands.
'Best Candy Bars You've Ever Had'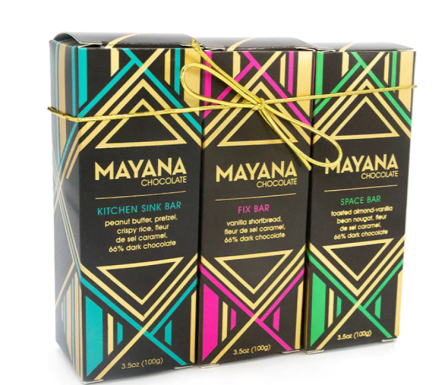 After years of restaurant and catering work, Herskovic wanted to provide guests with a sweet treat to end their meals. After falling in love with chocolate, he went to study with some of the best chocolatiers in the world in France and the United States.
Today, Mayana Chocolate offers 15 different candy bar varieties that combine high-quality chocolate with all the things that pair perfectly with chocolate. The "Kitchen Sink" bar features a blend of sweet and salty with peanut butter, pretzel, crispy rice and fleur de sel caramel. The "Mayan Spice" bar has dark chocolate ganache, sea salt caramel and tortilla crunch. Other bars are "Coffee Break" and "Heavens to Bacon."
"We make the best candy bars you've ever had," Herskovic said. "We make everything with artisan methods and pure ingredients so it's a much more pure experience."
In 2008, the chocolate won "Best of" in the Chocolate Salon competition in Chicago and Herskovic won "Most Gifted Chocolatier." In 2016, Mayana was named in the "Top Ten Chocolatiers in America" list by Dessert Professional Magazine.
'Grow Your Own, Build Your Own'
While living in Chicago, Herskovic and his wife Tamara regularly visited Spooner because Tamara's parents lived there. Spooner has about 2,800 residents and is often considered the gateway to Wisconsin's natural wonders. For the Herskovics, moving north allowed for a lifestyle change that included biking through rolling hills and quiet views of sparkling lakes. But moving an artisan food company to a small town was a different story.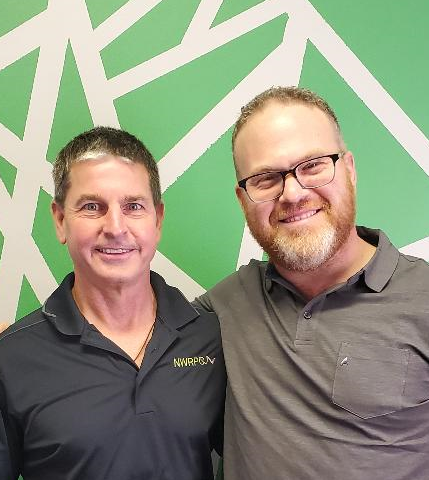 "There were people who were saying that we were crazy for leaving Chicago," Herskovic said. "The idea of starting a luxury chocolate company outside a major metropolis was a crazy idea. This is the type of business that you would see in a bigger metro area."
As the Herskovics were making their move, NWRPC was well into its efforts to catalyze regional economic development. Instead of trying to lure companies from big cities like Chicago or Minneapolis, NWRPC created a strategy to nurture small businesses that were already in the region.
"Trying to recruit from big cities wasn't working," said Rick Roeser, NWRPC's business development specialist. "We changed our direction to a 'grow your own, build your own' concept."
Since 1998, NWRPC received five grants to help renovate one building and build five others in its region that would be utilized as part of its business incubator network. Currently, the network has 10 buildings with 180,000-square-feet throughout the NWRPC's 10-county, mostly rural region. In total, the $4.7 million in EDA grants has spurred $104 million in private investment.
Mayana Chocolate is one of the NWRPC business incubator network's many successes stories. The network has "graduated" 32 companies. In total, graduated companies and businesses currently operating in the incubator spaces have created 456 full-time jobs and generate annual sales of $91 million.
More than 20 years later, NWRPC's place-based approach has paid off and been transformative for the region. Roeser credits EDA's partnership, as well as the long-term vision of NWRPC's board of directors, with its success.
"It was really important for [the board of directors] to have buy-in in the vision," Roeser said. "I tell other communities, 'Don't go into this thinking you're going to have fast gains.' It's a long-range plan, it's not something that happens overnight."