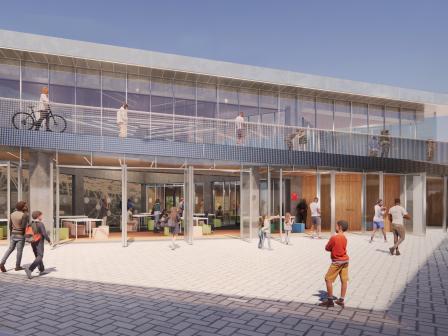 Bridging the Gap Between Equity and Environment
For more than 200 years, the 11th Street Bridge has connected Washington, D.C. with the historic neighborhood of Anacostia. There have been several redevelopment projects through the years, creating new spans for travel across the Anacostia River. Today, remnants of those earlier spans still stand as a reminder of the bridge's long and storied history.
In the early 2000s, city officials decided to demolish one such span that had stood since the 1960s, but a local non-profit organization saw great potential in the existing infrastructure. They deemed it worthy of being repurposed for civic space, but for what exactly, they still weren't sure.
"We spent two years going out into the community, meeting with residents, and asking for ideas," recalls Scott Kratz, Senior Vice President of Building Bridges Across the River (Building Bridges). "Residents overwhelmingly wanted a park, having long lacked access to nature and outdoor activities."
Residents will soon get their wish. Construction on the 11th Street Bridge Park is expected to begin later this year. Importantly, the project will include an 8,500 square-foot environmental education center (below left), to be constructed on the east side of the river. The center will be built with the help of a $6 million Economic Development Administration (EDA) investment in Building Bridges through EDA's American Rescue Plan's Travel, Tourism, and Outdoor Recreation program.
According to Kratz, the environmental education center idea came up often during those meetings with local residents, who wanted to help train and educate the next generation of land and river stewards and get them more involved in STEM programs. To that end, the Anacostia Watershed Society (AWS) will provide educational programming for the park's guests.
AWS will also operate a boat launch for canoe and kayak enthusiasts (above right), addressing a need for more access points along the river's east side. They will also offer boat tours along the river, giving visitors the opportunity to learn more about its natural and cultural history.
Entertainment was another common theme expressed by local residents, who wanted a designated space for concerts and other live events. As a result, the park will also feature a 250-seat amphitheater with the river as its backdrop.
The park will employ green technology in the development and operation of these structures. Solar power will be used throughout the park, while rainwater will be captured for irrigation purposes. Through these initiatives, Building Bridges aims to achieve gold certification under the Leadership in Energy and Environmental Design (LEED).
Building Bridges has emphasized equity throughout the planning process, a theme shared by EDA. In 2021, the bureau revised its investment priorities, emphasizing equity as its most important.
"We devised an equitable development plan offering 34 strategies designed to help residents thrive once the project is completed," Kratz said. "It emphasizes affordable housing and the preservation of black-owned businesses and culture in the area."
Kratz estimates that more than 800,000 guests will visit the park each year, as well as local businesses in the adjacent areas.