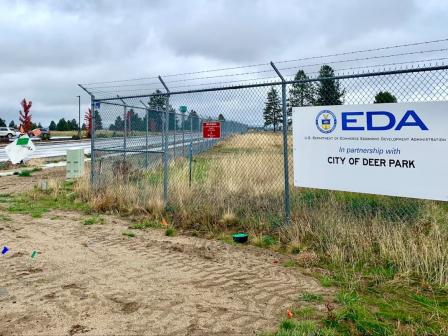 EDA Investment Helps Former Logging Town "Branch Out"
Nestled in the densely forested Okanogan highlands of Eastern Washington, Deer Park's fortunes were built on logging. But when the town's last sawmill shut its doors, the community lost its long-time base industry and suddenly found itself with a need to economically "branch out." Thanks to local ingenuity — backed by a $4.7 million grant from the Economic Development Administration (EDA) — this city of 3,600 people is celebrating an economic renaissance driving the creation of scores of new jobs and generating millions of dollars in private investment.
"The city's forefathers set aside a bunch of property by what is now the airport that they zoned as light industrial, but it wasn't served with any type of utilities," explains Joe Tortorelli of Economic Development NW, a Washington state-based economic development consultancy. "It wasn't much more than colored lines on a map."
From those undeveloped parcels, municipal leaders identified 500 acres of land suitably positioned to take advantage of burgeoning growth in nearby Spokane. In 2019, Economic Development NW worked with Deer Park officials to secure the Economic Adjustment Assistance grant from EDA. Federal funds, augmented with $1.2 million in additional investment from the Washington State Department of Commerce Community Economic Revitalization Board, allowed the city to embark on an ambitious initiative to build a new business and industrial park. EDA grant money went to construct an all-season roadway, the paving of sidewalks, and the installation of sewer, water, and lighting.
Doug Knight, president of family-owned Knight Construction, says that the project was the impetus his company needed to grow its business. The 50-year-old enterprise, which specializes in dam repair and mine maintenance, was formerly located in a nonconforming use area that limited its expansion options.
"It was a little sketchy putting huge investments in an area like that," Knight says. There was also the question of all-season access for the company's vehicles. "When seasonal weight restrictions come on, we were potentially being shut out of access to our property."
With the opening of the Deer Park Business and Industrial Park, however, Knight Construction was able to complete a new and expanded $5 million headquarters facility, growing its investment in the city. In addition to Knight Construction, the industrial park also attracted other businesses, including Avista Utilities and Metal Roll Forming Systems. The development has spurred the creation of 53 new jobs and generated more than $17 million in private investment for Deer Park, exceeding the city's initial estimates.
The EDA's Economic Adjustment Assistance program provides a wide range of technical, planning, and public works and infrastructure assistance to regions experiencing adverse economic changes due to changing trade patterns or other factors. To learn more, and to see how others are using EDA grants to support local economic development, please visit the EDA.gov.