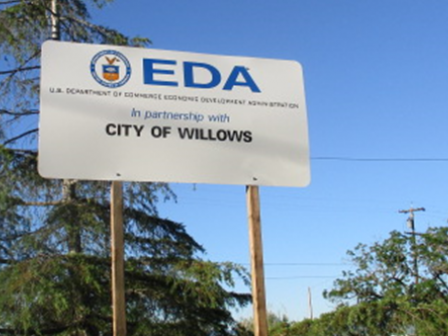 EDA Investment Spurs New Development
Helen Hayes once said that age is unimportant unless you're a cheese. For the city of Willows, California, that adage also applies to cheese factories. In the mid-2010s, the town's 100-year-old, family-owned cheese producer was on the cusp of relocating its operations to a new facility in a different area, a move necessitated by its increasingly antiquated factory. The potential loss of this major employer created economic uncertainty in the region.
"The old plant was really a Rube Goldberg situation," recalls Marc Nemanic, Associate Director at 3CORE, an Economic Development District that serves Central California's Butte, Glenn, and Tehama counties. "It lacked critical efficiencies and economies of scale."
In 2015, with the support of a $2.5 million Public Works grant from the Economic Development Administration (EDA) – later supplemented by $1.2 million in additional federal funding – Willows began upgrading roadway, sewer, storm drain, electrical, cable, and water infrastructure to transform 38 acres of prime, unused, freeway-adjacent real estate into a modern industrial park. It was just the inducement needed to harness the anchor employer to the city.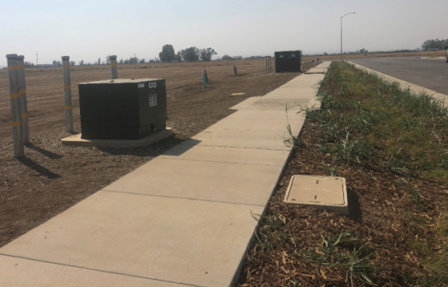 In 2020, the cheese manufacturer completed construction of its new packaging and processing plant, securing both the company and the city's future for another century. The new plant, which is Safe Quality Food standards (SQF) certified, runs entirely on renewable solar energy generated on-site.
In addition to saving more than 100 jobs, the new industrial park is closing in on the $32 million in private investment local leaders estimated it would generate from the project. Plus, by moving the cheese processing plant to within the city limits – the old plant sat just outside the city line – Willows has been able to grow its tax base.
Infrastructure supported by the EDA grant included new roadway, electrical transformers, vaults, and bollards.
The success of the Willows project will be measured in more than just jobs saved and investment generated. Indirect growth resulting from the project has the potential to amplify its impact beyond early estimates.
"This facility is really a jewel," explains Nemanic. "It's a beacon that's going to pull other types of companies into the new industrial area. It gives the city financial stability."
The infrastructure updates necessitated by the project bring with them the opportunity to generate additional development, allowing the growth of new and existing businesses in Willows.
"There's a lot of developable land in the southern part of the city," says John Wanger, city engineer. "The project extended all the utilities to a point where new development is, for the first time, feasible. We're anticipating continued growth in that area."
The Public Works grant program empowers distressed communities to revitalize, expand, and upgrade their physical infrastructure to attract new industry, encourage business expansion, diversify local economies, and generate or retain long-term, private sector jobs and investment.
For more information on EDA's funding opportunities, please visit eda.gov.