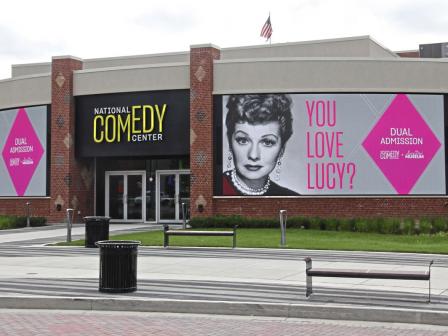 EDA Investments Help Turn Love of Laughter into a Top National Museum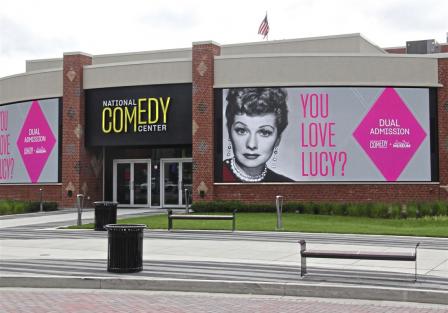 A $1.64 million EDA Public Works (PDF) program investment made in 2016 in the National Comedy Center of Jamestown, New York, helped turn the facility into a top national museum by supporting the construction and installation of high-technology attraction equipment in the newly renovated center. The prior year, EDA provided the County of Jamestown a discretionary fund grant to support the technical grant writing assistance needed to help the community secure this vital investment.
Today, the National Comedy Center is a tourist destination estimated to attract over 114,000 visitors a year to the region and the project has helped create 184 jobs and spur $23 million in private investment.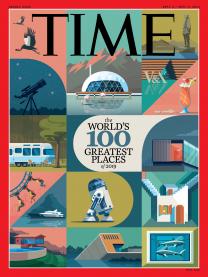 This is no joke: The National Comedy Center was named one of TIME magazines "World's Greatest Places" in the publication's Sept. 2, 2019 cover story where they were selected as one of only "100 new and newly noteworthy destinations to experience right now" and listed as one of the top destinations to visit in the United States.
Similarly, People Magazine recognized the National Comedy Center as one of the "100 Reasons to Love America" and USA Today readers voted the Center a "Best New Attraction." Condé Nast Traveler has even called the Center "One of the best museums in the country." Visitors from all 50 states and nine countries have given the center a 5/5 rating on TripAdvisor, ranking among the highest in the attraction and tourism industry. As host to the annual Lucille Ball Comedy Festival, the Center routinely attracts large crowds to enjoy top comedic acts.
Congress has designated the center as the nation's official cultural institution dedicated to presenting the vital story of comedy and preserving its heritage for future generations.
This project is an integral component of Jamestown and Chautauqua County's efforts to build a healthy economy of which destination tourism is a critical component!