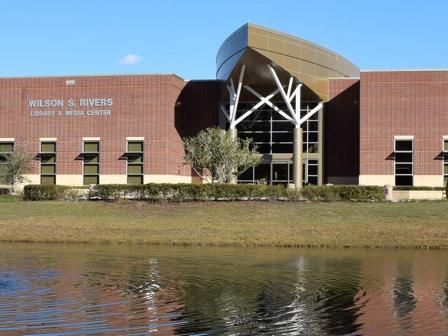 With EDA Support, Florida Gateway College Helps New Truck Drivers Hit the Road
When the pandemic first began, Americans had a renewed appreciation for the trucking industry, bringing supplies and groceries to shelves across the country. Two years later, the need for qualified, commercial truck drivers has only increased, as America faces global supply chain issues. With support from the Economic Development Administration, one grantee is helping to fill that void.
Florida Gateway College (FGC) first opened its doors in 1947. Back then, it was known as the Columbia Forestry School, but in 1961, it became a junior college, expanding its areas of accreditation to include healthcare, welding, and other vocational studies. Today, it stands ready to provide Florida and the country with a new pool of drivers who are eager to hit the road.
Early next year, the school will begin offering courses for students who are interested in obtaining a Commercial Driver's License (CDL). The program will be administered through the new Gateway College Commercial Vehicle Driving Postsecondary Adult Vocational Facility, made possible through a 2019 EDA grant of $2.4 million.
Situated at the intersection of two of America's busiest highways, school administrators had long seen the need to create such a program, in a state that is currently looking to fill up to 18,000 such positions.
"This was our first time entering into an EDA grant," said Dr. Lawrence Barrett, President of FGC. "They were there at every step of the grant process, ultimately providing the infrastructure for a new CDL program, which is in great demand here in our region."
Funding provided by EDA allowed the college to procure a number of essential tools and equipment, including a new building with classroom facilities, CDL simulators (both manual and automatic), as well as one of the largest blacktop facilities in the state. Additional funding provided for two custom-built trucks, designed to train up to four students at a time.
The CDL accreditation course will run for a ten-week period and is designed to be labor intensive. While the majority of instruction will be conducted on the road, students will spend 25-percent of their time in classroom instruction, with an emphasis on safety.
Course size is limited to 24 students, each of whom will receive individual seat time with a certified instructor. The first few sessions will be provided free of charge to all students, made possible through state grants for workforce development. Scholarship opportunities are also available, provided through local companies seeking reliable, certified CDL drivers.
"While drivers are in great demand, graduates are not limited to long-term, interstate travel," said Dr. Barrett. "Drivers are also sought for short-term, local transport, conducted same day."
FGC is also considering the creation of related coursework, in diesel mechanics and repair.