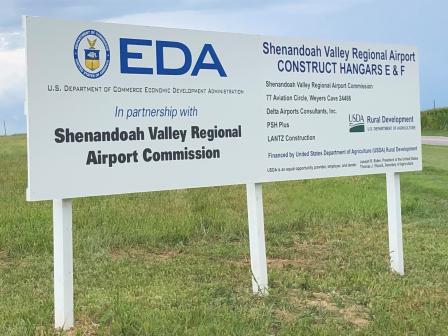 With EDA Support, Shenandoah Valley Regional Airport Flies in the Face of COVID
Virginia's Shenandoah Valley is well known for its natural beauty and history, attracting visitors each year to its national parks, Civil War historic sites, and many local wineries. It is also home to Shenandoah Valley Regional Airport (SHD) and a thriving aviation industry.
Located in the community of Weyers Cave between Harrisonburg and Staunton, SHD first opened in the early 1960s, after local leaders deemed an airport an essential tool for regional economic development. Today, the airport offers fixed-base operator services for corporate, private, and recreational aviators, while connecting the region to the world through commercial airline flights to Charlotte, North Carolina. More than 100 aircraft are based at SHD, occupying 59 hangars. By 2018, success nearly came to a full ground stop.
"Our corporate and t-hangar space was completely full and we had a waiting list for both," said Lisa Botkin, SHD's Executive Director. "We decided to procure financing through the U.S. Department of Agriculture's Rural Development program to construct a new hangar and to replace an older fuel farm, which is designated storage space for fuel tanks and equipment."
With the funding in place, the hangar construction project could move forward, however, airport officials began to realize that a second hangar would also be required. In response, SHD worked with the Central Shenandoah Planning District Commission (CSPDC) to explore other funding opportunities. CSPDC representatives knew just who to call.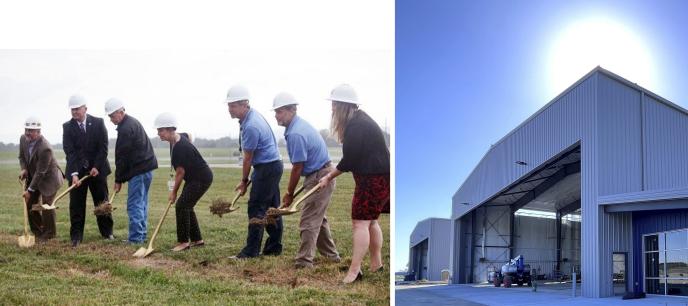 In June 2020, the Economic Development Administration awarded a $2 million grant to the Shenandoah Valley Regional Airport Commission for hangar construction designed to increase commercial aviation activity in the region.
Construction of the dual 14,000-square-foot hangars (Hangars E and F) began in July 2022 and will be completed in late 2023. The facilities offer a variety of storage and finished space, including open span hangars for large aircraft, offices, conference rooms and restroom facilities.
Botkin is confident that the project, made possible through EDA's Public Works program, is essential for the airport's future growth and that it will allow current tenants to grow and expand their businesses as well. To ensure success, SHD maintains a partnership with nearby Blue Ridge Community College (BRCC) to provide workforce training opportunities in two high-demand areas – Aviation Maintenance Technology and Pilot Training. This partnership has allowed BRCC to address a critical workforce shortage in the region. Once the new hangars are fully operational, the program is expected to grow, as BRCC will train additional FAA-certified pilots and mechanics.
The increased airport traffic is also expected to generate new business opportunities for the region. Over the last ten years, several nationally recognized manufacturing firms have increased their capacity in the Shenandoah Valley. Much of this is attributable to the success of SHD. In terms of connectivity, the region is well serviced by roadways and rail lines. Increasing its existing aviation service can only lead to greater economic development.
"This project is supporting a business that will tackle new and emerging industries," said Botkin. "It offers a variety of opportunities for growth for the region and for Virginia."