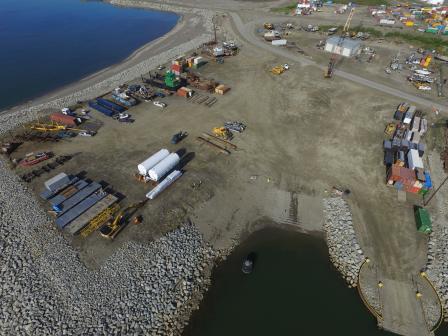 EDA-Supported Boat Ramp Helps Ensure Economic Connectivity of Alaska's Seward Peninsula
Nome, Alaska, is a hub for the transshipment of cargo and equipment from the Lower 48 states to coastal communities in Alaska's vast territories known as the Unorganized Borough.
While mining continues to be an economic mainstay for this former Gold Rush town, industries like transportation and logistics are helping bolster the area's business base. The city's boat ramp, constructed by the U.S. Army Corps of Engineers, is not only an important piece of infrastructure for the port city, it's also a critical lifeline that links remote communities from Unalaska to Utqiagvik. Goods and merchandise arriving in Nome from Anchorage are loaded onto landing craft for onward movement to nearly 60 Arctic and near Arctic outposts, keeping those economies connected to the outside world.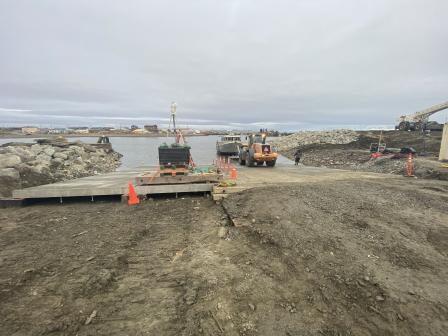 By 2019, however, Nome's boat ramp was in desperate need of repair. Concrete planks supporting the ramp had started to buckle under the weight of successive seasons of use and the entire structure was sagging in the middle. The loss of the boat ramp would be a devastating economic blow for Nome, and a potential disaster for outlying communities on the Seward Peninsula.
While the expense of a full ramp rebuilding was cost prohibitive for this city of 3,800, Nome officials knew where to look to for support.
"We've always had a great, working relationship with the Economic Development Administration," recalls Joy Baker, port director for the city of Nome. "We watch for grants and, if we have an opportunity for a project that matches funding criteria, we make an application."
A $1.7 million Public Works grant program award from the Economic Development Administration (EDA) provided the jumpstart Nome needed to rebuild its deteriorating boat ramp. The EDA grant, which was matched with $423,103 of funding contributed by the city of Nome and the Norton Sound Economic Development Corporation, acted as a critical resource multiplier.
Completed in late 2022, the new boat ramp has helped stabilize the economic interconnectivity of the Seward Peninsula. Officials believe the refreshed infrastructure may be creditable with the creation or retention of more than 100 jobs and the generation of nearly $18 million in private investment.
"The fact that we have a reliable ramp means we're getting more maritime traffic," says Baker. "We have more mining vessels coming to Nome, each one bringing with it more jobs."
EDA's Public Works grant program empowers distressed communities to revitalize, expand, and upgrade their physical infrastructure to attract new industry, encourage business expansion, diversify local economies, and generate or retain long-term, private sector jobs and investment.
For more information on EDA's funding opportunities, please visit eda.gov.