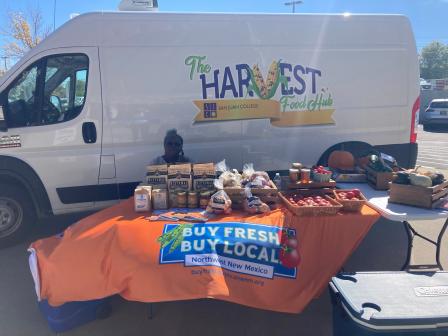 Food Hub Connects Farmers to Consumers, Boosting Local Economy
Food Hubs play an important role in ensuring the success of food ecosystems across the country. In Farmington, New Mexico, the Harvest Food Hub & Kitchen at San Juan College provides a crucial link between consumers and the Northwest New Mexico farmers who grow their food.
The idea for the Harvest Food Hub originated in the community over 10 years ago. Leaders wanted to help boost the local economy while growing the local food system. In response, San Juan College applied for an EDA University Center grant, a multi-year grant which enables higher education institutions to leverage university assets to build regional economic ecosystems. In 2018, San Juan College was named an EDA University Center and was awarded a $564,000, five-year grant to establish the food hub.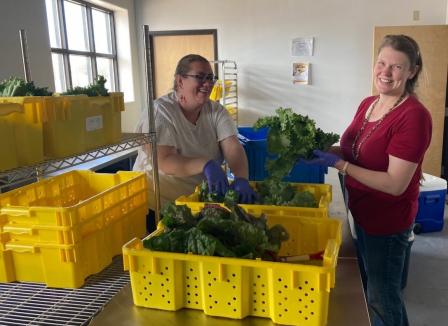 The Harvest Food Hub opened for the first season in 2020 in an industrial bay at the main college campus, filling custom orders, selling Farm Boxes to consumers, and completing wholesale orders. The Farm Box program provides a weekly box filled with a variety of products from local farmers. Each box varies seasonally and is dependent on farmer availability. The program also provides fresh, local products to several community institutions.
"Being able to provide fresh and local products for all the schools, daycare centers, and senior centers in our community is a big deal," said Kitchen Manager Jacqueline Montoya. "I think everyone around here is really starting to learn the difference between a big box store and what they can get locally grown."
The first year, demand for quality, locally grown produce continued to grow, and the Harvest Food Hub outgrew its space. Through a partnership with the city, the organization moved to a bigger location in downtown Farmington. The new location provided the Food Hub with a retail store front and an expanded space, allowing it to accommodate more wholesale orders and offer additional services.
"In addition to our product orders, we are also able to offer business support to farmers and other food producers, and our new facility will house additional classes for entrepreneurs and the community," Montoya said.
Thanks to two additional EDA investments, the food hub is expanding to add commercial kitchen space. In September 2022, San Juan College was awarded a $915,900 EDA Assistance to Coal Communities (ACC) investment to support construction of the commercial kitchen and a $367,000 CARES Act investment purchased equipment for the space.
The renamed Harvest Food Hub & Kitchen will offer food training and cooking classes and will be able to offer expanded test kitchen support for food entrepreneurs.
"We have already heard from entrepreneurs looking for commercial kitchen space to start or expand their businesses. We will be able to support the manufacturing of products to give those business owners an avenue to sell their products," Montoya said.
In addition to adding the test kitchen, they will expand the business support offerings to entrepreneurs, farmers, and producers, offering training on things like business plans, securing financing, and selling products.
Construction on the test kitchen is expected to be completed later this year.