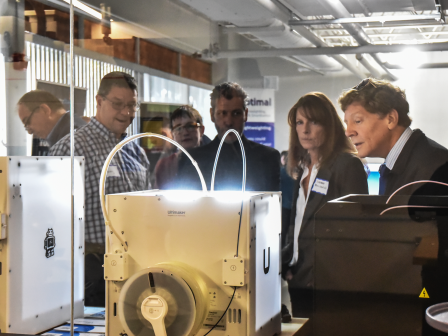 Centrepolis Accelerator Plays Key Role in 4 EDA Projects that Grow Businesses in Michigan
SOUTHFIELD, MICHIGAN – When Centrepolis Accelerator launched just over five years ago, it only had capacity to help a couple startups bring their products to market.
Today, Centrepolis – a hardtech and manufacturing business accelerator based at Lawrence Technological University (Lawrence Tech) in Southfield, Mich. – has capacity to help 100 companies each year, thanks in part to grant funding from EDA.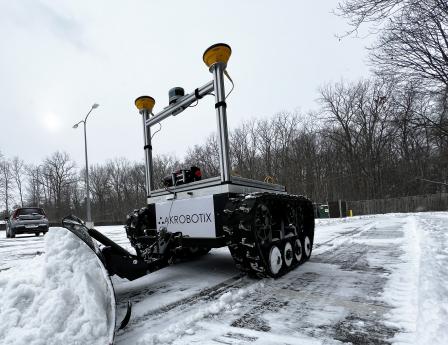 Centrepolis has been a part of four EDA grants – one directly and three as a subawardee.
"All of these EDA grants have allowed us to build up our product design, engineering team and prototyping capabilities to support more clients in getting their products to market and manufactured domestically," said Dan Radomski, CEO of Centrepolis Accelerator.
Just last month, five companies supported by Centrepolis released new products at the Consumer Electronics Show (CES), an influential annual tech innovation conference in Las Vegas. Among them was Versaware, which released its new smart kitchen mixing bowl and cutting board at CES.
"The Centrepolis Accelerator is a beacon of innovation that transforms every company that it works with," said Jacob Lindberg, CEO of Versaware. "They focus on incubation and execution, providing invaluable resources to early founders that are necessary to scale and succeed. We wouldn't be anywhere without their help, and because of them, we moved from California and headquartered our business in Michigan."
Centrepolis offers both startups and established businesses with both product development and business strategy support. When companies are ready for commercialization, they have the unique opportunity to access the accelerator's in-house team of product designers, engineers, and prototyping expertise.
The accelerator has a 100 percent success rate in bringing physical products to market, Radomski said, and companies have moved to Michigan to take advantage of Centrepolis' assistance.
Centrepolis works with a wide range of companies, including those developing products such as medical, mobility, cleantech and circular economy goods.
Currently, Centrepolis is working with a company that is developing an electric autonomous snow removal machine as part of an EDA Build Back Better Regional Challenge (BBBRC) grant. The snow removal machine was recently tested in the Lawrence Tech parking lot and now the company, called Snowbotix, has a deal to pilot the system at the Grand Rapids airport in West Michigan. (Watch a video here of Snowbotix removing snow.)
Centrepolis is a subgrantee on the $52.2 million BBBRC grant that was awarded to the Global Epicenter of Mobility (GEM) coalition, led by the Detroit Regional Partnership Foundation, that seeks to transform the Detroit area's legacy automotive industry into a highly competitive advanced mobility cluster.
"Centrepolis Accelerator is a cutting-edge star in this region because they are responding to the needs of companies and the marketplace to ensure that our entrepreneurs and smaller companies have the resources that the bigger guys do," said Maureen Donohue Krauss, president and CEO of the Detroit Regional Partnership Foundation.
Radomski said it's a unique time for mobility, and the Detroit area is well positioned to be competitive.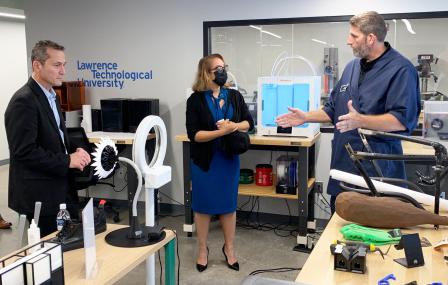 "There is a movement to electrify and apply autonomy to everything – ATVs, bikes, lawn mowers," Radomski said. "The innovation that is required to do that is very complicated. It's not just slap a battery and some sensors on it. If you're going autonomous, the hardest part is integrating the sensors into the breaking and steering controls. We're really good at that in the Detroit area, we have a lot of engineers who know how to do this."
Centrepolis is also an EDA subgrantee on a 2021 SPRINT Challenge grant, which aimed to support entrepreneurs during the coronavirus pandemic. Working with the Lean Rocket Lab in Jackson, Michigan, Centrepolis is helping to commercialize technology to address issues created or exacerbated by the pandemic.
Also in 2021, Centrepolis was an EDA subgrantee on a Build to Scale grant that partnered them with Automation Alley in Troy, Michigan, to help manufacturers adopt 4.0 technology to improve operational efficiencies. Ensuring that companies can remain competitive in their manufacturing stage is just as important as getting new products to market, Radomski said.
"A win is when we get a product to market and it's made domestically," Radomski said. "We want to get as many of these wins as possible."
Most recently, in October 2022, Centrepolis received an $813,000 EDA grant through the Build to Scale program to work with entrepreneurs and small businesses to innovate and commercialize circular economy technology solutions. 
"We are extremely grateful to the EDA. Without their support Centrepolis would not have the ability to develop and launch such a high volume of new U.S. made products," Radomski said.