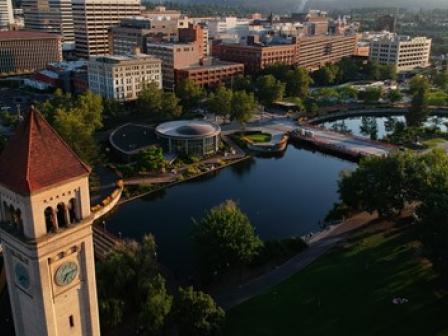 With EDA Support, Washington State University is Helping Inventors and Entrepreneurs Succeed in Eastern Washington
Over the last decade, Spokane, Washington has experienced a boom in growth. Much of the Lilac City's recent economic success can be organically attributed to an innovative business landscape driven by a local sense of creativity and industry — the city's motto, in fact, is "Creative by Nature." But a large portion of that success is also creditable to the work done by a burgeoning, local economic development ecosystem. A major component of that ecosystem is Washington State University's (WSU) Center for Innovation.
Established in 1991, the WSU Center for Innovation became an EDA-funded University Center in 2017. It's an important resource for inventors and entrepreneurs in a vast region of Eastern Washington and Northern Idaho.
In partnership with SP3NW, WSU's life science incubator, the Center for Innovation hosts Manufacturing Roundtables which connect local inventors with regional prototyping and manufacturing resources. During a roundtable session, startup founders have the opportunity to network with potential vendors. By session's end, they walk away with a better idea of the overall process of bringing an idea to market, as well as a list of contacts to aid them in product prototyping, development, and design.
April Needham, the center's director, points to one recent Manufacturing Roundtable participant, Quadralynx, as an example of the business-to-business connections the center has helped forge. The startup is developing wearable biometric devices for adults with motor speech impairment and related neurological disorders. At a Manufacturing Roundtable organized by SP3NW and the center on behalf of Quadralynx, founders were able to connect with business leaders from nearly a dozen local engineering and manufacturing firms.
"It was a really productive conversation," explains Needham. "Quadralynx was able to meet with and learn about the local manufacturing capabilities we have right here in Spokane and has begun consulting with a few of the companies that attended. It's a win-win."
Quadralynx is not the only emerging business success story with which the WSU Center for Innovation has been involved. The center helped Glucose Revival, a manufacturer of novel glucose necklaces for diabetics, produce market research to inform its customer segmentation strategy; Aquipor Technologies, a developer of permeable concrete technology, benefitted from connections to various funding sources the center was able to make; and, at the height of the pandemic, the center's COVID-19 Innovation Challenge helped several Spokane-area entrepreneurs develop novel solutions to contemporary health problems. All told, over the last five years, the Center for Innovation has provided market research, resource referrals, customer discovery, and value proposition development to nearly 300 small and emerging businesses in eastern Washington.
Needham attributes the center's success both to EDA and university support it's received, as well as the creativity and civic spirit of the Spokane area: "Spokane, in general, is a collaborative city. We like to say we're a big little town — there really is a strong sense of community and desire to help one another succeed."
For more than 40 years, EDA's University Center program has supported institutions of higher education in leveraging university assets to build regional economic ecosystems that support innovation and high-growth entrepreneurship, resiliency, and inclusiveness. For more program information, please visit eda.gov.