Small Businesses to Benefit From Innovation Studio at North Dakota State University

Sometimes ideas can come from unexpected places. And sometimes, those ideas happen to come at exactly the right time.
North Dakota State University's Research and Technology Park in Fargo, North Dakota, has long been supporting the state's economy. The park includes established businesses, a Startup Incubator, and soon, a brand-new Innovation Studio. The Startup Incubator, which EDA helped fund in 2005, is, today, home to more than 20 startup companies.
Every year, the Research and Technology Park hosts the Innovation Challenge, an idea competition for NDSU students to come up with creative and imaginative ideas. One of the ideas to come out of the Innovation Challenge was to create a makerspace for students and the community. It just so happened that when the idea was presented, the Research and Technology Park had just learned one of their major tenants was leaving. This opened up the physical space to make the makerspace a reality.
In March 2020, EDA announced a $1.5 million grant to NDSU, matched with $500,000 with local funds, to purchase equipment for the new Innovation Studio. This 8,000 square foot facility will have new, professional equipment including a Metalworking area, Textiles Lab, Digital fabrication, Woodworking and an Electronics lab. Students, researchers, entrepreneurs, and small businesses will all benefit from access to equipment and knowledge that they otherwise would not have. "The goal is to give entrepreneurs the tools to come up with great ideas," Brian Kalk, Executive Director of the NDSU Research and Technology Park said.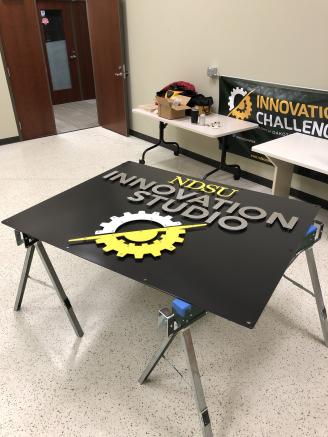 The Park has already been contacted by numerous groups and businesses, interested in touring and using the space. "We've had a lot of small businesses ask about specific equipment and how they could use it," Kalk said.
That includes a small business owner in Fargo, who is selling 3D printed Christmas ornaments online. He's been printing them at his home, but the demand for his product is growing and he needs more capacity.
The Innovation Studio can also provide businesses the tools needed to keep their equipment operational. "Small companies don't have a bin full of replacement widgets," Kalk said. "That's the beauty of having a lab like this, where you can 3D print one or two of them, and not have to spend a large amount of dollars in setting it up."
The Innovation Studio is much anticipated in and around NDSU. "We're within weeks of making our first equipment buy. We'll get the equipment installed and get to work," Kalk said. "If it wasn't for the EDA grant we wouldn't even be close to where we are at right now."
The Innovation Studio is expected to have its Grand Opening in the Fall of 2021.