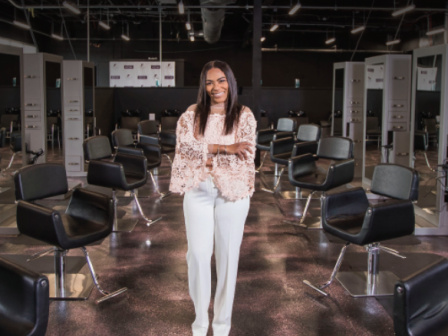 EDA CARES Act Funding to Detroit Revolving Loan Fund Supports School for Aspiring Beauticians
Before the coronavirus pandemic, about 80 aspiring beauticians attended classes at Dymond Designs Beauty School in downtown Detroit to learn about cosmetology, esthetics, manicuring, and natural hair cultivation.
Now the school's enrollment is about half, and most of the students are learning remotely.
"The pandemic hit us hard. When we couldn't train, everything stopped," said school owner Marlene Brooks, whose students are mostly women of color living in the Detroit area.
In the early weeks of the pandemic, Brooks' beauty school – which she started in 2018 – was nearly shuttered. As her tuition cashflow stopped, Brooks acted fast and spent about $10,000 for video cameras, audio/visual technology, and an online learning platform that would allow teachers to give lessons remotely. Brooks managed to keep all of her seven-person staff, but she did have to forego paying rent on her 9,000-square-foot school for nearly a year.
"We had multiple, multiple challenges," said Brooks, who also owns a hair salon in the same Harbortown business strip.
In late January, Brooks got a lifeline via the Detroit Economic Growth Corporation (DEGC), which in August 2020 received a $2.9 million EDA CARES Act grant to capitalize and administer an RLF to make loans to coronavirus impacted small businesses in Detroit.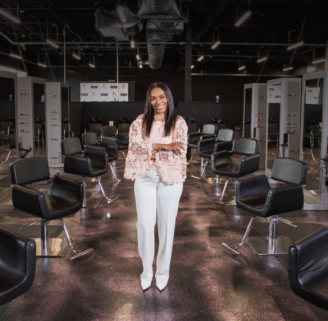 Marlene Brooks, owner of Dymond Designs Beauty School in Detroit, received a loan from the Detroit Economic Growth Corporation to help her through the pandemic.
On January 26, DEGC awarded its first loan to Brooks from the newly created Recovery Assistance Fund. The agency has several other black-, minority- and women-owned businesses in the pipeline for loans.
"DEGC, along with the city of Detroit and other partners, is committed to helping small businesses survive the devasting impact of COVID-19. We offer access to a variety of wrap-around services, which includes our loan funds, assistance with Paycheck Protection Program, administration of $14 million in grants, and personalized help with Personal Protective Equipment, financing, marketing, and implementation of state COVID restrictions and guidelines," said Glen W. Long, Jr., DEGC's chief financial officer and vice president of administration.
Brooks will use part of her loan to pay her landlord and the rest to cover salaries. Keeping her staff has been a priority for her.
"That's all I thought about day and night. How am I going to make sure that these people can still feed their families? And unemployment was not going to cut it," Brooks said.
Now, the school offers courses in a hybrid-model with students coming in on Wednesdays and Saturdays for in-person, hands-on training, which is something that is required for the beauty industry, Brooks noted.
Despite the challenging year, Dymond Designs Beauty School graduated its second class of students in August 2020. Another group will graduate in February 2021. Many Dymond graduates land jobs at partner salons, while others jump right into their own business ventures by opening their own salons.
"They can take that license and go anywhere," Brooks said. "I also wanted to show people that you can be an entrepreneur and you don't just have to be a stylist behind the chair."
Brooks' main objective is providing opportunities and serving her community. Her school is important for the livelihood of so many students – and the families they provide for – which makes her determined to keep the doors open by any means necessary.
"I can't focus in on anything else except for getting the school where it needs to be so it can provide jobs and opportunities," Brooks said.