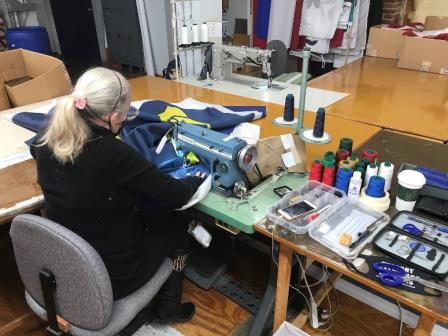 EDA-funded Revolving Loan Fund Helps Keep Business Manufacturing through pandemic

Since 1991, The Flag Loft in St. Louis, Missouri, has been steadily manufacturing flags, banners, and fabric products for customers across the country.
Customers include corporations, municipalities, colleges, high schools, professional sports teams, and the hotel industry.
The business has been producing U.S. Flags, state, and custom logo flags and banners for 30 years.
And then the coronavirus pandemic hit. "Nobody was where they were supposed to be. Uncertainty caused a drop in sales overall and, specifically, nobody was in school," The Flag Loft co-owner Rick Kelly said. "It zeroed out all high schools, colleges, and universities." Professional sports teams cancelled games. People stopped traveling. The Flag Loft's orders in many categories dropped dramatically.
At a time when many businesses were forced to lay off employees, The Flag Loft chose to keep its nine employees on the payroll. "We kept everybody working full time if they wanted, but worked with their uncertain family schedules as necessary." Kelly said.
Despite the struggles, the business continued manufacturing. Until one of their machines, a 'work horse' in their factory, failed and the business needed to buy a replacement.
"We didn't know where the cash was going to come from at the moment, because we're paying the salaries and everything at a loss," Kelly said.
Help came from St. Louis Economic Development Partnership and the Economic Development Administration.
In July, EDA awarded a $704,000 CARES Act Recovery Assistance grant to STL Partnership, to capitalize and administer a Revolving Loan Fund (RLF) to assist small businesses with retaining jobs by providing loans to support coronavirus impacted businesses.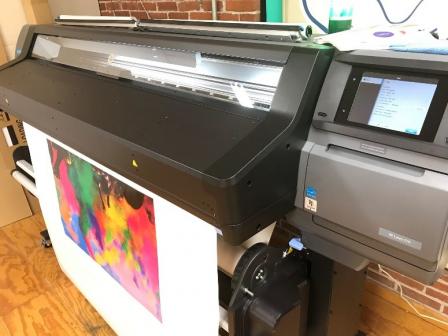 "The St. Louis Development Partnership is a regional economic development organization which attracts, retains, and facilitates growth of businesses in St. Louis County and City," said Rodney Crim, CEO and President, St. Louis Economic Development Partnership. "Through EDA we have been able to offer low interest loans to businesses to help them through the COVID-19 pandemic and enable them to equip and expand their businesses and provide jobs in our community."
Through the STL Partnership RLF, the Flag Loft received a $20,000 loan in August 2020. The loan was used to purchase the necessary piece of equipment, an HP Latex 570 printer.
"We need(ed) this equipment to get people working," Kelly said. "It kept the workflow going."
That need for an effective work flow is starting to pick back up. "We had a meeting last week and noticed that hotels and flag banners are starting to come back," he said. After what Kelly estimates as a 25% loss in 2020, The Flag Loft is optimistic about recovery in 2021.
Learn more about EDA's Revolving Loan Fund program.