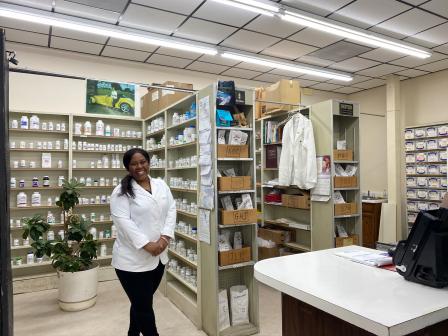 EDA-Funded RLF Program Helps Keep Pharmacy Open in Small Town in Louisiana
Tewelde's Lafitte Drugs has operated inside a grocery store in Lafitte, Louisiana, for more than 40 years. It has long served an important role in the rural community of 2,500 people.
A few years ago, the original owner decided he wanted to sell his business, but the only buyer was a larger company that only wanted to purchase his customer files, close his pharmacy, and direct customers to a store more than 25 minutes away.
"He had owned that pharmacy almost 40 years and did not want to leave the community without a local pharmacy," said Dr. Rashida Francois, a pharmacist who filled in at Tewelde's Lafitte Drugs who was approached by the owner to buy the business.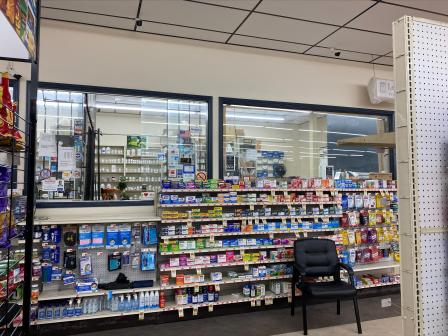 "I was very interested and thought it would be a great opportunity, but I needed the funds," Francois said.
Her biggest challenge was finding a loan during the COVID-19 pandemic. She was having trouble hearing back from lenders.
That's when she heard about the Jefferson Parish Economic Development Commission (JEDCO), which operates a Revolving Loan Fund (RLF) to support small businesses. The RLF is funded by a $1.5 million investment from the U.S. Economic Development Administration (EDA).
"JEDCO was very interested in helping to keep open a business in Jefferson Parish that had been there for so long, that was a pilar of the community," Francois said.
With a loan through JEDCO's RLF program, Francois purchased the business in April 2021.
Then in August, after operating only a few months, Hurricane Ida devastated the town of Lafitte. The grocery store was flooded and closed for months. Miraculously, the pharmacy suffered little damage.
"The pharmacy sits on a platform and did not flood. We were able to get things cleaned up and back running and were only closed for eight days," said Francois.
As the community worked to recover from the hurricane, the pharmacy remained open, although with limited hours. By spring 2022, the grocery story was back open, and the pharmacy's hours extended.
"I'm excited about people returning to the town and bringing their business back to the town," Francois said.
Francois says in the future she has plans to grow the pharmacy's services including administering vaccines and Medication Therapy Management services.