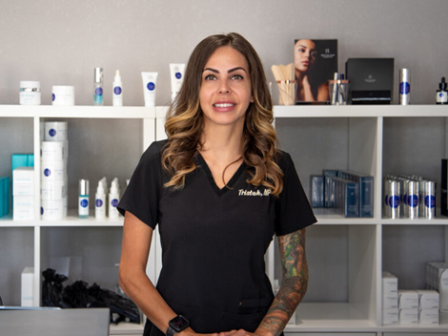 With EDA Support, Racine County Renews Commitment to Small Businesses
Long hours and double shifts are a familiar routine for many entrepreneurs and Racine, Wisconsin-based aesthetician Tristah Romero-Kelly is no exception. In 2019, she opened her own business, Renew Medical Aesthetics, while continuing in her "day job" as a nurse practitioner at a clinic in Milwaukee. Within a year, however, a surging client roster and growing waitlist enabled her to commit herself full-time to her new enterprise. Unfortunately, the onset of the coronavirus pandemic brought with it a sudden downturn in business. That's when Romero-Kelly turned to the Racine County Economic Development Corporation (RCEDC) and its ZERO Loan Program, for support.
"Traditional bank financing was difficult to obtain and would have come at a higher cost than what was provided through the ZERO Loan Program due to the limited operating history of the business," explained Wesley Walsh, RCEDC loan officer.
RCEDC's ZERO Loan Program, capitalized with a $3.6 million investment from the Economic Development Administration (EDA) through the CARES Act, provided Renew Medical Aesthetics the influx of working capital it needed to survive the pandemic. The ZERO Loan Program was created by RCEDC to provide pandemic-impacted small businesses with no closing cost and flexible interest loans that would help them adapt to changing commercial conditions.  
Thanks to Romero-Kelly's business acumen, and support she received through RCEDC, Renew Medical Aesthetics successfully navigated the choppy waters of the pandemic to become a stable, new fixture in Racine's business community. The practice offers non-surgical skin care treatment including microneedling, chemical peels, and botox injections. Loan support allowed Romero-Kelly to purchase new equipment, upgrade her practice's facilities and, most importantly for the Racine community, bring aboard two additional full-time employees.
Renew Medical Aesthetics is just one of several companies supported by RCDEC's EDA-capitalized Revolving Loan Fund (RLF). Other businesses achieving success with the help of RLF funds include a local hobby store, an insurance company, a specialty bakery, and a new microdistillery.
"RCEDC's toolbox of services would not be the same without the resources provided by EDA," said Jenny Trick, RCEDC's executive director. "Over the years, Racine County businesses have benefitted greatly from having access to low-down payment, low-interest financing to facilitate expansion projects. The most recently funded ZERO Loan Program met a need that no other program could offer at a time when it was desperately needed."
EDA makes Economic Adjustment Assistance grant awards to establish RLFs that provide loans to businesses that may not be able to obtain traditional bank financing. To see how other funders and borrowers are using EDA's RLF program, visit EDA's Small Business/RLF Success Stories webpage.