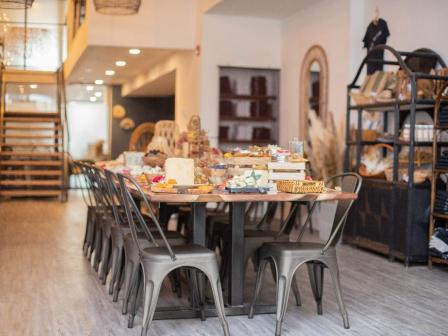 Revolving Loan Fund Program Provides Faire Opportunities in Delaware
Rob Snowberger is a U.S. Navy Veteran and local entrepreneur in Wilmington, Delaware. In July 2019, he opened the Faire Market and Café, a grocery store and coffee service. In addition to offering the community more food choices, this unique endeavor also served as an economic revitalization project, bringing new customers to the downtown area.
Snowberger had already found success in Wilmington, and with partners Rob Herrera and Steve Weathers opened Girard Craft and Cork, a local winery and spirits distributor. When it came time to open this new business, they opted to continue investing in the place they call home. The store proved to be just as successful.
By 2020, the world was facing the realities of the coronavirus pandemic. The Faire Market and Café, like so many other companies, fell victim to the economic devastation it caused, as it lost business for months on end.
Shortly after the pandemic began, the Economic Development Administration began offering support to American businesses through the CARES Act and the American Rescue Plan. In February 2021, EDA awarded a $1.5 million grant to the State of Delaware's Division of Small Business (DSB). The award was designed to establish and administer Rise Up Now Delaware (RUN-DE), a Revolving Loan Fund that provides critical gap financing to businesses adversely affected by the coronavirus pandemic across Delaware.
"This award provided funding to 31 projects throughout the state, in areas that had experienced decades of disinvestment," said Patricia Cannon, DSB's Director of Special Projects. "One such project was the redesign and redevelopment of the former Faire Market and Café."
The EDA loan provided for a full design makeover, giving both the menu and the décor a complete overhaul. Snowberger reopened his business in June 2022 under the new name Faire. Today it offers upscale breakfast and brunch options, cocktails, and a full-service coffee bar.
Snowberger describes Faire as more than a neighborhood coffee shop or a quick grab-and-go lunch destination, deeming it a lifestyle, one that has brought customers and revenue back to Wilmington.
"What makes this so special to most of us in the Division of Small Business is that we all come from families that have small businesses," said Cannon. "As a result, we are so excited to be able to say here's a little bit of working capital, or seed capital, to help you get started."
For more information on EDA's Revolving Loan Fund program, please visit eda.gov.