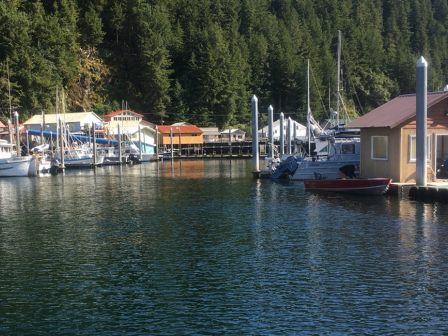 EDA Helps Fuel Pelican, Alaska's Economy with Hydroelectric Power Plant
Fishing on Alaska's Chichagof Island isn't just for humans: more than 1,600 bears live on this sprawling and isolated landmass in the Alaskan Panhandle roughly the size of Delaware – one of the few places in the U.S. where bears outnumber people!
While the opportunities for sports angling and commercial fishing should make the http://pelican.net/ – Chichagof Island's principal settlement – a destination spot for fishing and other pursuits, a power infrastructure issue has plagued the town over the past few years.
A 1940s-era hydroelectric plant supplies Pelican's power source. The Pelican Hydroelectric Facility provides fresh drinking water to the community, water for its fish processors, and electricity for business and residential properties.
Recently, after 80 years of service, the hydroelectric plant was showing signs of wear. Following heavy rains, the facility's aging penstock, which carries water from the hydroelectric reservoir to the turbines, became misaligned, causing frequent shutdowns.
"If we don't run our hydro turbines, then we're on diesel, and it's costly," explains Patricia Phillips, Pelican's mayor. "We have to stockpile it in our bulk fuel tanks and it's costly. If you have to run on 100 percent diesel, your costs to provide power to businesses are much higher."
In 2016, Pelican city officials worked with EDA to engineer a solution to the problem and secured $242,676 in Economic Adjustment Assistance (EAA) (PDF) funds. The EAA grant helped rehabilitate the hydroelectric facility's dilapidated penstock. As a result of the improvements, Pelican can now provide businesses with a steady and reliable source of power at consistent prices.
According to Phillips, the genesis of a revival in Pelican's economy is due in no small part to the improvements in the city's electrical infrastructure made possible by the EDA grant. The city's initial estimate that this project would create 12 new jobs and attract $1.45 million in private investment has already been surpassed.
"I am pleased to see the number of employees at the fish processor has increased," Phillips said. "We've also had new lodges come in and are seeing an increase in overall employment in our community."
EDA's EAA program provides a wide range of technical, planning, and public works and infrastructure assistance to regions experiencing adverse economic changes due to changing trade patterns and other factors. To learn more and to see how others are using EDA grants to support local economic development, visit the EDA success stories page on our website.