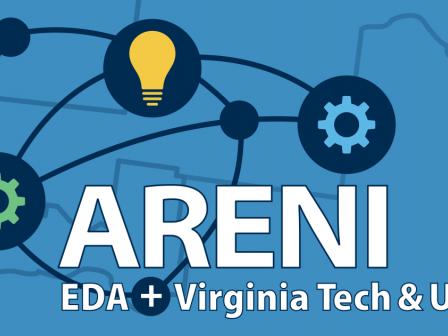 New EDA-UEDA Initiative to Strengthen Economic Ecosystem Collaboration in Resiliency and Equity
Research that identifies effective strategies and best practices can play a critical role informing local approaches to economic development. In many cases, however, important learning fails to flow from theory to praxis; the networks needed to move information from academic economist to economic developer are sometimes limited, inefficient, or non-existent.
This month, the Economic Development Administration's (EDA) Research and National Technical Assistance program awarded a $784,817 grant to Virginia Polytechnic Institute and State University and subawardee University Economic Development Association (UEDA) to launch the American Resilience & Equity Networks Initiative (ARENI). The initiative will establish networks designed to identify and elevate successful projects and resources in regional economic development while connecting participants around best practices within those networks. Particular attention will be focused on collaboration around topics of equity, workforce development, sustainability, and foreign direct investment. The initiative will also build on EDA's already successful University Center program by providing current EDA University Centers and aspiring University Centers an opportunity for enhanced networking and collaboration.
"The economic development community is in search of strategies to address key economic issues facing our nation," said Craig Buerstatte, Deputy Assistant Secretary for Regional Affairs. "The American Resilience & Equity Networks Initiative will further EDA's mission of promoting innovation and competitiveness by developing networks to foster collaboration around issues of economic recovery, resiliency, and equity."
Established in 1976, the Pittsburgh-based University Economic Development Association works to organize higher education institutions, private sector businesses, non-profits, government organizations, and community economic development stakeholders to create local and regional economic opportunity.
"ARENI seeks to be the premier forum for the economic development sector to learn, share, collaborate, develop performance metrics, and encourage economic resilience and equity," explained Tim Hindes, Executive Director of UEDA. "By establishing these networks, we can support local and regional economic planners in identifying and implementing approaches proven to maximize investment return."
Work on the American Resilience & Equity Networks Initiative (ARENI) will begin immediately with EDA grant funding supporting an initial, three-year period of performance. Expected increases in membership revenue channels make the initiative potentially sustainable for long term impact. For more information on ARENI, please visit http://areni.universityeda.org/.