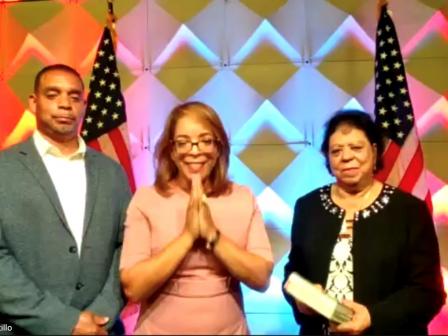 Alejandra Castillo Sworn in as U.S. Assistant Secretary of Commerce for Economic Development
EDA is pleased to welcome our new Assistant Secretary Alejandra Y. Castillo!
On August 13, Ms. Castillo was sworn in as U.S. Assistant Secretary of Commerce for Economic Development by Secretary of Commerce Gina M. Raimondo. The action follows the unanimous U.S. Senate vote on August 11 to confirm Castillo as the new administrator of EDA.
An experienced public administrator who previously served as National Director of the Department of Commerce's Minority Business Development Agency and held senior policy positions at the White House and the International Trade Administration, Castillo is also a first-generation American of Dominican descent. As head of EDA, she will be responsible for fulfilling the agency's mission of leading the federal economic development agenda, including overseeing the implementation of $3 billion in economic development funding appropriated as part of President Biden's American Rescue Plan.
"I am pleased to welcome Alejandra back to the Department to help build our economy back stronger and more equitably," said Secretary of Commerce Gina Raimondo. "Her experience is an excellent addition to the world-class team we've assembled. She brings an important perspective spanning the public and private sectors and has the drive and determination to help America's communities continue their recovery from the pandemic."
In a message issued shortly after the oath of office was administered, Assistant Secretary Castillo said, "Many of you are longtime collaborators with EDA, while some of you were first introduced to EDA programs during the early days of the pandemic. Whatever your specific case, I hope to meet—or reintroduce myself—to many of you in the months ahead. Under the exceptional leadership of Deputy Assistant Secretary Dennis Alvord, EDA has started executing our programs under the American Rescue Plan. Under my stewardship, EDA will continue to focus on restoring a foundation for equitable and sustainable job growth and build durable regional economies throughout the United States. Together, we will Build Back Better!"
Prior to joining the Department of Commerce, Castillo was Chief Executive Officer of YWCA USA, where she championed the 163-year-old organization delivering critical social, educational, and economic development services throughout its 204 associations, reaching over 2.3 million women and families across 1,300 communities in the United States.
Castillo first joined the Department of Commerce in 2008 as a Special Advisor to the Under Secretary for the U.S. Department of Commerce's International Trade Administration. In this capacity, she was responsible for business outreach and intergovernmental affairs and assisted in developing policy initiatives geared at trade promotion and enforcement of U.S. trade laws. During the Obama Administration, she served as National Director of the Minority Business Development Agency, where she expanded its effort to help minority business enterprises gain access to capital, contracts, and business opportunities.
Assistant Secretary Castillo holds a bachelor's degree in Economics and Political Science from the State University of New York at Stony Brook, a master's degree in public affairs from the LBJ School at the University of Texas at Austin, and a Juris Doctor degree from American University's Washington College of Law.
Please welcome Assistant Secretary Castillo!