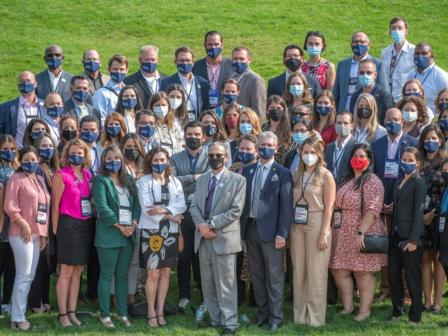 Americas Competitive Exchange (ACE) Brings Global Leaders to Colorado
America's Competitiveness Exchange (ACE) Colorado, held August 1-6, 2021, brought together more than 40 global leaders representing 11 countries and multiple international organizations to share economic development best practices and explore opportunities for partnerships.
The delegation explored more than 30 sites in the City and County of Denver, El Paso County, and Jefferson County, and featured sectors such as entrepreneurship, tourism, sports economy, bioscience, healthcare, cybersecurity, aviation, and defense.
The partnerships developed during ACE will increase the prospect of advancing commerce and trade between participating economies and accelerate business opportunities for all stakeholders.
Here is a recap video of the six-day exchange.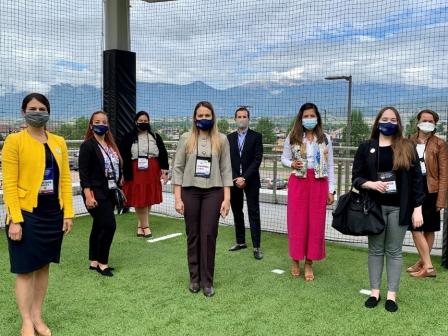 ACE is the premier economic development, innovation, and entrepreneurial network of the Americas and is one of the leading high-level events of the Organization of American States (OAS). The ACE program is one of the core initiatives of the Inter-American Competitiveness Network (RIAC). The exchange is organized by OAS, in partnership with the Economic Development Administration (EDA), the International Trade Administration (ITA), and the U.S. Department of State.
Highlights of the exchange included stops at the Denver International Airport, National Western Center, U.S. Air Force Academy, U.S. Olympic & Paralympic Museum, UCCS Hybl Sports Medicine and Performance Center, Lockheed Martin, Colorado School of Mines, The Broadmoor, Pilatus Aircraft Ltd, and Terumo BCT.
The delegation also visited three EDA grantees: the University of Colorado Anschutz Medical Campus, National Cybersecurity Center (NCC), and Exponential Impact.
Anschutz Medical Campus has received 11 EDA grants—totaling $30 million—over an 8-year period to help transform the former Fitzsimons Army Medical Center into a world-class square mile of life sciences. EDA was the first federal agency to invest in Fitzsimons, and the support was critical to its redevelopment.
NCC, a nonprofit for cybersecurity innovation, was awarded a $2.7 million EDA grant in 2020 to expand and renovate its Colorado Springs building facility. In addition, Exponential Impact, an entrepreneurial accelerator that shares space with NCC, was awarded a $750,000 EDA grant to fund its seed-to-scale initiative for early-stage ventures.
The international ACE delegation was comprised of representatives from Ecuador, Mexico, Panama, Paraguay, Colombia, Costa Rica, Guatemala, Honduras, Jamaica, Germany, and international organizations such as the Pan American Development Foundation and the Caribbean Development Bank.
Elected officials from Colorado who participated in the exchange included Governor Jared Polis, Denver Mayor Michael Hancock, Colorado Springs Mayor John Suthers, Golden Mayor Laura Weinberg, Arvada Mayor Marc Williams, county commissioners, and other academic and industry leaders.
During the week, potential collaboration and partnerships were sparked: from possible research agreements to entrepreneurial exchanges, and even new trade and investment possibilities.
As the ACE international delegation returned home, they will continue to solidify partnerships. View some results reported by past ACE participants that were inspired or influenced by the program can be found here.
The next ACE exchange will be held Nov. 6-12, 2021. For more information, please visit: https://riacevents.org/ACE/louisiana/.
If your region is interested in learning more about the ACE program and how they can host, visit: http://riacevents.org/ACE/.