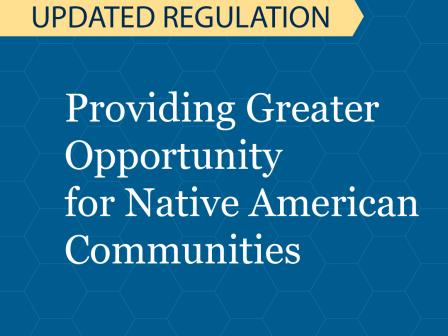 EDA Updates Regulations to Make Grants More Accessible to Native American Communities
The Economic Development Administration (EDA), which helps facilitate regional economic growth in communities across the country, announced today that it has updated its regulations to create greater opportunities for Native American Communities to participate in its grant programs.
The new rule, published today in the Federal Register, extends EDA Tribal eligibility to include for-profit entities that are wholly owned by and established for the benefit of a Tribe. This action follows a government-to-government consultation in April between EDA and representatives of Native American Communities, who were broadly supportive of the eligibility expansion. It is a result of EDA's ongoing efforts to meet the needs of our Tribal communities and to increase their participation.
This summer, Commerce Secretary Gina M. Raimondo announced $3 billion in funding made available to EDA through the American Rescue Plan Act. This funding is being offered through a series of programs, including $100 million for Indigenous communities, many of which have been disproportionately impacted by the coronavirus pandemic.
"While EDA has a long-standing history of Tribal support, this program is the first to be specifically developed, designed and implemented for Indigenous communities," said Assistant Secretary of Commerce for Economic Development Alejandra Y. Castillo. "The Indigenous Communities program provides greater access to those resources necessary to build back better from the economic impact of the pandemic."
Through this rule change, EDA hopes to increase the number of Tribal applications for the further benefit of those communities. EDA is committed to continuing to work with its Tribal partners to support their strategies for economic development, providing greater opportunities for job expansion and growth.