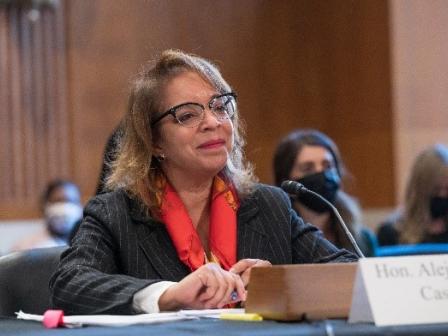 Assistant Secretary Castillo Testifies on EDA Reauthorization Before the Senate Committee on Environment and Public Works
On Wednesday, November 3, Assistant Secretary of Commerce for Economic Development Alejandra Y. Casillo testified before the Senate Committee on Environment and Public Works during an oversight hearing to examine programs at the Economic Development Administration (EDA) and review programs for reauthorization.
In her testimony, Assistant Secretary Castillo made an important case for reauthorization of EDA. It has been 17 years since EDA was last reauthorized and, in that time, new industries have emerged while other sectors have declined, regions have encountered and responded to devastating natural disasters, and all communities have suffered the impacts of a global pandemic. In addition, during this period, EDA has grown exponentially in size and budget - especially over the past four years in response to disasters, including the COVID-19 pandemic.
These external events, combined with EDA's growth and proven impact, create a critical moment to reauthorize the bureau, allowing EDA to better serve the communities and regions of today.
"We need to modernize our tools to provide the services that communities across the nation need to build contemporary, resilient economies. We need to update how we define distress so that our funding is more equitably distributed.
"To me, reauthorization is more than a technical process – it is essential for EDA to fulfill its historic mission. Reauthorization will allow EDA to help our nation build back better by giving us the ability to implement programs in a way that further improves conditions in highly distressed communities and supports the following priorities: Equity, U.S. Competitiveness, Modern Infrastructure, and Resiliency," said Assistant Secretary Castillo.
During the hearing, Assistant Secretary Castillo committed to working closely with Congress to get EDA reauthorized as soon as possible. "Our collective goal must be to best position EDA to support the competitive, innovative, impactful economic development strategies that our communities are pursuing today to set the course forward to a brighter future," Castillo said.
Others testifying in support of reauthorizing EDA included: Amy Liu, Vice President and Director, Metropolitan Policy Program, The Brookings Institution; J. Michael Bowman, Associate Director Economic Innovation Partnerships, University of Delaware; James Leiman Ph.D., Commissioner, North Dakota Department of Commerce; and Shane Whitehair, Executive Director, Region VII Planning and Development Council, Buckhannon West Virginia.
To read all submitted testimony and to view a recording of the hearing, please click here.