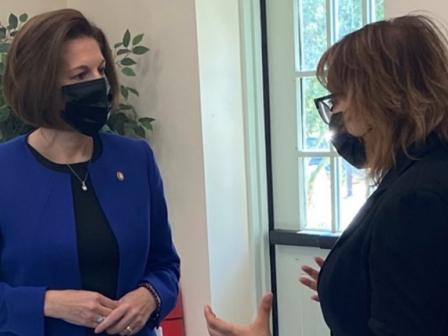 Las Vegas Visit Highlights Focus on Equity and EDA Investments in Nevada
Southern Nevada's economic development was the forefront of a roundtable discussion with Assistant Secretary of Commerce for Economic Development Alejandra Castillo and United States Senator Catherine Cortez Masto this month. More than a dozen Nevada businesses, community, and governmental leaders joined the event on Wednesday, November 10th.
Held at the Historic Westside School in West Las Vegas, the roundtable discussion served to highlight the Economic Development Administration's (EDA) recent American Rescue Plan investments in Nevada and a $6.9 million investment made to the College of Southern Nevada for construction of a 10,000 square-foot facility to house its Westside Workforce Education and Training Center.
The Westside Workforce Education and Training Center, to be located adjacent to the Historic Westside School, will support education and instruction for underserved students by helping them obtain both a GED and specific vocational training leading to a good-paying job in the healthcare, construction, and IT sectors.
"EDA has always supported our nation's underserved communities, but today we are doubling down to ensure communities of color, rural communities, and others receive the support they need to build back better," said Assistant Secretary Castillo. "Equity is our top investment priority."
In recent years, EDA has invested tens of millions of dollars in the state of Nevada to help communities build their capacity for economic development. In addition to EDA's grant to the College of Southern Nevada, other recent EDA investments in Nevada include $1.7 million to the city of Las Vegas to expand wireless connectivity to economically disadvantaged neighborhoods in the Westside area, $13.5 million American Rescue Plan Statewide Travel, Tourism, and Outdoor Recreation award to alleviate the effects of the COVID-19 pandemic by helping strengthen the travel and outdoor industries of Nevada, and $1 million to support statewide planning efforts.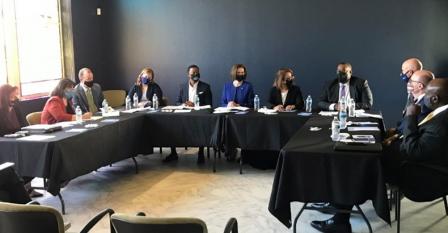 Assistant Secretary of Commerce for Economic Development Alejandra Y. Castillo joined more than a dozen Nevada business, community, and governmental leaders at Las Vegas' Historic Westside School for a roundtable discussion about equity-focused economic development.
"I was glad to join Assistant Secretary Castillo to highlight what we've been doing to help support economic development in the historic Westside of Las Vegas and across Nevada," said Senator Cortez Masto. "From the American Rescue Plan to the bipartisan infrastructure bill, I've been working to get funds into our communities to deliver broadband to students, prepare workers for jobs in in-demand industries, and promote Nevada's travel and tourism industry. The Economic Development Administration projects highlighted today are great examples of what happens when we work together to invest in our communities, and I'm grateful for the administration's continued support in delivering pandemic relief funds to those that will benefit most."
Prior to the roundtable, Assistant Secretary Castillo toured the Culinary Academy of Las Vegas to learn about its work training Nevadans for good-paying jobs in the hospitality sector. More than 85 percent of Culinary Academy students receive tuition assistance and nearly one-third come from Clark County's five most underserved zip codes.
"The Culinary Academy of Las Vegas' commitment to supporting equitable career outcomes for underserved and historically disadvantaged Nevadans is truly emblematic of the type of economic justice EDA is working to champion," Castillo remarked. "I look forward to identifying ways EDA can collaboratively support programs like this moving forward."
Learn more about EDA's investment priorities, including its commitment to equity, at the investment priorities section of the EDA website.