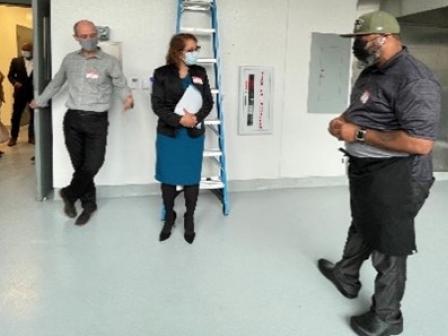 Assistant Secretary Alejandra Castillo Visits EDA-Funded Business Incubator, Discusses Federal Role in Economic Development in Hartford, Connecticut
In 2005, Hartford, Connecticut, experienced an economic earthquake when the Swift Factory closed its doors. For 120 years, the company provided gold leafing to national landmarks and government institutions nationwide, employing generations of workers in Hartford's north end neighborhood – and one of its poorest. Overnight, those jobs disappeared, increasing disparities across the city.
For more than a decade, the building sat vacant, and economic conditions continued to decline. Then in 2017, a local non-profit, Community Solutions, Inc., began outreach to the community and asked residents what was needed to help the neighborhood thrive; responses centered around jobs, economic development, youth engagement, and safety. As a result, Community Solutions, Inc devised a placed-based plan to re-furbish the building and help jumpstart the local economy. Given the Economic Development Administration's commitment to support locally-driven sustainable economic development and build capacity based on local business needs and conditions, they were awarded a $2.8 million grant to help revitalize the building as a new business incubator and food manufacturing center.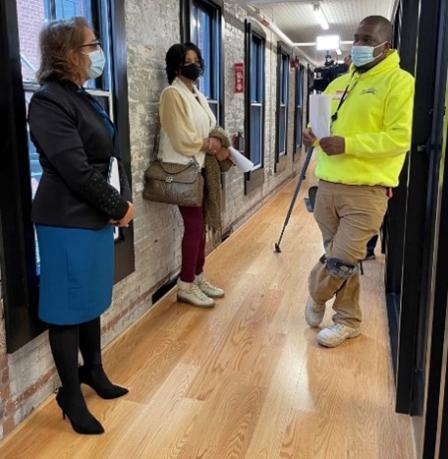 Renovations to the facility were completed in 2019 and it is now home to a number of local organizations. Swift Factory's tenants represent traditionally underserved communities in the Hartford area, including women, African Americans and Hispanics. A variety of business interests and services are represented, including an accredited home health agency, plumbing and general maintenance, as well as a host of bakery, catering, and other food service facilities. It is also home to a school for children in grades K-2.
On December 2, Assistant Secretary Alejandra Y. Castillo traveled to Hartford, to see firsthand how the new facility is helping to accelerate the local economic growth of minority-owned small businesses in the north end neighborhood. Joined by local officials, Ms. Castillo toured the facility and met with many of the business tenants.
"Thank you, Community Solutions and Swift Factory, for your leadership in creating new economic opportunities for the residents of Hartford," said Castillo. "It is through your hard work and focus that the American dream of owning a small business is becoming a reality for so many in your community."
Following the tour, Ms. Castillo participated in a roundtable discussion with tenants, Swift Factory officials, and members of the local media. Included in this session was an overview of several new EDA funding opportunities made available through the American Rescue Plan, including the Good Jobs Challenge. This program is allocating $500 million to help Americans return to the workforce, training workers with in-demand skills that will lead to good-paying jobs.
Earlier in the day, Assistant Secretary Castillo met with the Connecticut Council on Government Organizations and the Connecticut Department of Economic Development and Community Development. She also participated in a fireside chat led by Cindi Bigelow, President & CEO of family-owned Bigelow Tea, as part of the 2021 Connecticut Economic Development Summit. During the session, Assistant Secretary Castillo outlined resources available to support locally-driven economic development strategies, including the $3 billion available to communities through EDA's American Rescue Plan programs, and stressed EDA's commitment to equitably distributing its funding.
For more information on the American Rescue Plan programs, please visit EDA.gov.